'We (Ashutosh and I) were from a middle-class background and my kids are much more privileged than we were'
'Honesty is the root of all good relationships. We try not to fight in front of the kids so that they feel that they are living in a secure atmosphere where they see that the father and mother are in tune with each other.'
Actor Renuka Shahane talks about motherhood, family and career.
IMAGE: Actor Renuka Shahane with her sons Shauryaman (on the left) and Satyendra. Photograph: Kind Courtesy Renuka Shahane/Twitter
She conquered the hearts of millions as the sweet bhabhi in the blockbuster hit Hum Aapke Hain Koun.
While the world still remembers her for that role, Renuka Shahane has managed to hold her stead in Bollywood and has given a number of power-packed performances.
Very active in the Marathi theatre and film scene now, the actress also does a few reality shows every now and then. She was last seen as a participant in Jhalak Dhikla Jaa.
Married to popular Bollywood actor Ashutosh Rana for more than a decade now, Renuka Shahane is mom to two kids, Shauryaman (13) and Satyendra (11) and the actress proudly says that her life revolves around them now.
Not many people know that Renuka is the daughter of famous writer and theatre critic Shanta Gokhale. Renuka says that her mother gave her a couple of very simple and basic values, which she still adheres to.
Here are few excerpts from an exclusive tete-a-tete with the actress.
Motherhood is a life-changing experience
Motherhood is a life changing experience because you don't forget that you are a mother for even a single second of your life after you become one.
Pre-kids you can afford to live life just thinking of yourself and not thinking much of other adults that are living with you as they responsible for their own well-being and make their own decisions.
But when a child comes into your life, you are responsible for the decisions for a very long time. Children need a lot of protection and you have to make decisions for them and, whether good and bad or ugly, you have to face the consequences in an indirect way as well.
So your life changes drastically, the word worry comes into your life along with the word happiness. They go hand-in-hand.
It was a conscious decision to take a sabbatical
For six years I was not doing anything and it was a conscious decision to take a sabbatical after my kids were born. I had the privilege of having my mother around for a very long time.
She started working when I was eight and those initial years of my childhood were very precious for me. My mom always used to be around and there is a certain security that you have when one of the parent is around you. It made a big difference to my sense of security, to my sense of being loved and protected and I wanted to give the same to my children.
So there was no way that I was going back to work immediately and even now I don't work that much. That's the reason why I don't do television as it requires a lot of time, especially if you are working in a daily soap format. I don't mind accepting reality show offers that are over in a fixed period of time.
That's the way I balance my professional and personal life. I feel that these are the years that are not going to come back ever as far as the kids are concerned. It's a trial for me also and I would say that it's not an easy thing to do, but it has given me immense joy and pleasure over these years.
I can see that my kids are growing up with a certain value system which is mine rather than being of my maid or my elders. It is my value system that I am passing on to my kids, as the people that they spend the most time with, are the people who they imbibe things from.
The best value that my mother gave me was honesty
The first and foremost value that my mother gave me was honesty. My mother always said that there should be no compromise with honesty in your personal life as well as your professional life.
Besides, that hard-work and discipline always help. My mom was an awesome cook and she was very good at stitching. In fact, most of my clothes were stitched by her and I used to wear them till the time I went to college.
I have grown up having the best of both worlds, I would say. Because it is also important that the children accept a working mother and see that their mother has a different role to play as well besides being their mom.
My mother was there when I needed her the most and we also understood the importance of a working woman later on and that it is not just the prerogative of men to do outside work and earn for the family. That is also something that my children are slowly and steadily learning about.
They do turn around to me and say that why do you need to work and I say that work is not only related to need it is something that has got to do with self-respect and everybody should have a sense of self-respect. This is another thing that my mother taught me that unless you respect yourself nobody else is going to.
These are a few basic things that that have helped me and I base my life on those principles and values. And I try my best to pass them down to my kids.
Of course we were from a middle-class background and my kids are much more privileged than we were. They get everything that they ask for, but slowly and steadily am trying to teach them about money and also the fact that they should appreciate people from all classes and understand the struggles they go through.
I really miss the girly chatter
Raising two boys can be tough as there are basic differences in the nature. Though I have a great and open relationship with my boys, they don't have that girly quality of sharing everything.
As they are emotionally secure, they don't think that it is really important to share. I really miss the girly talking.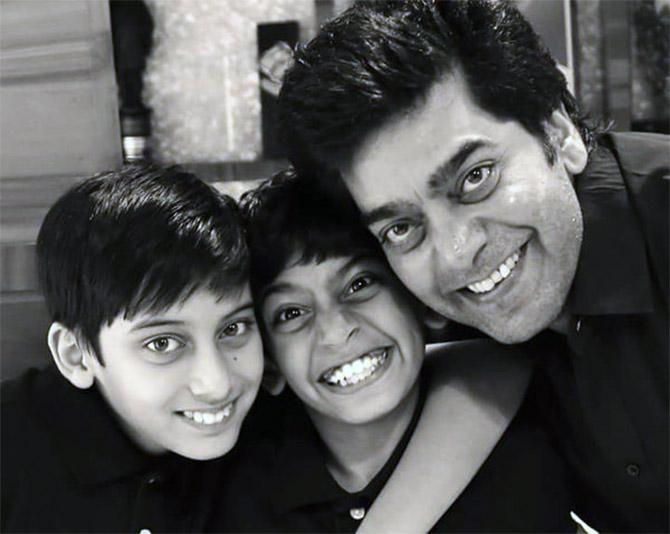 IMAGE: Ashutosh Rana with his children. Photograph: Kind Courtesy Renuka Shahani/Twitter
I am a very lenient mom
I am a very lenient mom and there are times that I have to remind myself that the kids have to be disciplined. As a parenting couple we fall on the lenient side, especially when academics is concerned.
I feel that our education system is making people scared of having open minds, scared of curiosity, scared of doing something wrong because you will get less marks and does not impart the right education to our kids.
I don't think education should be equal to marks at all. Education should be instilling a need to learn, grow and explore. I am not a 'helicopter parent' and do not force my kids to take up activities unnecessarily.
I do give them the freedom because this is the time when they are carefree and have no responsibility. They should be enjoying this time.
My kids don't take Papa for granted
Ashutosh is extremely busy as an actor and in a way it is a one-sided system in our house. There are times when he is around for many days but these instances are very few and far between as he really does travel a lot.
But when he is around the children are a more scared of him than they are of me because I am always around and they take me for granted. They know that they really can't take Papa for granted. We also use that sometimes as a parenting tool to put a kind of sense into them (laughs out loud).
We enjoy each other as a family
Whenever we all are together we play a lot of games at home, especially board games as a family. All of us love to play games.
We also go out a lot when free and visit the club or just travel. Otherwise also I do a lot of things with my kids as I am easily available.
And when Ashutosh is around we do a lot of things at home and just spend quality time with each other as a family. We really like to talk to each other and we pretty much enjoy ourselves as a family.
Honesty is the root of all good relationships
I think honesty is the root of all good relationships. We try not to fight in front of the kids so that they feel that they are living in a secure atmosphere where they see that the father and mother are in tune with each other.
This also sets a very good role model for them as a relationship and is a learning for them. Even if we do have any major disagreements with each other we try not to take it out on the kids or have a scene in front of the kids. That is something that we totally avoid.
As a couple whatever problems or issues that we have, we sort it out within that one day so that when we get up the next day we are not carrying the baggage of the past with us. We both met each other when we were not teenagers.
In fact, we were in our 30s when we had met and we married pretty late also. So by then we were mature enough to understand what relationships were all about.
It was a love marriage that was like old wine in a way (laughs out loud). The older a marriage gets, the better it becomes.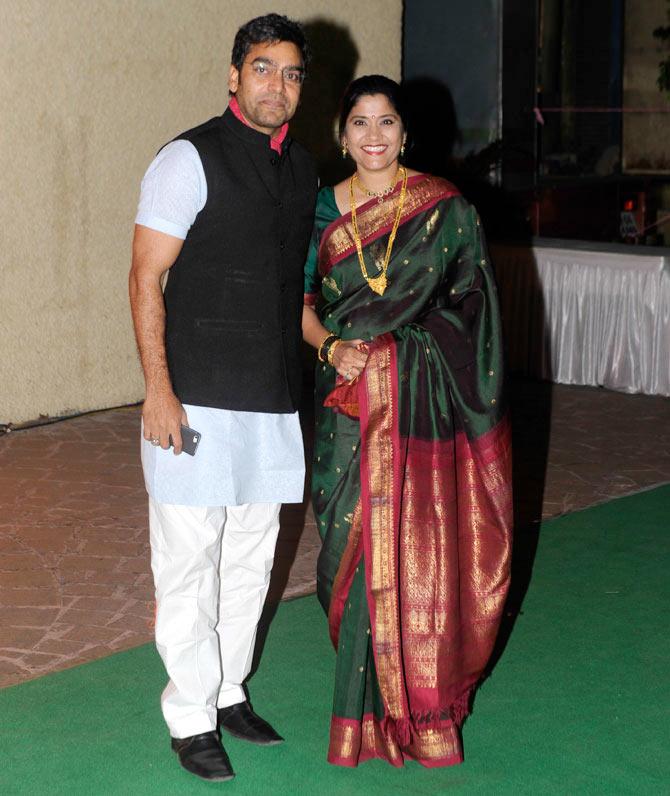 IMAGE: Renuka Shahane with her actor-husband Ashutosh Rana. Photograph: Kind Courtesy Renuka Shahane/Twitter
I am a spiritual person than religious
My husband is very religious because he has been brought up in a very religious family and I come from one that isn't that religious.
I have been taught that you have to respect others way of living and their thoughts. That's the way I have been brought up. Both my parents are very peace loving and we have a very tolerant atmosphere at home.
I am more of a spiritual person and spiritualism doesn't have any religion actually. In fact, my elder son told me the other day that -- 'What if I don't feel attracted to being that religious when I grow up. How would you deal with it mom?' I said that I would be open to it.
I try to teach them whenever I can for example if I read the Bhagavad Gita and I feel that I should be telling them something, I do. But then it is up to them whether they want to follow it or not.
I would be more happy to see them as good human beings and than just folding hands in front of God. Because that is what matters the most.
Indian moms are under a lot of pressure to breastfeed
I would say that every child is born with a different nature and there are no set rules to follow. It's very simple to understand that when a child is hungry, he will ask for a feed.
And if he is still crying after being fed, than perhaps it is something that is making him uncomfortable which could be a blocked nose or may be he has not been burped properly. So it is very simple to understand a child's nature. New mothers should stick to demand feeding. It also helps in boosting the milk supply.
Also, while breastfeeding is extremely necessary, I feel young moms these days are under a lot of pressure to breastfeed. So much that they are terrorised to breastfeed. It's okay to formula feed also because sometimes the milk supply is less or sometimes the mother can't make milk at all. That's perfectly normal.
Like, for my elder son, I had to combine breast milk with formula milk. It was traumatic for me also and I used to think that 'OMG (Oh my God) I am giving formula to my child' to such an extent that I was doing something really wrong.
But that is not the case, my elder son has grown up to be an excellent kid. He is quite healthy and has a good appetite etc. And my younger one took to breastfeeding so well that I breastfed him for almost two years. I feel sorry for moms who are under pressure because a mother goes through a lot during and after pregnancy.
There are no set rules as every baby is different. A mother must cater to the child's needs, his nature and what he likes. They are so many factors that come into play.
The same applies to the way you discipline your kids as well. You have to be flexible enough to understand the nature of your child and do what you feel is the best possible way to deal with him. I discipline my elder one in a particular way which might not work with the younger one.
Apart from certain health rules in the house such as washing hands whenever they come home after they've played outside or in the park, washing hands before meals, one has to be flexible as a parent.
We are living in an age of technology and many things have entered Indian households which we didn't grow up with.
ALSO READ
'I always wanted to be as much behind the camera'
'I lost seven kilos after I started dancing'