Sandeep Gajakosh wanted to be an artist, and God, he tells Tista Sengupta/Rediff.com, helped him find a way.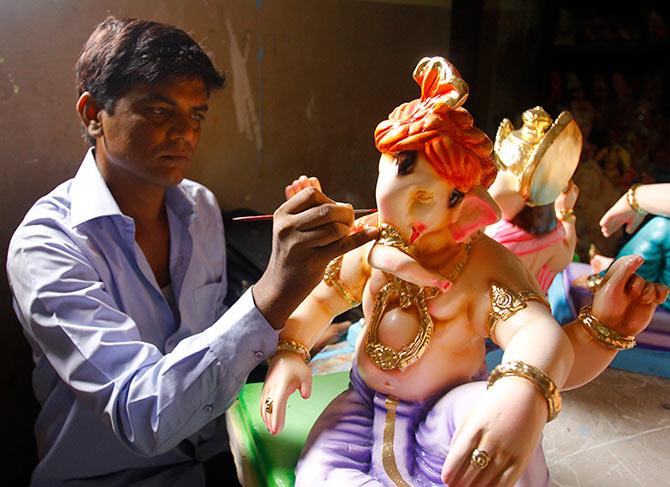 Sandeep Gajakosh lends a finishing touch to his eco-friendly Ganesh idol.
The narrow road was like any other alley you might walk into in Mumbai. At the far end, though, you spot a few Ganpati idols set out to dry even as a couple of artisans put finishing touches to another idol that's almost ready to go.
This is a scene you'll spot in many places in Mumbai, a city subsumes itself to Lord Ganpati for 10 days every year.
But, for the last six years, devotees have been wending their way down this narrow lane, where Sandeep Gajakosh, a 42-year-old Brihanmumbai Municipal Corporation employee, has his idol-making workshop to pick up his eco-friendly Ganpati idols.
It is only inside the workshop that you begin to understand the difference.
Gajakosh points to an idol and asks me to lift it. I find it too heavy.
It is made of sadhoo matti (clay). This is what was used to make Ganesh idols earlier.
He then pointed to another idol. This one is lighter and I can lift it. That, he says, is because it is made of Plaster of Paris.
Finally, he chooses a finished idol from the rack and asks me to hold it. "Isn't this the lightest one of all?" I have to agree.
"Turn it upside down and you see a layer of paper mache. This makes it light and eco-friendly," he explains.
This is a demo that every prospective customer gets; Gajakosh believes it helps him win the client's trust.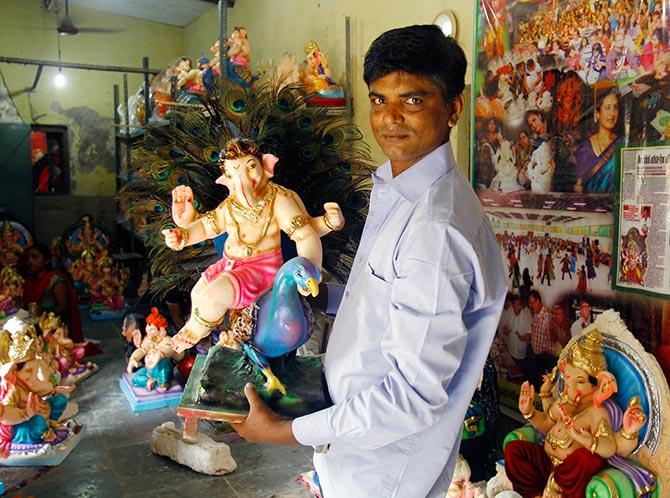 Creating awareness through art!
"Changing the mindset of people and convincing them to buy something that adds more value to their lives and surroundings is what builds a brand or a product in the market," he says.
But aren't these idols more expensive? He asks a question in return. "If I give you an idol made of POP for Rs 800 and an eco-friendly one for Rs 1000, which one will you buy?"
He smiles, "The idols here are priced from Rs 1,000 to Rs 55,000. They might be expensive in comparison to the idols made of POP, but they are lighter and don't harm the environment. I hope more people start thinking the way my clients and I do."
Gajakosh has always been passionate about art. Too poor to learn professionally, he found his outlet through making elaborate rangolis for special events.
This, however, was not enough to keep the home fires burning. What brings home the daily bread is his job at the BMC's disaster management cell. He works the night shift, attending calls from people who are facing an emergency and need immediate help.
"I still wished to be an artist," he says, "but as I had never pursued any full-time course in art, I thought it would be difficult."
An artisan applying non-toxic colours to a Ganesh idol.
In 2006, as he continued to struggle between his head and his heart, he had an epiphany. "The Lord sent me to this world to be an artist," he says. "I realised that sculpting His idol would be the best way to thank Him."
His first challenge was to carve a space in a market that was already established. He knew that most Ganesh idols available in the market were made of material that harmed the environment.
He had found his differentiator; his idols would be eco-friendly.
He didn't know how to sculpt so he enrolled himself for a one month course at Avinash Pathak's Design Centre, where children were taught to make gift articles with clay. He was the only adult there.
Once the course ended, he devoted his leisure hours to honing his skill at sculpting.
"I did extensive research online and realised paper mache is a natural material that can be used to sculpt idols," he recalls. Three years of rigorous practice led to the birth of the Prathamesh Eco-Friendly Organisation in 2009.
He is grateful to municipal councillor Sanjana Kishor Mungekar who helped him find a location for his workshop at a rental he could afford. He invested his entire savings -- Rs 30,000 – and went into business with a few artisans for help. That year, he sold 50 idols.
People appreciated his work and the demand for his idols increased.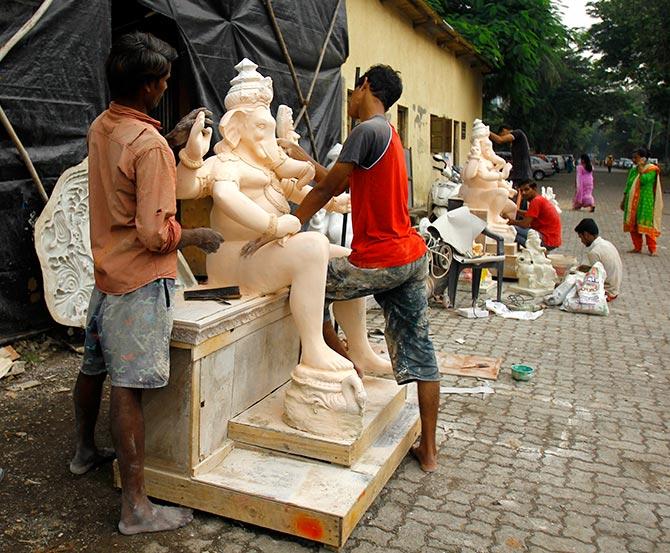 Artisans put finishing touches to an idol.
But space was a constraint. Where would he accommodate the additional artisans he needed to hire?
He approached shopkeepers who were interested in his work and asked if he could make his idols at their locations. That's how he started operating from five more centres in Mumbai.
"Paper mache, white ink powder and tree glue are used to build the idols. These items are easily available at any hardware store," says Gajakosh.
The 'dough', created by mixing clay and water, is divided into units.
The paper mache is then stuck to the clay before the idol is sculpted. "It sounds tedious but, over the years, the artisans have become quick at modelling," he says.
Depending on the size and height of the idol, it takes between 8–15 days for an idol to be ready for sale.
During the season, he does find it difficult juggling his BMC job and his passion. "Kuch accha karne ke liye thoda life mein compromise aur adjustment karna padhta hain (To do something good in life, you need to make compromises)," says Gajakosh.
He is thrilled with the positive response he has received over the years.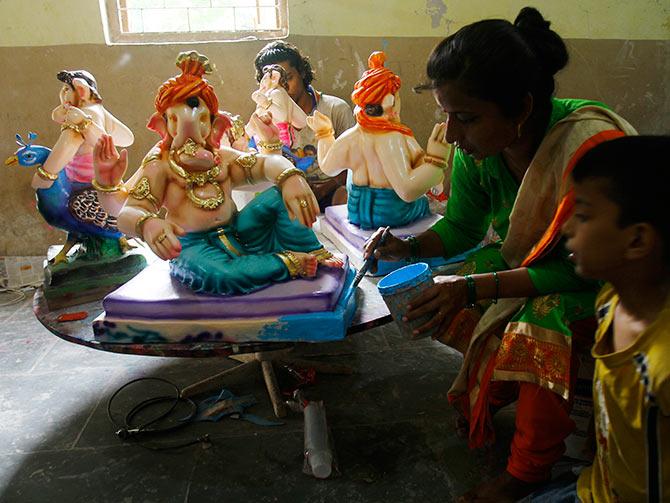 A woman artisan painting an idol at the workshop.
"I am happy to see how I have grown as an artist," he says. "I have trained 25 women in the art of idol-making. I have 20 artisans working for me, including six women. Part of my earnings is spent on their remuneration, which varies from Rs 25,000 – 50,000 per annum."
He spends Rs 2 lakh to rent the spaces he needs to create his idols. The remaining amount is invested back in the business.
Gajakosh is very proud of the fact his idols are popular with the film industry folk as well. "From Rani Mukerji to Aftab Shivdasani to various Marathi actors and television stars, my work has received a lot of appreciation," he says proudly.
"When I got a call from Rani Mukerji's home in 2012 for an eco-friendly Ganesh idol, I couldn't believe my ears. It took me some time to realise that my name has travelled far and wide and I have created a brand."
He gets orders from Texas (US), London, Canada and Dubai as well. He has sent more than 300 idols abroad since 2009; the latest is a six-feet idol that was ordered from Texas.
His biggest success? The fact that he has made 1,000 idols this year, most of them pre-ordered.
The advance bookings for next year have already started and Gajakosh plans to open 25 more centres within three years. "Along with a bigger workshop, I also hope the government comes forward to help my organisation financially," he says.
Photographs: Hitesh Harisinghani