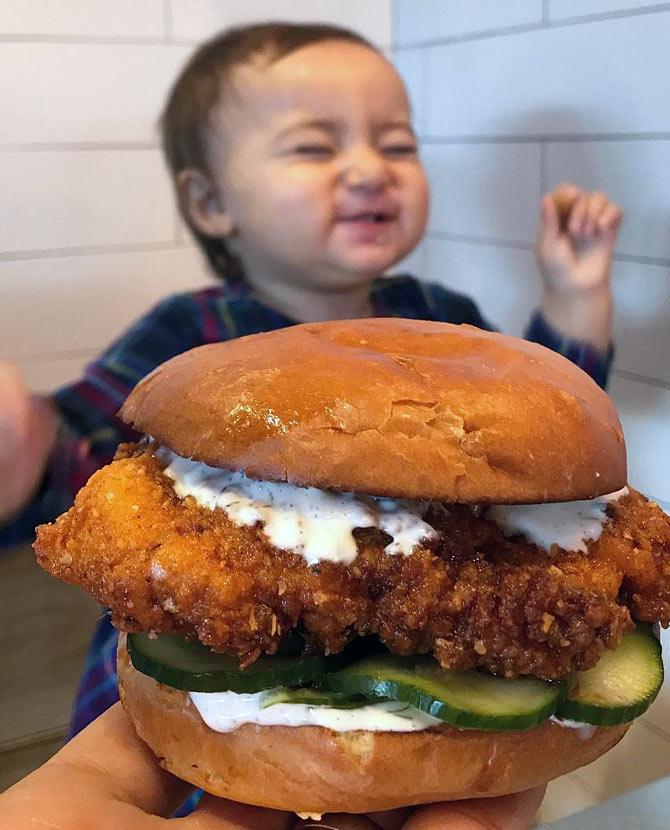 Their pics will send you into a food coma!
Looking for food inspiration?
The Instagram feeds of these foodies will take you on a toothsome gastronomical journey.
Presenting Part 2 of our food series.
Part 1: #FoodPorn: 10 Instagram foodies you must follow
Dear readers, if you have delicious food pics from your culinary escapades or adventures in your kitchen, you can share them at #RediffFoodies and get featured!
---
1. Funfoodandfrolic
Followers: 12,500
Hina Gujral is a passionate food blogger and food consultant from Delhi. She quit her job as a 'boring' financial analyst and switched from a full-time banker to a food blogger.
Gujral adds a pleasant, nostalgic twist to her home-cooked food by serving it in traditional copper plates and bowls.
Her Instagram page funfoodandfrolic is apt for amateur and seasoned foodies, who'd would love to experiment with easy, mouth-watering recipes shared from her mom's Indian kitchen.
---
2. Lingeringaftertaste
Followers: 1,484
A food stylist and photographer, Ambica Selvam makes ordinary food -- like organic cake, bread with herbs, omelette and even the basic gulab jamun -- look so tempting that you will want to dig into them right away!
She is a fan of experimentation, which is pretty evident from her pics -- she'll ditch the rice and chicken combo and throw in noodles instead to make a heartwarming noodle-chicken dish.
Oh! Not to forget the recipe of a tempting jar of boozy jam made with black grapes and Jagermeister which she posted on her feeds that looked sinfully delicious.
Through her Instagram profile lingeringaftertaste, she finds an outlet to share her passion for food.
She also has a blog www.lingeringaftertaste dedicated to her late mother -- she grew up 'watching her mother cook with love and regrets not having cooked enough with her'.
---
3. Theboywhobakes
Followers: 1,12,000
Edd Kimber is a food stylist and writer who (going by his Instagram handle) loves to bake. Does his name ring a bell? No? Well, he is also the winner of The Great British Bake Off - Season 1.
Edd also hosts the podcast Stir the Pot. Through theboywhobakes he has busted the myth that baking is just a girl thing.
He grew up in a house where baking was a regular occurrence -- his first memory was standing on a stool in the kitchen helping his mom to make mince pies.
After studying politics at university, Edd realised the corporate world wasn't for him.
And Edd is no amateur; he is pro at baking and his drool-worthy pics of peppermint candy cane sables, bergamot bundt, Christmas chocolate ombre cake and snowball cookies are too tempting to resist.
---
4. Izyhossack (topwithcinnamon)
Followers: 2,20,000
In her own words, 'Izy is a 19 year old Londoner who studies food science and nutrition at the University of Leeds. I thrive on lattes, cycling around on pretty bikes, wearing my hair in messy buns or plaits (always) and eating cake batter straight from the bowl.'
You need to take a look at izyhossack's account to see some of her mindblowing creations.
We're shocked that it is possible for a teenager to craft such lovely desserts like salted caramel and pumpkin spice cake and pretty strawberry tarts.
But the dessert that takes the cake is the Easter-themed peanut butter and chocolate cheesecake (vegan and gluten-free).
---
5. Myyellowplate
Followers: 16000
Himanshu Sehgal's food journey on Instagram was born thanks to a yellow plate.
"No one knows where it came from... it has been there in my house! I loved the colour and enjoyed eating in it," the digital marketing consultant revealed in an interview.
The yellow plate opened doors for Himanshu, who set out on a food journey across India, documenting all the food he eats on the yellow plate, and showcasing the rich culinary treats this country has to offer.
Myyellowplate is an ode to that humble plate.
---
6. Whiskaffair
Followers: 14,400
Whiskaffair is Neha Mathur's baby.
She's an award-winning food blogger, stylist and photographer who loves to travel.
Her profile will give you a dekkho into some of the delicious food offering across India from boondi dahi and samosas, dahi methi poori, raw tomato green chilli chutney and chicken curries, just to name a few.
A dentist by profession, she gave up her career in dentistry to do what she loves the most: cooking -- she picked up on nuances of cooking from my mom and dad.
---
7. Mallikabasu
Followers: 16,300
Mallika Basu is teaching foreigners how to cook scrumptious Indian meals like spicy, tangy jhalmuri, parathas with dum aloo, appam and chicken stew, etc.
She is an Indian cook, food writer and the author of Miss Masala: Real Indian Cooking for Busy Living. She also writes a regular column for the London Evening Standard.
Born and brought up in Kolkata, she left for her undergraduate degree with the recipe for one chicken curry and dal.
'I didn't even know how to boil an egg when I arrived at my university. After my master's degree, I started trying to replicate the gorgeous and wholesome food I grew up on in my very own, and thoroughly modern, Indian kitchen in London,' she says.
---
8. Cupcakeree
Followers: 8,550
Stepping into Reethika Singh's Instagram page cupcakeree feels like stepping into Willy Wonka's chocolate factory.
You'll spot a banana bread, linzer cookies, gingerbread inspired chiapudding topped with pecans and dried cranberries(the recipe is there on her page). Sounds yummy, right?
She has a liking for healthy, vegan treats and encourages her followers to swap ingredients like coconut milk and maple syrup for plain yogurt and honey.
---
9. Foodbabyny
Followers: 1,42,000
Mike Chau, 32, is a Queens-based app developer who is passionate about taking food pics with his son in the background.
Trust us when we tell you that it's difficult to say which of the two (child and food) is more cuter -- the expression of the child in the photos is adorable and the food, droolworthy.
You must note how the baby's expression changes the minute he spots an inviting and delectable food like square pizzas, open sandwiches, Vanilla Cap'n Crunch Sprinkled Cereal Donut, etc (trust us the list is endless).
Wondering how this Instagram page came into being?
This is what Mike said in an interview: 'It started when we were stuck at home for the first few months after he was born. We were ordering in a lot and, by accident, got a few shots of my son next to the food. I have my own personal account dedicated to food pictures, but I wanted to start something different.'
---
10. Noleftovers
Followers: 2,66,000
Meet Jackie Gebel, a social media manager, who loves to upload finger-licking food pics taken across New York City (NYC) and add a witty caption to it.

She has a huge appetite and through noleftovers, this Instagrammer hopes to share most of the amazing food and experiences she has enjoyed.
Jackie takes her followers on a culinary journey with delightful pics of food that's not typically NYC style, like white rose dumplings, Vietnamese omelette, matcha latte, mango sticky rice with black and white sesame, etc.

Noleftovers is a guide to the best restaurants, bars, culinary finds, hotspots and happenings in NYC -- from the dish that can't be missed to the perfect cocktail lounge for your first date.
---
Follow this
link to post the best of your food pics and we will publish them right here on Rediff.com!
Share your food pics along with a short description of the food and the place you clicked it.
Steps to upload pic on ZaraBol:
1. Click on 'Add Image' option on the left side of the #RediffFoodies page.
2. Upload an image from your computer/phone.
3. Write a small description for your image in the box above.
4. Hit post and see your image on ZaraBol.