The way IPL's hottest anchor balances work and family and dotes on his young son will give you fatherhood goals.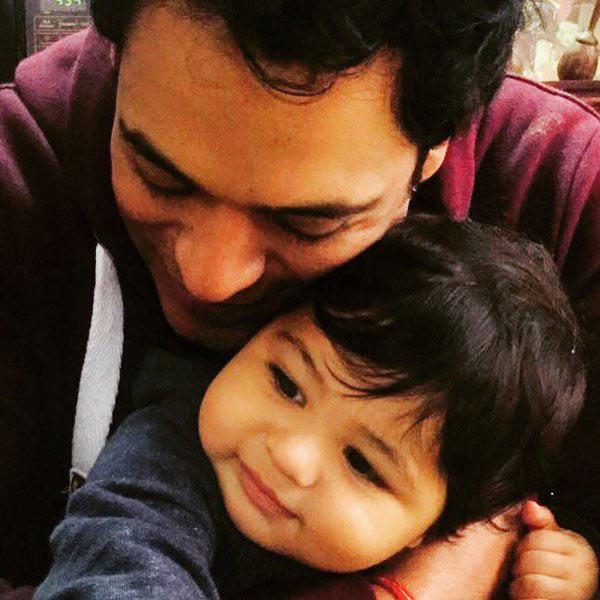 IMAGE: Samir Kochhar with his son Kabir. Photograph: Kind courtesy Samir Kochhar/Twitter
Not many know that Samir Kochhar, the popular cricket commentator and actor, is a father and has an adorable one-year-old boy Kabir, who is, undoubtedly, the apple of his eye.
Samir married his long-time girlfriend Radhika in January, 2010 and the couple were blessed with a cute little baby boy in April 2015.
According to the new father, parenting a child is a learning curve for both the mother and the father.
We caught the dashing IPL anchor in an exclusive tête-à-tête:
How do you find time for your son? How has fatherhood changed you?
Let us be honest, it is hard!
Given the work timing and busy schedules, especially when you are covering live events on television, it is rather difficult to fish out time for anything for that matter. However, when there is a will, there is a way!
So, I wake up early and play with my son Kabir for the longest time possible.
We go for drives, walks, make funny noises together, play music and dance along, read out stories, practically do anything that would amuse him.
He finds joy in finer things -- birds, cars etc, so I let little things in life regale him.
Fatherhood is something you can't really prep yourself up for. The feeling is inexplicable!
There is no compulsion; everything you do is out of pure love. It is like you want to devote time, you want to watch your child grow, and you want to be a part of everything that is happening to him.
You reach that phase when you start putting someone before yourself, ready to lay down your life -- selfless, unconditional love!
IMAGE: Samir with his son on the sets. Photograph: Kind courtesy Samir Kochhar/Twitter
Do you believe in equal parenting?
Absolutely, complete equality! Parenting a child is a learning curve for both the mother and the father.
For example, when Kabir was younger, just a few months old, I used to shoulder the responsibility of changing his diapers.

Now that he has grown up and become more restless, my wife takes care of that. Anyway, the deal is to share responsibilities; and it should come from within.
How does your ideal Sunday look like?
Now-a-days I can hardly tell a Monday from a Sunday, but I make it a point to spend as much time with my family as possible.
We have breakfast together, go out for brunch, gorge on junk food, come back and take my son to the park or the pool and so on.
I make an attempt at spending every waking hour with him. Once he falls asleep of course, I spend some time with my wife, like watch a movie etc.
How important is a new father's role in taking care of the new mother and the newborn?
Like I said, we always share responsibilities! In fact, it is a prerogative to allow the new mother as much relaxation possible.
Her mind and body undergoes a sea of changes during this phase and one ought to be supportive then.
The key is to reach out within yourself and condition the mind to give out as much love and care as you can.

And once again, more than the intent, the will to do the same should be present.
I would want to bathe my son and watch him play with the water and splash it all around; the joy thus derived can never be described in words!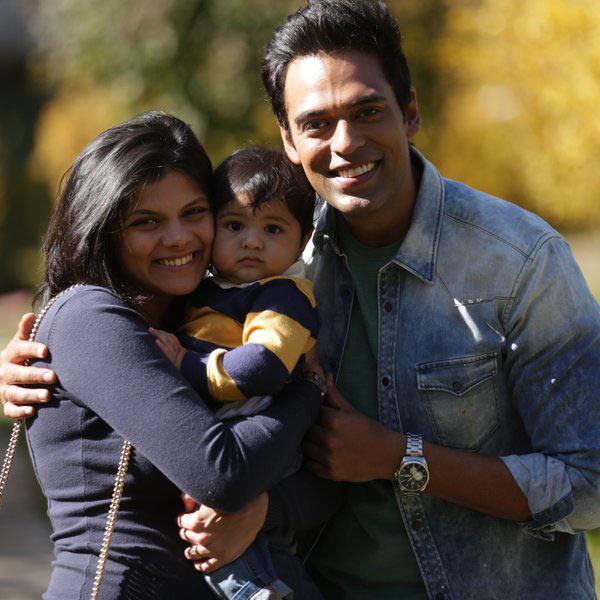 IMAGE: Radhika, Kabir and Samir make for a perfect family. Photograph: Kind courtesy Samir Kochhar/Twitter
Three things your son has taught you?
Ha ha. This one is getting me thinking! Okay, so he has taught me to fancy a bus, even while I'm sitting inside a car!
He just loves buses, any kind so to say; this has leaded me to start taking interest in this giant vehicle too.
He has taught me to be patient, to keep my calm and not let any situation overwhelm me.
I have also learnt how to love unconditionally from him. I would not know how to love this way, if it wasn't for my son.
What kind of a parent are you? Strict, lenient or helicopter?
I fall somewhere between lenient and strict -- so, helicopter as you would call it.
I think my son is going to bully me instead, because I don't believe in reprimanding.

I can correct and I always will, but my duty is to show him the right path so that he can make the right choices, not to chide or hit!

I will always try to figure out why he did something wrong; you never call a child 'bad', that affects them.
Instead you should say, "Hey, you are not a bad kid, you have just made a mistake."
Also, I feel my wife is firmer than I am; sometimes when Kabir throws tantrums, I actually allow him to play along.
Tips for new dads...
Okay, so I believe I have no authority to comment on parenting.
There cannot be a right or wrong way to do so. The child and the parent grow together!

Sometimes I feel I am more excited about playing with the new toys I get for him than he is. As time passes, both the child and the parents mature simultaneously.
Apart from this, new Dads should be careful to not argue with or annoy the wife and be supportive and try to make life easier for her.
Lastly, what is your biggest parenting fear?
The biggest parenting fear for me is to live up to the standards I have set for myself!
As my son grows up, I want to be his role model, to have the right to tell him wrong from right, to teach him manners and etiquettes and inculcate the values I have grown up with. It is more of a challenge than a fear!
All images: Kind courtesy Samir Kochhar/Twitter