Did you know the largest idol immersion of Lord Ganesha happens in Mumbai and it lasts 24 hours?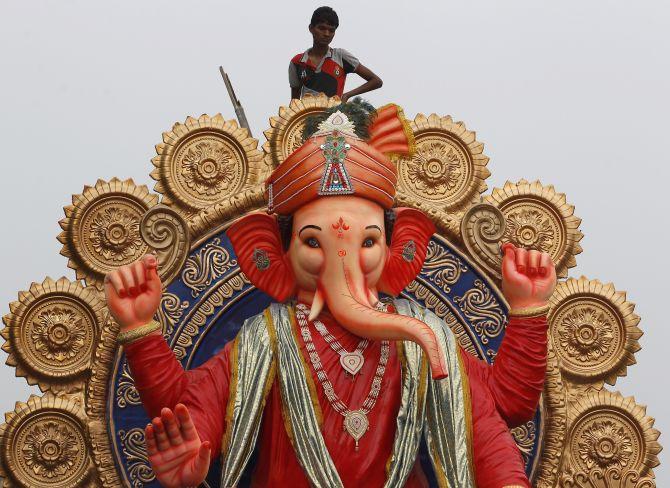 Vakra-Tunndda Maha-Kaaya Suurya-Kotti Samaprabha
Nirvighnam Kuru Me Deva Sarva-Kaaryessu Sarvadaa
Meaning:
O Lord Ganesha, of curved trunk, large body, and with the brilliance of a million Suns, please make all my works free of obstacles, always.
A symbol of wisdom and good luck, Lord Ganesha is the most worshiped Hindu God.
Regarded as the reliever of all obstacles, Lord Ganesha's photos, idols and other decorative items find a prominent place in most Hindu households.
Any festive occasion or new beginning starts with offering prayers to Lord Ganesha.
Marking the birth of the Lord of Wisdom is the festival of Ganesh Chaturthi, which is celebrated across the country for 10 days with fervor and grandeur.
The excitement begins months in advance as artists sculpt countless idols of Lord Ganesha in different poses, colours and sizes.
Families gear up to welcome their favourite Lord with decorations and an array of sweets, especially the signature mithai -- modak.
After days of celebration with family and friends, the idol is eventually immersed in the sea (or water) led by a procession of bells, drums and music.
In an emotional moment, devotees bid farewell to Lord Ganesha and request him to return again the next year.
As India celebrates Ganesh Chaturthi, we take a look at some interesting and lesser known facts about this famous festival.
#Fact 1
In 1893, revolutionary freedom fighter Lokmanya Tilak urged the masses to come together to celebrate Ganesh Chaturthi.
His main motive was to inculcate the feeling of patriotism among people at a time when British discouraged social gatherings.
#Fact 2
In India, Ganesh Chaturthi is celebrated in the grandest form in Maharashtra, Karnataka and parts of Andhra Pradesh.
Outside India, it's widely celebrated in Nepal's Terai region, and by Hindus in UK, US and Mauritius etc.
#Fact 3
Traditionally the idols were sculpted out of mud.
They were eventually immersed in water as the festival drew to an end. But like this they were sculpted again every year to celebrate the festival.
Though the ritual of immersion continues, sadly Plaster of Paris (PoP), that is used nowadays for idol-making contains mercury and cadmium, is hugely contributing to water pollution.
#Fact 4
In 2014, there were 10,000 Ganesh idols in the pandals of Mumbai alone.
According to statistics, the number of Ganesh idols brought home last year was 1,80,650 and the number is significantly increasing each year.
#Fact 5
The longest immersion procession is that of Mumbai's Lalbaugcha Raja, which starts at around 10 am and ends the next morning, taking nearly 24 hours.
The second longest procession is that of Mumbai's Andhericha Raja, which starts at 5 pm and ends early morning next day.
#Fact 6
The total insurance cover for pandals across Mumbai alone in 2014 was worth Rs. 450 crores.
The famous Lalbaugcha Raja was itself covered for a staggering Rs. 51 crores.
#Fact 7
Lord Ganesha, who is at times represented with only one tusk, is known as Ek Dant.
According to Hindu mythology, Ganesha once broke his tooth and hurled it at the Moon for laughing at his belly.
He even cursed the Moon.
Although the curse was undone, the myth about looking at the moon is a bad omen still remains.
#Fact 8
Apart from Mumbai and Pune, one place which flourished and mastered the art of making Ganesha idols is Maharashtra's Pen district.
Close to 500 workshops and over 800 artisans make over 7 lakh idols every year, which also get exported to the UK and US.
#Fact 9
Though many believe Ganesha to be a bachelor, there are numerous instances where Ganesha is represented with two wives-Ridhi and Sidhi.
Both of them were created by Brahma to placate Ganesha who was distraught at not having any wife when several Gods and deities had more than one.
#Fact 10
Lord Ganesha has around 108 names, including Vighna Harta (the remover of obstacles) and Buddhi Pradaayaka (the giver of wisdom and intellect).
Apart from his birth, Ganesh Chaturthi is also the day when Lord Shiva declared Ganesha to be above all Hindu Gods.
Lead image: Amit Dave/Reuters