A Mumbai-based pandal has designed an idol that reduces pollution and ocean waste and urges its visitors to contribute smartly towards a social cause.
Rediff.com's Divya Nair and Satish Bodas report.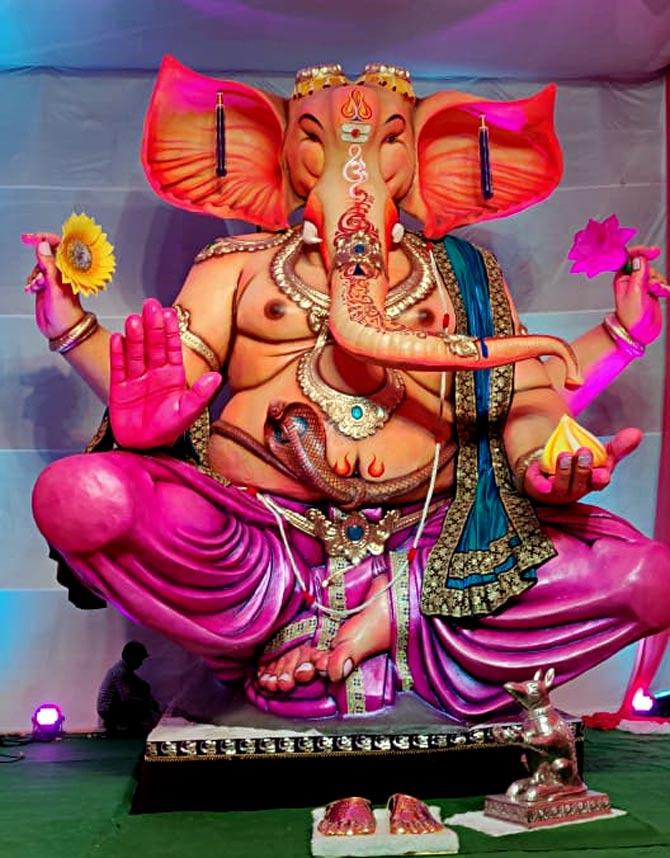 At a time when hundreds of pandals across India are competing against each other to either prove that they are putting together the largest, richest or most popular Ganesha every year, one such pandal in Mumbai is on its way to create a different world record.
And show the world how to make festivals eco-friendly and socially relevant.
For its 53rd anniversary, the Tejukaya Ganeshotsav Trust in Lalbaug, Mumbai has ditched the conventional Plaster of Paris to put together a 22 ft tall Ganesha made entirely of eco-friendly materials.
And guess what? More than 600 families residing in and around the area have contributed in their little way to this inspiring initiative.
"All these years we have been reading about pollution -- how oceans are getting polluted every year during immersion due to excessive use of plaster of Paris idols. This year we wanted to make a conscious effort to replace Plaster of Paris (PoP) with natural materials that easily dissolve after immersion. Also, we did not want to compromise on the scale of the idol so we stuck to 22 feet," Namdev Hule, trustee, Tejukaya Ganeshotsav Trust tells Divya Nair/Rediff.com.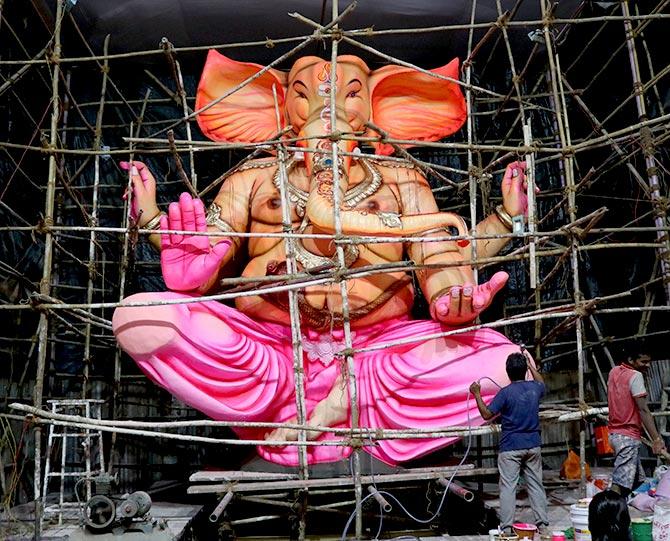 The core team started working on the idea way back in March 2019. A team of sculptors and workers led by Ajit Khot and Vidish Zad suggested the idea of creating an idol made from paper and clay.
"When we shared the idea with the residents (who have now relocated due to redevelopment in the area) everyone wanted to be a part of it. We asked them to donate whatever raddi (used paper) they could. We were amazed to receive 700 kg of raddi all of which has been used in creating this idol," says Ajit Khot, one of the sculptors who worked on the idol.
The papers were first soaked in water and ground in a grinder. They were then mixed with shadu maati (clay) and gondh (a sticky material) to create the basic material for the idol. But once the work began, there were other challenges.
"The thing about paper, we realised, is that it is too soft and doesn't give you strength. So we had to add bamboo sticks to create the basic skeleton," Khot informed.
"The other challenge was that unlike clay or PoP, paper takes more time to dry, especially during the monsoon. So we had to wait for the first layer to dry before we could proceed."
For the decoration, they have replaced thermocol and single-use materials with fresh flowers and cloth.
The idol is painted with minimal water based colours. The overall cost of creating the 1.5 ton idol is Rs 12 lakhs.
In the aftermath of the floods that affected several parts of Maharashtra, the Trust is currently appealing its visitors to join them in their social cause.
"We have put several banners requesting devotees and visitors to refrain from getting sweets, flowers or perishables. Instead they could donate a pen, pencil or any stationery that we intend to distribute to the zilla parishad schools in a few villages in Kolhapur district. We aim to help at least 1,000 students through this initiative," informed Sanket Hule, secretary of the Trust.
Watch the video below to know more about Tejukaya's eco-friendly Ganesha and how it was made.
Video: Satish Bodas/Rediff.com