"When Bollywood actress Deepika Padukone got candid about her struggles on national television, it showed the hypocrisy prevalent in society -- while on the one hand, her troubles are seen as heart-wrenching, on the other, the stereotypes surrounding mental illness remain the same."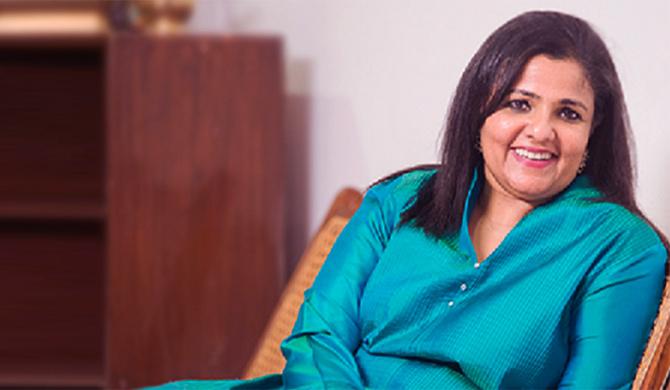 IMAGE: Anna Chandy, chairperson of Live Love Laugh Foundation.

Nestled among leafy branches in Bengaluru's Indiranagar locality is a board marking the headquarters of the Deepika Padukone-founded 'The Live Love Laugh Foundation'.
As I take a deep breath and enter the building, I am welcomed by walls documenting the foundation's journey over the past two years. Blue cushioned chairs and indoor plants breathe life into a space that has been successful in brightening up the lives of hundreds of mental health patients.
Dressed in a crisp blue kurta, Anna Chandy is grace personified. Chairperson of the Live Love Laugh Foundation, she is the first supervising and training transactional analyst from India accredited to the International Transactional Analysis Association with a specialisation in counselling.
She is also certified in neuro-linguistic programming and art therapy.
Originally from Chennai, she has spent much of her life in Bengaluru. Owing to her over 30 years of professional experience, Anna is intuitively able to connect to various situations and roles, as is made evident by her diverse clientele.
Finding the beat
Growing up in a typical South Indian family, Anna did her schooling from Bishop Cotton Girls' School in Bengaluru and pursued her further studies from Mount Carmel College. A few months into her arranged marriage, her brother-in-law, who was suffering from schizophrenia, paid them a visit.
She says, "We as a family, were alien to this. He had a psychotherapist who advised us to 'learn how to manage him'. Having lived through a dysfunctional family, I was very specific that I will put in that extra effort to make his life easy, and hence I ventured into counselling."
Anna is the mother of two young girls who are well-settled in their lives.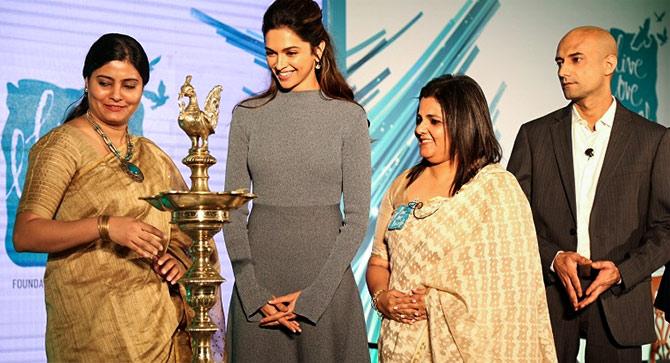 IMAGE: Anna with

Deepika Padukone at an awareness meet on World Mental Health Day in Octorber 2016.
Matching steps to the beat
Anna eventually began her career as a freelancer at Vishwas, a non-profit organisation, and took the plunge into counselling when she was 30.
Today, the company has three divisions -- Vishwas, Viveka, and Sneha -- working closely in the field of disability and development.
Considering Anna's exceptional performance, the team at Vishwas elevated her position to that of a board member. That is where she was introduced to the 'Supervision Model' which, according to her, is overlooked in India.
"It is a very ethical and essential approach/requirement, which we overlook here. After I attended the TA 101- (Transactional Analysis) in America, I was very intrigued by Eric Burn -- his teachings are the reason I followed my intuition. After three years I was a certified TA counsellor, the first one in India in counselling though there were other physiotherapists."
She later worked with BPOs -- Firstsource and 24/7 to name a few.
How does she keep her sanity despite having to listen to people talk about their troubles all day?
"Till today, there has never been a day that I regretted being in this profession. In spite of me hearing only sad narratives, I now have very authentic relationships with people from different walks of life and it makes me happy. The quality of these relationships is different because there is a sense of vulnerability that I am exposed to, which in my opinion is very pure and sacred," she says.
Myths of spotlight
Starting a career in counselling was a brave decision by her considering the legacy of Indian stereotypes around mental health. Holding her passion tight, Anna spent her first year with no clients.
"One of the good things about counselling is that you learn a lot about yourself. Engage with another human while you enable and promote, work for that individual, and then there are certain aspects of yourself that start showing up which encourage you to pursue it."
As with every Indian family, Anna's immediate circle was skeptical about her future plans, but she was adamant about following her dream.
"It was a very difficult time professionally to make it a source of livelihood," she informs.
Somehow people even till today relate to counselling as you go to someone and get advice. I believe your shoes are yours — you can never advise someone on how to lead their own life.
Finding the spark
While most of us might be exhausted after 29 years of experience, Anna's undying love to help people is everything wise and thoughtful.
"Counselling was my calling. My focus has always been to mentor, empower people, and to really provide hope to the hopeless.
"When I look back at my own journey, am astounded by the difficulties I faced and overcame because of this process. To me, empowerment, freedom, happiness, and contentment are within us as individuals and have nothing to do with outsiders. This process harnesses my belief -- even till today I feel passionate about my profession."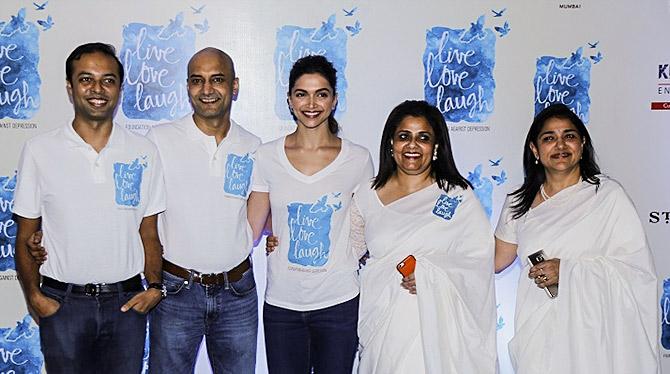 IMAGE:

The team behind Live Love Laugh Foundation -- Anirban Das Blah, Dr Shyam Bhat, Deepika Padukone, Anna Chandy and Nina Nair.
Live love laugh
"When Bollywood actress Deepika Padukone got candid about her struggles on national television, it showed the hypocrisy prevalent in society -- while on the one hand, her troubles are seen as heart-wrenching, on the other, the stereotypes surrounding mental illness remain the same."
Anna, who is the chairperson of the organisation, calls it a startup not for profit.
"We are entrepreneurial in our approach -- our key area is depression. Our focus is 'disruptive innovation' to create a norm. When Deepika came out, it was a disruption in itself. Our Dobara Poocho campaign was another such example. These were successful ways of flaunting something unusual."
After the launch of the foundation, the team went live with the Dobara Poocho campaign, telling the tales of four individuals, on October 16, 2016. Today the team takes pride in 140 survivor stories of people who are contributing voluntarily, creating a new norm and destigmatising mental health.
With the clock inching closer to 1 pm and an hour-and-a-half of speaking to Anna, I take my last sip of coffee and wind up my interview, only to return with a new perception of breaking stereotypes and falling in love with one's profession, just like today's protagonist.