Facebook's reaction to Barkha Dutt's child abuse proves we know absolutely nothing about rape.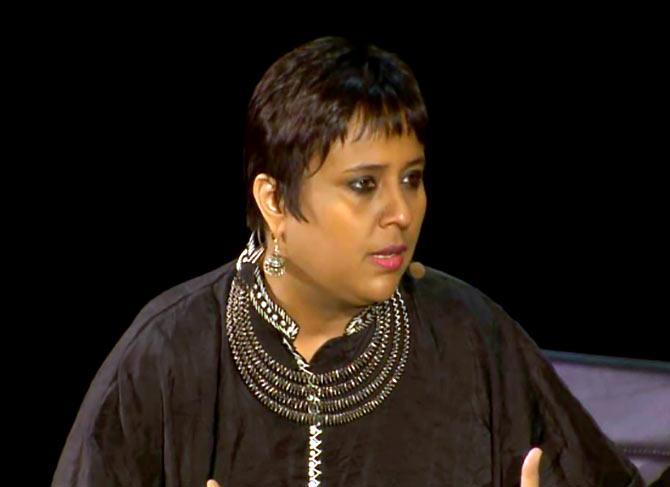 One of the most lion-hearted women in our country made an astounding confession.
She spoke up about a past riddled with abuse and harassment, and how she had to rise from the ashes of shame, self-blame and lack of agency to finally level with the burden of guilt in an act of abuse.
Barkha Dutt, India's foremost journalist, was all of eight-years-old when a distant male-relative molested her, leaving the innocent child utterly traumatised for years.
She ended up keeping the crime a secret for over three-and-a-half decades.
However, in her debut book This Unquiet Land: Stories from the Country's Fault Lines -- which is a part memoir part collection of essays that tells the truth about the country's secrets and lies -- she decided to break the silence, first by sharing her own experience.
At the Women in the World Summit in New York last Friday, she candidly spoke about the heart-rending experience. "It feels like only yesterday. I'm 44 years old, but I feel like I'm eight years old again. I can see that man's face in my head every time I talk about it," she said.
"I cannot with any honesty write about feminism, call myself a feminist, or talk about the need to lift the veil of silence and the conspiracy of silence around sexual violence and abuse, if I'm not ready to break the silence in my own life," she said, of her decision to share her story, adding it was not easy to go public with her sexual assault.
"When something like this happens and when you're a child, you bury it and try and forget it," she added.
As a country, our conscience has already been tainted with a long history of either convincing victims to push stories of abhorrent human rights violations under the rug, or subjecting the ones who do decide to report the crime to a blame-game onslaught.More often than not, the victim ends up on the losing side.
But India's reaction to Barkha Dutt's confession exposed the third, an increasingly popular way of dealing with victims in the online world -- obscuring their courage with more misogyny.
Rather than lauding Barkha's bravery to share an incident that has eaten up millions from inside, our janta hurled the choicest of absurd reactions derived from internalised misogyny, stereotyping, ignorance and preconceived notions that either concluded that she was a liar, or that she, somehow, brought it upon herself.
It proved, as a collective population, how little we know about the psychology of rape and how passionately we continue to hate our women. Here are all the fissures in our knowledge and empathy quotient that were shamefully exposed in just the first few dozen comments on the news report on social media.
Deep-seated misconceptions about rape
(These quotes here and elsewhere in the article are taken directly from social media sources and are in bad taste. They have been included here to highlight the abuse heaped online on victims.)
"I feel its the poor man who was sexually abused by Barkhadutt, not her. Man, look at this transgender lookalike. Whozgonna abuse her? The poor old man got abused."
"By the way, all retarded whores are some way or the other have a stupid story of sexually being abused"
"Barka dutt tujhe to meri gali ka kutta bhi na dekhe, mardon ki to baat hi chhod de."
A Murari Kumar weighed in with this gem: "I don't think Barkha Dutta has such dashing profile that her own family member and relative started molesting her at the age of Eight. Later She turned herself as one night stand due to money and carrier jump. If the all women are not good then all men are also not bad.
Let us, for a minute, look past the misogyny, snarky and shallow remarks about her appearance to usual slut shaming he is alluding to.
The man's reasoning claims that sexual abuse has something to do with how the woman looks, what she wears, how she generally conducts herself. Heck, the very assumption that rape has anything to do with the woman invalidates his opinion.
If a man feels that it is a privilege to attract sexual attention that is not sought after, attention which, according to him, is the preserve of the conventionally beautiful, one indeed fears for his mental make-up.
Murari has also done our job for us in proving that his brain is the iceberg to the Titanic of logic, with the second half of his post.
He says little Barkha was not attractive enough as a child to be abused, and an older Barkha was too sexually liberated as an adult not to be sexually abused and shown her place.
Sadly, his sexist, perverted and grossly violent thought process is not the exception in our country. The largely patriarchal society that has always somehow held the woman responsible for the sexual violence meted out to her will back Murari's statement.
General mistrust, misogyny and sundry
A certain Praveen Gupta shared his two cents: "Oh please ! Now behaving like a 'bechari' won't help. Recently calling yourself a victim of sexual harassment in childhood has become latest trend to gain sympathy and cheap publicity. Be it Bollywood or media.
A Roshan Joseph Braganza wrote: 'Why every retarded feminist was sexually abused in her childhood?
Stop fabricating stories.'
'Every feminist has a rape fantasy now a days, it's so easy and cheap to get popular,' driveled another.
Words like 'bitch' and 'vamp' are often unfairly directed at women who are independent, have leadership qualities, and refuse to take slack lying down.
To the insecure male psyche, belittling women, and painting them as manipulative, wily temptresses that use their feminine wiles to get ahead is a much easier way to dismiss them.
Barkha Dutt is a controversial figure, and the upholders of social media law used her controversial journalistic history to unscientifically and illogically jump to conclusions about the veracity of her claims. Television shows must also take a bow, for creating this 'vamp playing victim' trope that gullible audiences take only too seriously.
Harnidh Kaur, a Twitter user, rightly pointed out, "Childhood abuse is (not) just another 'bandwagon.' When you troll someone for speaking up, you are indirectly propagating the culture of silence."
And lastly, this gem.
A Sahil Sharifdin English posted on Facebook -- "Most beautiful women have never spoken against males like this. Speaking on sexual harassment has become a fashion with ugly, black and man-looking-women. The uglier a woman is, the more she lies about sexual harassment."
This backs the classic idea that male attention is somehow the only validation that can certify your womanhood. And the thoroughly disturbing afterthought that sexual abuse is, at the end of it all, a flattering ode to a woman's beauty and desirability.
Not to mention the transfer of the onus back upon the woman, by reiterating the idea that they are essentially just aesthetically-satisfying objects, put on the planet for the sole reason of pleasing men.
Thus, by extension, terms like 'ugly' and 'fat' are gender-specific insults, meant to capitalise on women's inherent insecurity to be physically attractive, which is nothing but a sexist standard that they are expected to uphold.
Speaking of bandwagons, an AA meeting -- i.e. Antinationalism Anonymous -- was also inadvertently spontaneously convened, tagging her confession as a conspiracy to defame the nation and Hinduism, because, we have a reputation to protect, not our women. But thankfully, we have learnt to troll those trolls right back.