Meet Derek McLane, the man who has designed the sparkling stage for the 90th Academy Awards.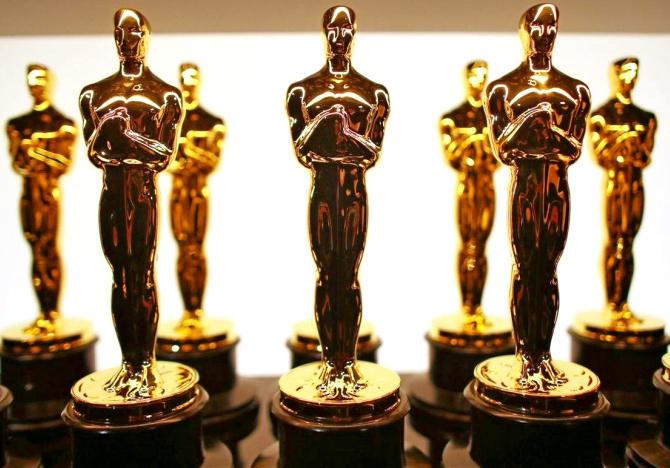 Swarovski has provided the sparkle on the Oscars stage for 11 years now.
Photograph: Christopher Polk/Getty Images.
How do you top everything that has been done for the past 89 years to mark the 90th Oscars?
As far as the Academy of Motion Picture Arts and Sciences is concerned, you get Emmy and Tony-award winning set designer Derek McLane to come back and leave the rest to him.
McLane, who is returning as the Oscars set designer for the sixth year in a row, has made sure his stage is as much a talking point as the stars who will descend on it.
He has emblazoned his set with a whopping 45 million Swarovski crystals.
For reference, People noted, 'Swarovski has provided the sparkle on the Oscars stage for 11 years now, but this year's set includes 40 times more crystals than all previous years combined.'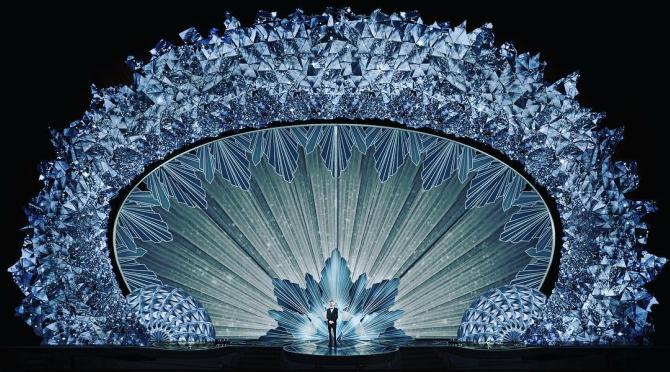 Sharing this sketch on Insta, Derek McLane wrote, 'This is a new proscenium, which is made of large faceted shapes, finished with mirror and crystal (around 45 million of them, courtesy of @Swaroski ). It is inspired by the interior of a geode. Also shown here is our new show curtain.'
Photograph: @derekmclane/Instagram.
McLane's stage last year went with an Art Deco theme. But rather than reach to another historic design movement, he has opted for a more abstract look this year.
'It's more about reflectivity and light, than it is about a particular period,' McLane told the Architectural Digest.
The designer told AD that the proscenium, 'which is the arch surrounding the stage in front of the curtain', is the first design he conceived and perhaps his favorite element of the show.
'It feels a little bit like a geode, or a kind of sculpture made out of crushed glass,' AD quoted McLane as saying, and added, 'The end result is this dazzling faceted piece decorated with a staggering 45 million Swarovski crystals. (For comparison, last year's proscenium only had 27,120 crystals.)'
For the main set, McLane told People, he 'was inspired by the inside of a geode.'
He explained to the magazine, 'It's made of these shapes that look very angular and complex. And the surfaces are covered with these very, very small crystals. I think it makes a really dramatic statement.'
2017's Art Deco inspired Oscar's stage.
Photograph: @derekmclane/Instagram.
McLane also nods to different eras of filmmaking to mark the 90th Academy Awards.
'We wanted to celebrate the long history of filmmaking,' McLane told People. 'But mostly the different eras are presented in a relatively abstract way, we're not super specific about these things.'
The sets will change 14 times during the course of the ceremony, excluding the smaller adjustments, and there will be something new each time.
The Oscars sets this year also include the floating Oscars -- for the second year -- with over 140,000 crystals. According to reports, the floating installation will include a backdrop curtain with over 80,000 crystals.
The sparkle also extends to Dolby Theater's opera boxes, which will reportedly be embellished with over 23,000 Swarovski stones.
Who is Derek McLane?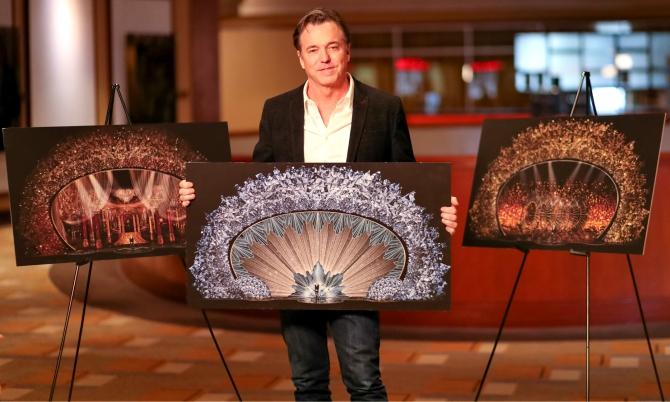 Derek McLane reveals the sketches for the stage he designed for the 90th Oscars.
Photograph: Christopher Polk/Getty Images.
Derek McLane has designed more than 350 productions on Broadway, Off-Broadway and television.
A little known fact about McLane is that he moved to India for two years when he was 18.
After he returned to the United States, McLane eventually enrolled at Harvard University for his BA. He then did his MFA at the Yale School of Drama for a deeper understanding of the industry.
McLane won a Tony for Best Scenic Design of a Play in 2009 for 33 Variations, and has scored three Tony nominations since then.
His Oscars set for 2014 won him an Emmy and an Art Directors Guild Award. His Oscars set in 2015 earned him a second ADG Award.
He also won an Emmy in 2017 for Hairspray Live.
Speaking to Variety about the differences in building sets for Broadway and the Oscars, McLane said, 'This [Oscars set] is more decorative. It needs to stand by itself as a piece of design, and one big question is: How do you do something that feels elegant and grand without being bombastic? How do you avoid visual clichés like the 20-foot-tall statuette?'
McLane's designs in opera and theatre have also appeared in London, Paris, Dublin, Glasgow, Moscow, Kraków, Sydney, Caracas and Warsaw.