Smart lighting is about to revolutionise the way we think of the humble bulb, says Veer Arjun Singh.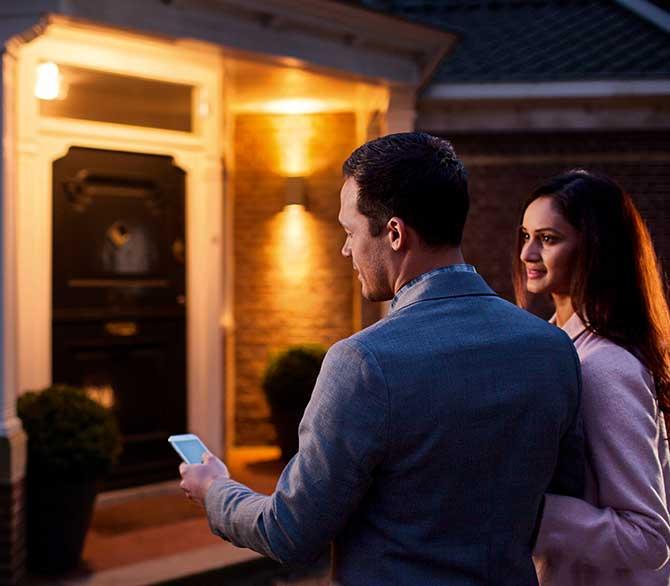 It all starts with changing a bulb.
The table lamp that you sleep next to can now change colours, respond to voice commands and be controlled through a smartphone from anywhere in the world.
Perhaps the lamp on the other side of the bed should also change from a bright white to a warm yellow in sync with this one, or maybe you can finally put an end to that fight.
Some hearty banter between mum and dad, two chirpy children and a lot of laughter in the living room... Advertisements paint such a happy picture.
A bulb changed here, a downlighter there and voila!
There you have it, a beautiful family and a smart home, all working in perfect sync.
If only things were that uncomplicated.
If you are willing to throw money around and get your home fixed with all kinds of smart lights, speakers, locks and switches that communicate with one another, I suggest you hire a person to manage them, too.
Unless you invest your time in understanding how to go big on 'smart', it's kind of dumb to invest in them.
This guide will hopefully take you through the basics.
It does start with a bulb, though.
Before you fit smart LEDs into your favourite chandelier, it's wise to give a single unit a try.
Skip the Bluetooth-enabled bulbs that only work within a small range and buy Wi-Fi bulbs, instead.
They can be controlled through an app as long as you and your bulb are in the same Wi-Fi network.
Some can even be switched on and off from anywhere in the world if you leave your home Wi-Fi on and your phone or laptop is synced to a cloud service.
Pretend you are at home and fool lurking thieves.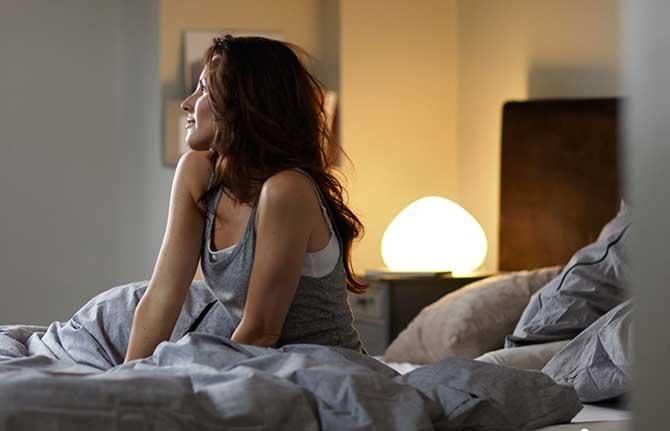 A Jaquar Vivid smart bulb that costs Rs 1,800 will soon be coming to e-commerce platforms.
More widely available Syska smart LED bulbs cost Rs 699 (Amazon) and a similar Wipro Garnet smart bulb is even cheaper.
If you are ordering one online, make sure the socket type is compatible with your light fixture.
It's either the phasing out B22 that fixes into the socket with a single twist or the new and more popular E27 that takes a few twists to lock in.
Get this right and you won't need an electrician.
Both these RGB bulbs have standalone apps (iOS and Android) that connect to your phone via Wi-Fi.
You can change colours, adjust brightness and switch them on and off remotely.
But to make the most of them, the next step is to choose a smart home platform with a voice assistant.
It could be Apple HomeKit (Siri), Google Home or Amazon Alexa.
Their native apps let you add different lights, rename them and control them through voice commands.
Although you can do it through your phone, it really helps to have a smart speaker so that more people can control the lights, let's say, in the living room.
A Google Mini speaker costs Rs 2,999 and an Amazon Echo Dot (3rd gen) Rs 3,499.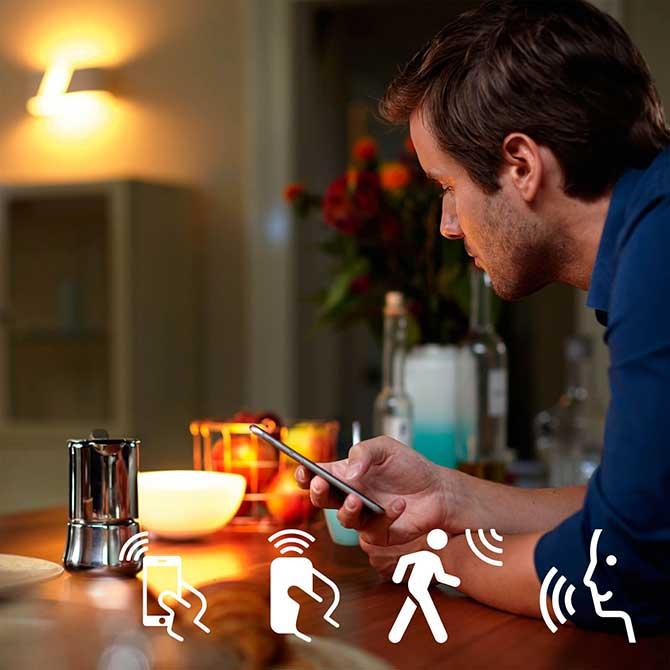 You can buy a bunch of lights from different brands and control them separately, but if you are serious about turning your home into a more smartly lit place, it's wise to invest in a single brand and build on it.
Philips Hue is a good case in point.
The brand not only lets you control hundreds of smart lights through a single app but also gives you the option of buying decorative light fixtures fitted with them.
You can start with buying a Philips Hue starter kit (Rs 10,999, Amazon).
It comes with three 10W LED bulbs and a Philips Hub -- a tiny box that connects to your Wi-Fi router through a LAN cable.
You can wirelessly connect up to 50 smart lights with a single hub and add multiple hubs to your router.
Additional bulbs are around Rs 2,499 a piece.
Either fit these bulbs into your existing light fixtures or consider buying new ones.
Philips also has some nice pendant lights and sleek floor lamps for the living room that come retrofitted with smart lights.
Once you have the lights in place, connect them to the Philips Hub through the Philips Hue app.
It's a fairly simple process: connect the hub and the router though a LAN cable, switch the hub on and search the lights on the app.
But before you are ready to say 'Alexa, dim the living room lights to 20 per cent' or 'change the colour to blue', you have to create a virtual 'living room' or a 'master bedroom', etc, on the app and add the required lights to it.
It's the same thing we do for our smart TVs and speakers.
I can't possibly offer a guide to it, just go to the app and you'll figure it out.
So I am going to assume that you understand the basics.
Let's move to more exciting stuff.
Bulbs in wall fittings and lamps are one part of it; Philips also has smart White Ambient and RGB light strips (Rs 7,500 for 2ft and extendable up to 32 ft) that you can fit inside false ceilings and cabinets, around bed headboards and wherever else they seem to fit.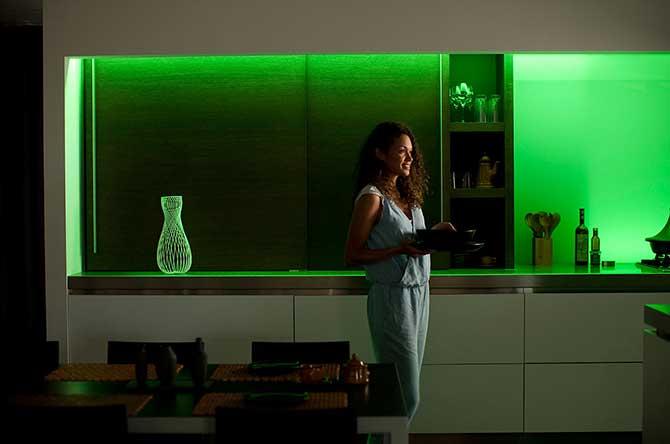 The smart lights together can be used in many ways.
For instance, bedroom lights can be integrated with your alarm to fade in slowly to imitate the rising sun.
Living room lights can be connected to your smart TV to change colours according to the scenes and with your music system to create a "disco lights" effect with the Hue Play HDMI Sync box (for smartphones) and the Hue Sync app (for computers).
While the playful stuff might not be for all, mood lighting is a real thing.
If not colour, smart lights also come with just shades of white and yellow, and also with a remote control for the smartphone-averse.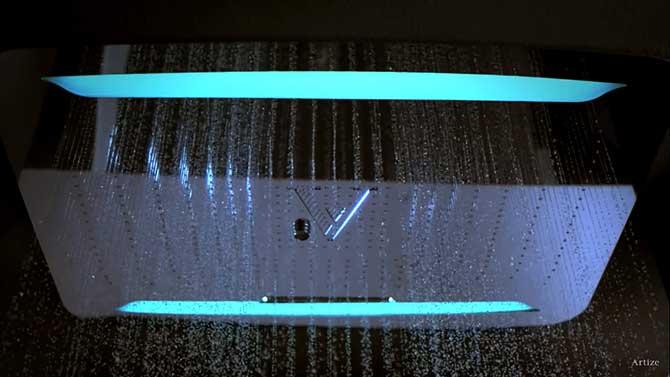 Now that the living areas are set to a tone, bathrooms need not be dull.
Among the smart lights and lamps that can create a desirable ambience, a one-off luxury product from the Jaquar group, the Artize Rainjoy+, comes fitted with RGB lights around the shower head, which can be controlled with a waterproof remote control.
The brand calls it chromotherapy, which is over and above the features that adjust the intensity of the shower -- rain, intense, mist and message.
The luxury baths will set you back by Rs 260,000.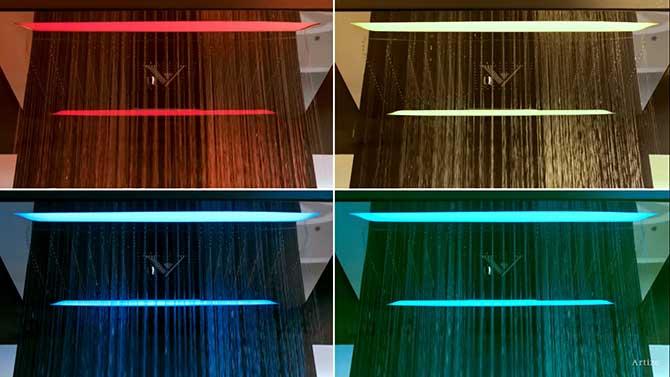 Unlike quad cameras and processor cores, the Internet of Things, and especially smart lights, isn't beyond the scope of comprehension.
The technology is pretty basic, still.
A good time to get started on it.
Light a single colourful bulb and let the light take you there.
Production: Ashish Narsale/Rediff.com