Celebrating Gudi Padwa: 5 rituals and their significance
March 31, 2014 11:04 IST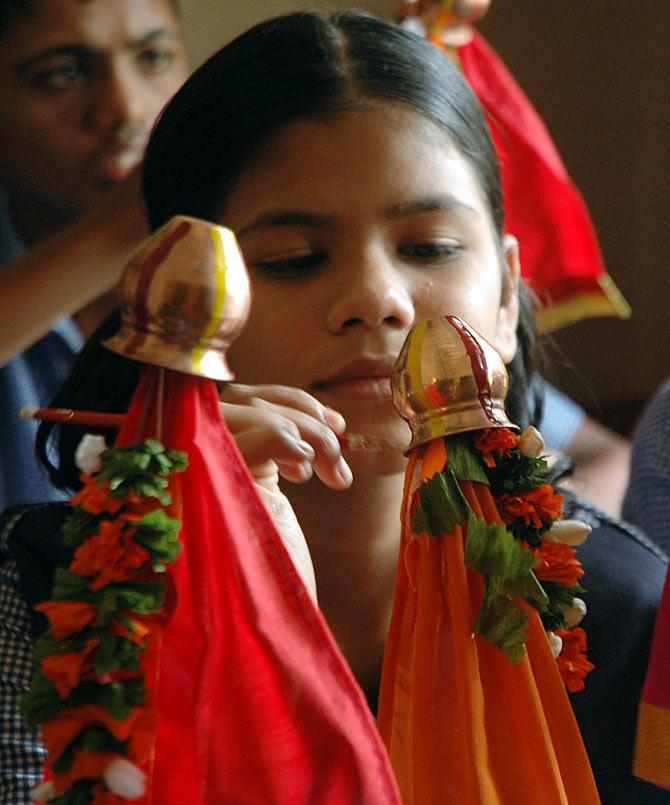 Gudi Padwa also known as Padwa is celebrated by people across the state of Maharashtra as the Marathi New Year.
In Karnataka and Andhra Pradesh, it is celebrated as Ugadi while Sindhis celebrate is as Cheti Chand. Click here to know how the rest of India celebrates this festival.
The first day of the Chaitra month of the Hindu calendar is significant for two reasons -- it signifies the start of spring and according to the Brahma Puran, after a massive deluge destructed the world, Lord Brahma recreated it on this day.
That explains why the festival holds a special place among Hindus.
Here are five key rituals associated with Gudi Padwa and what they signify: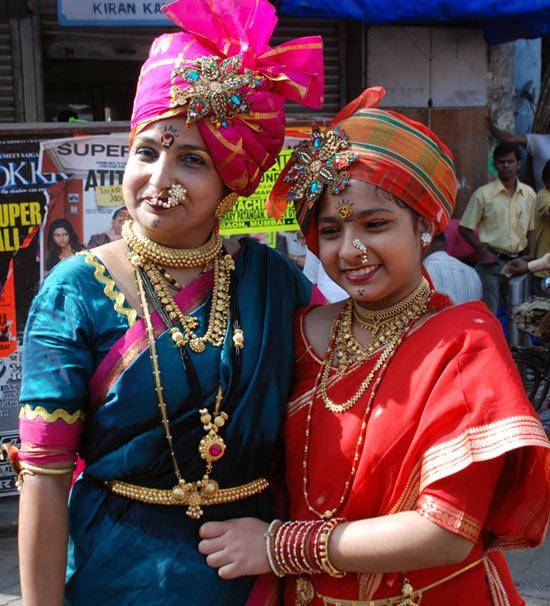 The holy bath
On this day, people young and old begin their day with a holy bath and wear new clothes.
Those who reside in the villages choose to take a dip in a sacred river next to the local temple.
This ritual is meant to cleanse their bodies and souls and prepare them for a new dawn.
Traditionally, Maharashtrian women wear a kashta or a nauvari -- a nine-yard saree tucked at the back, while the men are dressed in a kurta pyjama and sport a saffron or red turban.
The traditional rangoli
The women of the house wake up earlier than the men and draw a rangoli in the frontyard.
The rangoli is a colourful pattern made from powdered rice, vermillion and turmeric.
In modern times, people also make use of flowers and candles to make the rangoli more attractive.
The rangoli is meant to ward off negative energies and bring in good luck.
Flower decoration
Diwali or Dusshera, any Indian festival is incomplete without the flowers.
Likewise, on Gudi Padwa too, colourful flowers are offered to Lord Brahma while the entrance of the house is adorned with bright coloured festoons and flowers.
Flowers signify purity and the fragrance is meant to spread positive energy.
The Gudi
On Gudi Padwa, a new kalash made of silver, copper or bronze covered in auspicious red, yellow or saffron cloth is hoisted upside down at the entrance of the house. This is called the Gudi.
The Gudi has to be positioned in such a way that is visible from far and doesn't miss the eye.
It's a sign of prosperity and good things to come.
Some people also hoist a saffron flag to commemorate the victories of Chhatrapati Shivaji Maharaj.
In the evening, a procession is held where people unite and perform the lezim to entertain the audience.
The holy prasad
Unlike most Indian festivals where prasad comprises something sweet, Gudi Padwa is one of the few festivals where people are treated to a unique preparation made from neem and jaggery.
The bitter-sweet flavour is resemblant of the journey of life -- mixed with happiness and sorrows.
Rediff.com wishes all its readers a very happy and prosperous New Year. May this year be filled with reasons to celebrate!