Top 10 models who started their careers before 18
Last updated on: October 25, 2013 21:52 IST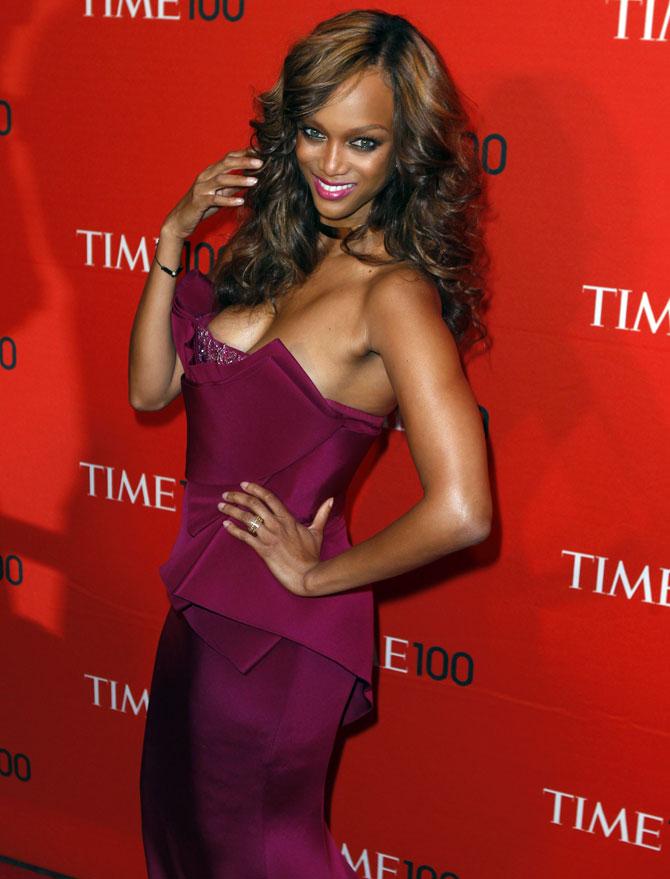 Even as the State of New York has passed a law to tighten rules for child models, we take a look at top models who started their careers well under the age of 18.
In a move to protect child and teenage models under the age of 18, the State of New York has amended the child labour law. Under this law, people who employ models will have to provide all the support facilities that are typically available to youngsters at school such as medical aid on site. Models and entertainers under 18 years of age will only be made to work for a prescribed amount of time and shoots must end before midnight on school days. The law also states regulations for compensation provided to young models.
This comes close on the heels of the new law in France where the Senate has passed a law that forbids anyone under the age of 16 to enter into a beauty pageant.
While the fashion fraternity is worried about losing out several young faces, others say that this is a great move that will not only protect underage models and entertainers but will also have an effect on the way the mainstream media perceives beauty. But the ones that are left hanging in the balance are aspiring models.
It has been customary for a model's career to start before they reach adulthood. While the future of the next generation of models is still uncertain, we take a look at ten models who started their careers before they turned 18.
Tyra Banks
Green eyes, chocolate skin and curves to die for. It was unexpected that this five foot ten inch tall stunner would make it, which is why, when she was 15 years old, Tyra Banks was rejected by six different modelling agencies before finally being signed by L.A.Models. But things only started to change for this California-born model when she landed a contract with Elite Model Management, the largest modelling agency in the world, in 1990.
She shot for an assignment for Seventeen as soon as later that year. The daughter of a medical photographer mother and a computer consultant father, Banks originally planned to study at Loyola Marymount University in Los Angeles and even enrolled but soon dropped the idea after Elite offered her a high profile runway assignment in Paris.
Since then, she has never looked back.
While still a newcomer in Paris in 1991, Banks managed to book a whopping 25 shows in Paris. But she decided to go back to the States and model for swimwear and lingerie after she began gaining weight. It was then that she signed with Victoria's Secret and worked as a Victoria's Secret Angel from 1997 to 2005.
Throughout her lengthy career, Banks has walked the ramp for Fendi, Chanel and Valentino, among others. She has also appeared in advertising campaigns for Nike, Yves Saint-Lauren and Dolce and Gabanna, and also on dozens of covers for magazines such as Vogue, Sports Illustrated Swimsuit Issue, Teen Vogue and Elle.
Banks still models from time to time but has primarily moved on to film and television. She has set-up her own production house, Bankable Productions (previously called Ty Ty Baby Productions) and is best known to Generation Y for her reality TV show America's Next Top Model.
Christy Turlington
Last updated on: October 25, 2013 21:52 IST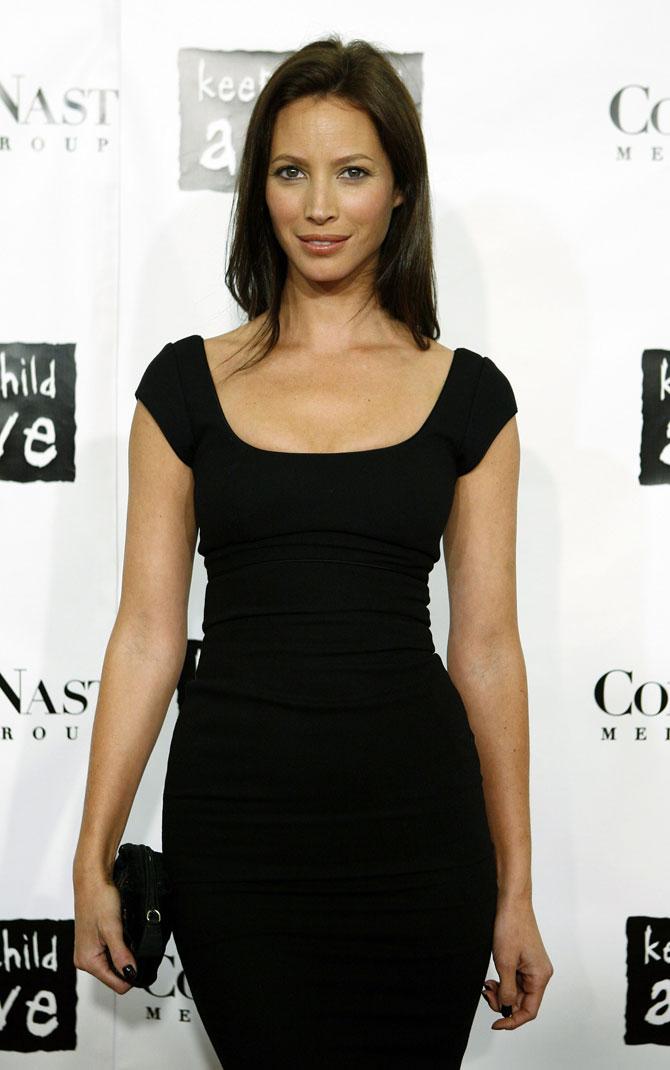 The middle of three sisters born to an American pilot father and an El Salvadorian flight attendant mother, Christy Nicole Turlington was an unassuming fourteen-year-old riding a horse in Miami, Florida when local photographer Dennie Cody discovered her.
Although Turlington started with modelling for clothing for her own age, she rapidly moved on to modelling for cosmetic products and jewellery while she was still in her early teens where she would see older models arrive for 'special bookings' from places like New York.
Speaking to Interview magazine, Turlington said that watching the older models 'became a bit of a fascination for me'. After graduating from high school at age 18, Turlington moved to New York City to pursue modelling full-time.
She has appeared on more than 500 magazine covers since then but her most iconic photograph remains one from an anti-fur PETA campaign with the caption, 'I'd rather go naked than wear fur' for which she posed nude.
These days Turlington is known more for her philanthropic ventures than her modelling. As the founder of Every Mother Counts, Turlington works towards ending deaths during pregnancy and childbirth worldwide.
An avid practioner of Jivamukti Yoga, Turlington has a Bachelor of Arts degree in Comparative Religion and Eastern Philosophy from Gallatin School of Individualized Study of New York University. She is widely credited for bringing navel piercing into mainstream fashion.
Linda Evangelista
Last updated on: October 25, 2013 21:52 IST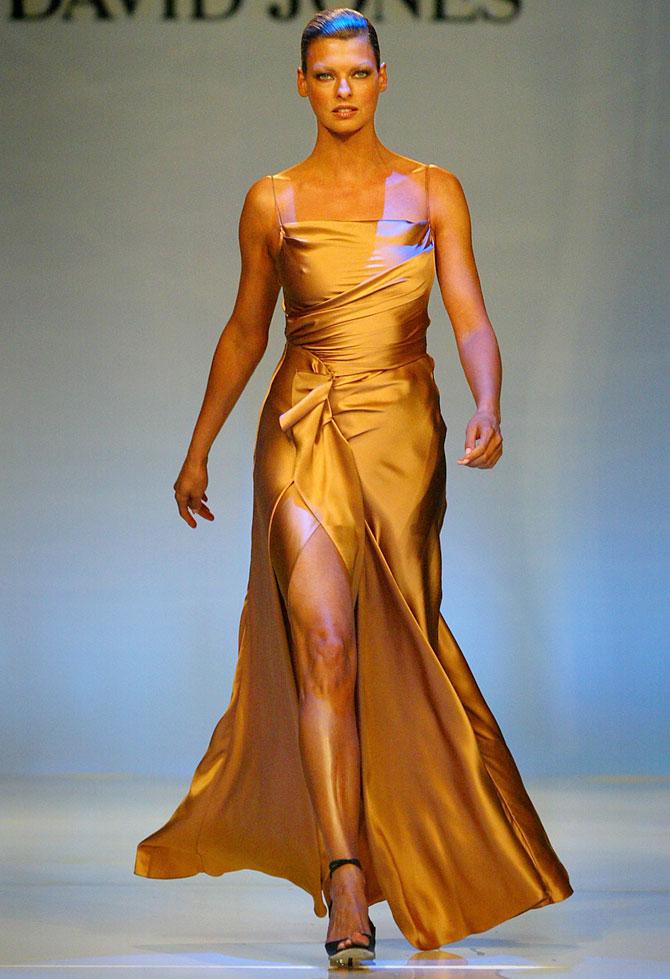 Born to traditional Roman Catholic Italian parents in Ontario, Linda Evangelista was just 15 when she participated in the Miss Teen Niagra beauty pageant when she was spotted by a representative of Elite Model Management. Little had young Linda known that she would go on to become one of the supermodel trinity (Naomi Campbell and Christy Turlington being the other two).
Evangelista soon began working of not-so-significant assignments and slowly, international offers came her way. However, she almost ended her career when, on a photoshoot in Japan, she was told to pose nude and absolutely refused, going as far as calling the Canadian embassy to fly her out. It was only after graduating from high school and a lot of persuasion from her mother that Evangelista tried her hand at modelling again.
Evangelista came to prominence in the autumn of '88 when she shocked the fashion world by chopping her long light brown locks off into a short bob. Soon enough, she was on every cover.
Most famous for telling Jonathan van Meter of Vogue in 1990 that models like her 'don't wake up for less than $10,000 a day', Turlington appeared on covers of Vogue, Elle, Harper's Bazaar etc throughout the '80s and '90s, and also walked the ramp for Versace, Dolce & Gabanna, Calvin Klein and Chanel. Evangelista took a short break from modelling in 1998 but returned in 2001.
In 2013, she was chosen as the face of Loewe's latest fragrance called Aura.
Cindy Crawford
Last updated on: October 25, 2013 21:52 IST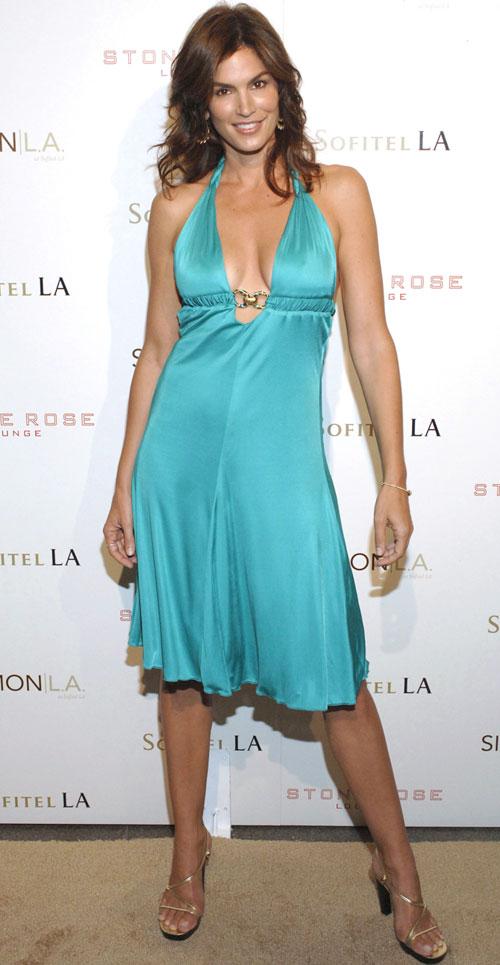 Cindy Crawford didn't always lead as glamorous a life as she does today.
Crawford was de-tassling corn as part of her summer job in 1982 when a photographer for a newspaper discovered her. She was only 16 years old!
Crawford took up modelling part-time shortly thereafter and yet went on to graduate from high school with the highest grade point average in her class. She studied chemical engineering on a scholarship at Northwestern University for half a semester to pursue modelling full-time.
During the peak years of her careers (1980-1990) Crawford's face was on the covers of every magazine. She has repeatedly appeared on the front of top fashion magazines like Vogue, Elle, People and Harper's Bazaar.
Cindy Crawford is often cited as an example of the perfectly symmetrical face. Her trademark mole has often been the cause of much controversy -- some calling it unsightly, others calling it a beauty mark. Despite being persuaded to have it removed by agents and modelling agencies, Crawford chose to keep it.
Though retired from fulltime modelling, Crawford still appears occasionally on fashion magazines and has designer lines of furniture. Crawford has also co-created a line of beauty products for Guthy-Renker.
Claudia Schiffer
Last updated on: October 25, 2013 21:52 IST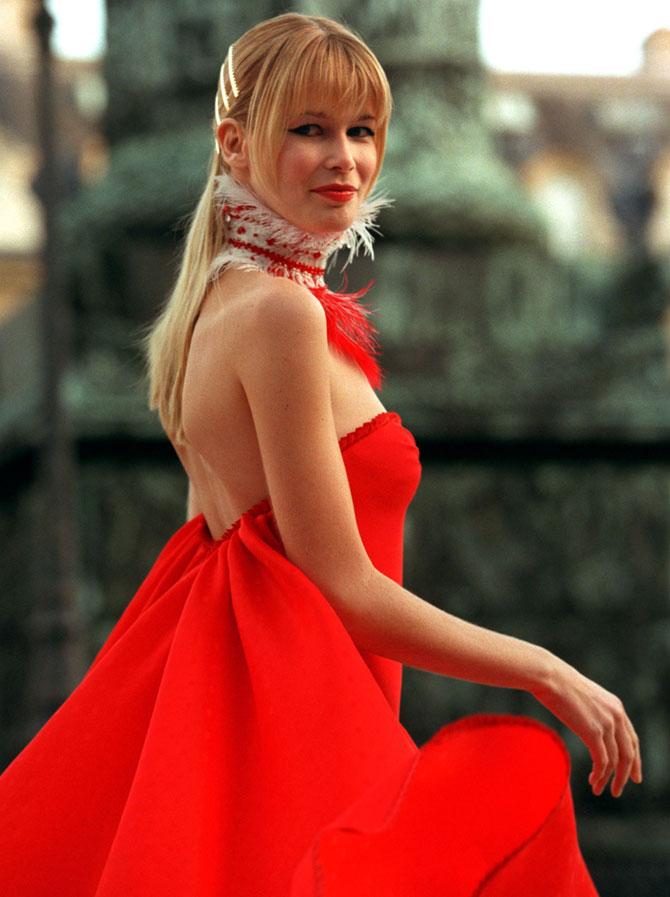 Born in 1970 in Rhineburg, West Germany, Claudia Schiffer had always dreamed of becoming a lawyer. But all of that changed in October 1987.
Schiffer was spotted by the head of Metropolitan Model Agency by its head, Michael Levaton, at a nightclub in Dusseldorf. Her resemblance with yesteryear actress Brigitte Bardot is thought to have kick-started her career but that was soon forgotten when she began climbing the ladder to success, her first hit being a Guess Jeans campaign.
Schiffer has appeared on more than 700 covers of magazines such as Time, Elle, Rolling Stone and Vanity Fair and has walked for some of the most prestigious fashion houses Valentino, Dolce & Gabbana, Chanel and Versace.
She continues to make media appearances (including a memorable one in the Richard Curtis movie Love Actually) while also acting as the creative director of her cashmere collection named Claudia Schiffer Cashmere.
Naomi Campbell
Last updated on: October 25, 2013 21:52 IST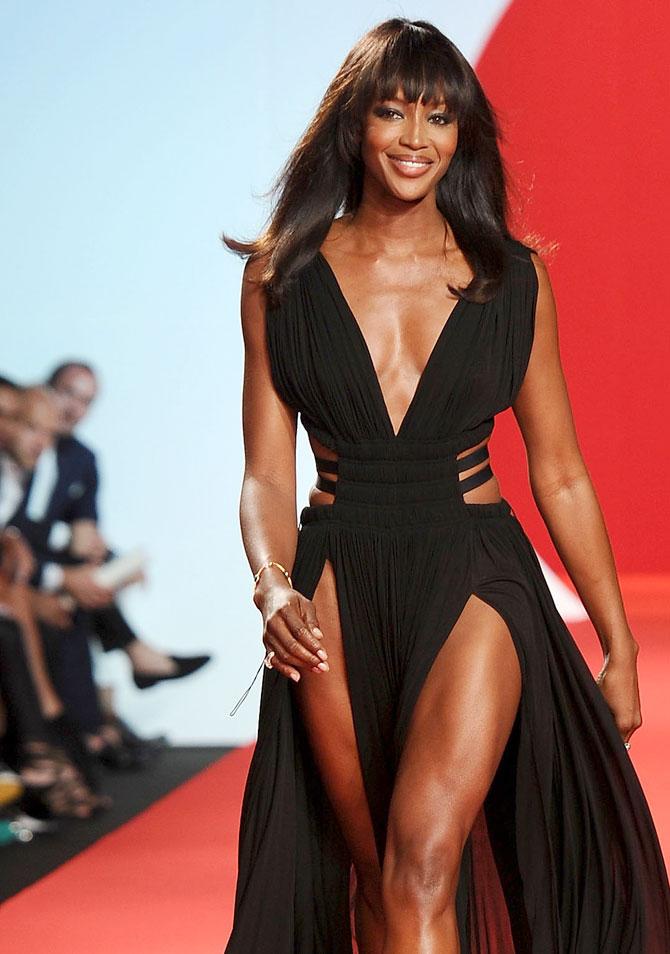 One of the most well-known supermodels, Naomi Campbell was the queen of the late '80s and throughout the '90s. Born in South London, Campbell never met her father who abandoned her mother, a dancer from Jamaica, when she was four months pregnant.
Campbell got a taste of centre stage early in her life. She was seen in a music video for Bob Marley's Is This Love? However, Campbell's luck shone at age 15 when the head of Synchro Model Agency discovered her while window-shopping.
Campbell had been studying ballet at the famed Italia Conti Academy for Theatre Arts since she was 10 years old. Her career advanced rapidly and she achieved cult-status; and yet, Campbell never managed to bag as many assignments as her contemporaries. 'I may be considered one of the top models in the world, but in no way do I make the same money as any of them,' she was quoted saying in 1991.
Campbell has walked the ramp for Versace, Dior and recently, Sabyasachi.
She has been a vocal detractor of the fashion industry on the issue of racism, having faced much of it herself due to her African, Jamaican and Chinese ancestry. Having almost completely retired from the ramp, Campbell is still seen in print and on television shows.
Campbell is currently a model mentor on the British modelling show The Face.
Kate Moss
Last updated on: October 25, 2013 21:52 IST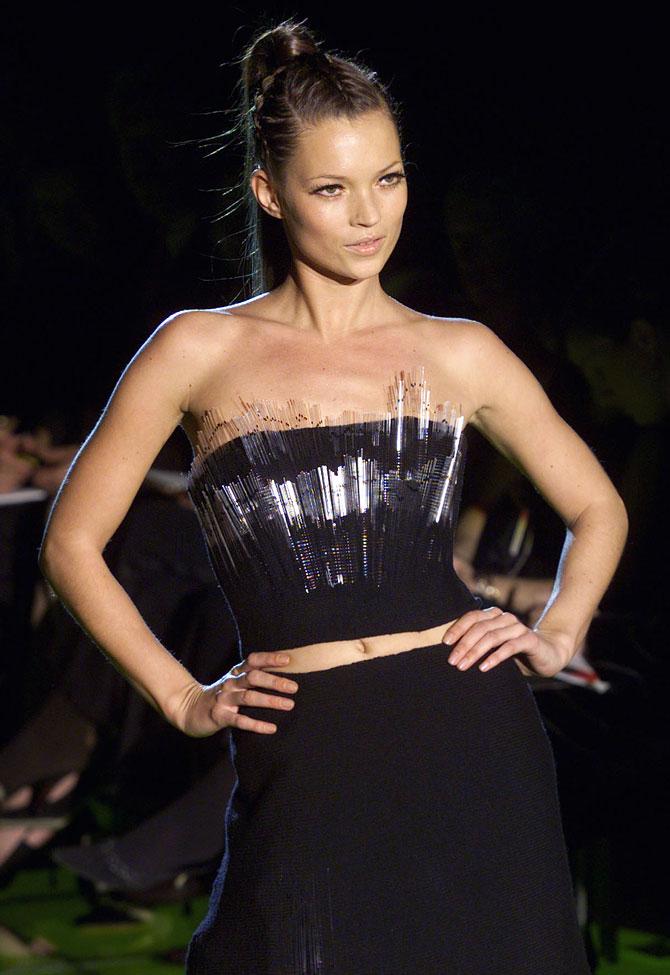 Fourteen-year-old Kathrine Ann Moss was returning from a holiday with her family in the Bahamas when Sarah Doukas, founder of Storm Model Management, saw her at JFK Airport, New York. But it wasn't until she turned fifteen that Moss got a taste of international success. It was a black and white picture of hers for a magazine called Face that provided as a take-off point for one of the most successful careers in fashion.
Moss was the outcast compared to curvier models of that time like Claudia Schiffer and Naomi Campbell. She was skinny and angular with visible bones. She looked tired and pale.
On September 15 2005, after Daily Mirror ran a front page photograph that suggested Moss presumably smoking cocaine, Moss' career seemed to be in serious danger. H&M refused to go ahead with a contract that was reportedly worth £4 million a year. Chanel announced that they wouldn't be renewing their contract that was to expire the following month (though they claimed it had nothing to do with the drug scandal. And Burberry dropped their campaign featuring Moss who apologised almost immediately.
Over time though, she returned to the top again.
Moss has modelled for designers like Dolce & Gabanna, Bulgari and Chanel. She has appeared on the cover of W a total of seventeen times, including one issue that had nine different covers, all featuring her. Moss was instrumental in bringing about the size-zero fad.
Earlier this year, she was among Forbes' list of top 10 highest-earning models , having made $5.7 million dollars in a year. She is expected to pose nude for Playboy's 60th anniversary issue.
Gisele Bundchen
Last updated on: October 25, 2013 21:52 IST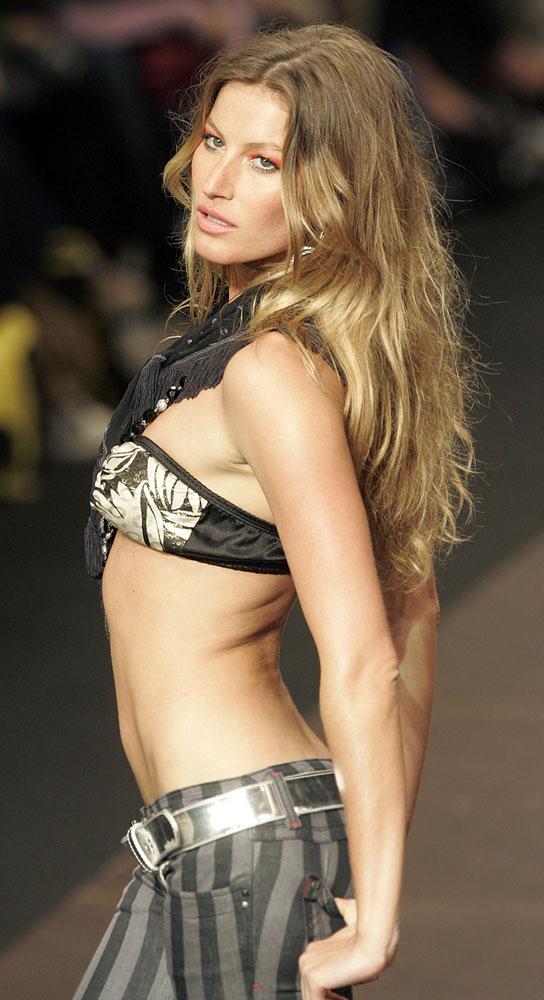 Born in 1980 to Brazilian parents of German descent, Gisele Bundchen was enrolled in modelling classes, along with two of her sisters, by her mother when she was 13 years old. Bundchen participated in her first modelling contest at age 14 and went on to move to Sao Paolo from her hometown Tres de Maio in order to pursue modelling.
It was only at age 16 that Bundchen got a taste of the international scene when she walked for New York Fashion Week. She got her big break at 17 when she was chosen to showcase Alexander McQueen's spring 1988, collection titled Rain, because of her ability to walk in sky-high heels on a slippery ramp.
She posed for more than ten covers in a period of four years breaking Kate Moss' record of nine in the same time period. Bundchen has appeared on covers of several fashion and lifestyle magazines such as Harper's Bazaar, Vogue, GQ, Esquire, Marie Claire etc.
In 2000 Victoria's Secret offered Bundchen a salary of $5 million per year. The same year Newsweek called her 'the most celebrated Brazilian since Pele'. Since then Bundchen has only grown from strength to strength.
For the last seven years, the Brazilian supermodel has led Forbes' list of the highest paid supermodels in the world. As of 2013, her annual earnings amount to $42 million, which is more than the collective earnings of the next nine models in the Forbes list.
Brooke Shields
Last updated on: October 25, 2013 21:52 IST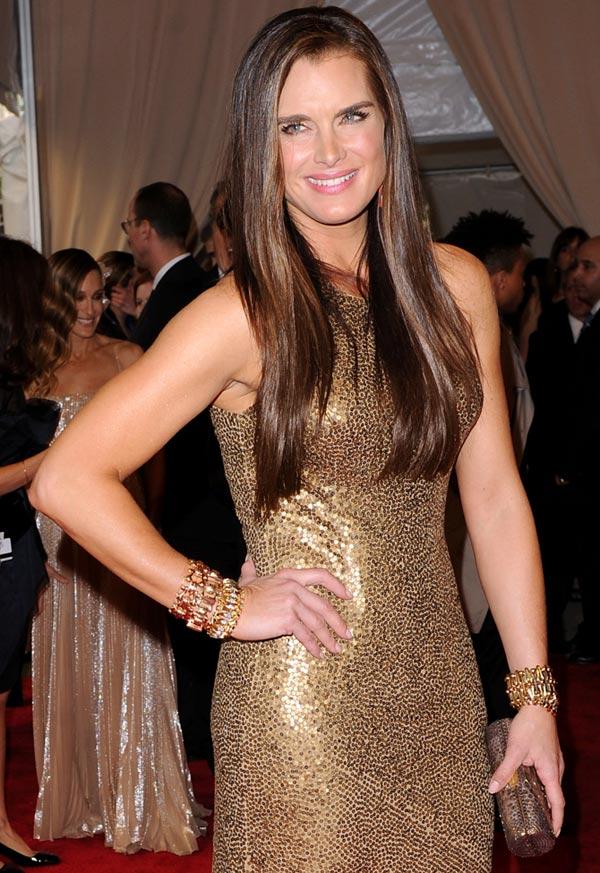 Her mother is said to have exclaimed, 'She's the most beautiful child and I'm going to help her with her career' when Brooke Shields was just five days old. It took only 10 months and 25 days more for Shields to become a legitimate model.
Her first assignment was for Ivory Soaps in 1966 when she was just 11 months old. At 14, Shields became the youngest fashion model to appear on the cover of Vogue. Shields has been perhaps the most controversial child model of all time.
In 1980, some time after the Vogue cover, Shields was featured in a Calvin Klein advertisement (TV and print) for jeans where Shields was shown saying, 'You know what comes between me and my Calvins? Nothing.'
Though the ad campaign went on to become iconic and catapulted Calvin Klein to the A-list of designers, Shields was cited as too young to be modelling for such an adult-themed campaign.
Furthermore, in 1978 Shields portrayed a child prostitute in New Orleans' red light district in 1917 in Louis Malle's film Pretty Baby. The film was very controversial for its time since it contained nude footage of Shields while she was only 12 years old.
Shields moved on from modelling to films (the most famous of them being The Blue Lagoon) and then on to television. Shields has appeared on television programmes such as Lipstick Jungle, Suddenly Susan and The Middle. In 1983 Shields briefly abandoned modelling to pursue a degree in French Literature.
Widely cited as a symbol of sexuality, youth and a of loss of innocence, the debate over whether Shields has had one of the most illustrious careers of all time or whether she was just a victim of child porn is still on.
Kimora Lee-Simmons
Last updated on: October 25, 2013 21:52 IST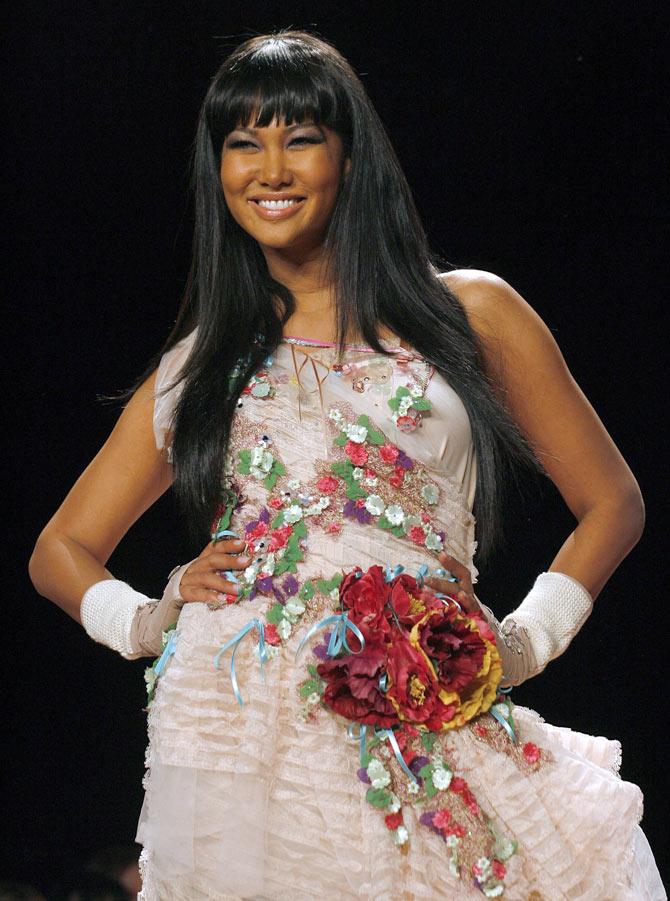 It was impossible to miss Kimora Lee-Simmons right from when she was a kid. Standing at 5 feet and 10 inches at ten years of age, Kimora was the target of several bullies at school due to her height and Afro-Asian ethnicity.
In order to restore her self-esteem, her mother enrolled her in modelling class when she was eleven. In 1988, Lee-Simmons was spotted at a model search in Kansas City by Marie-Christine Kollock, a representative of the Parisian modelling agency, Glamour, and was offered an assignment in Paris.
She had just turned 14 when Chanel offered her an exclusive contract.
She then went on to work with Karl Lagerfield, one of the most distinguished designers.
Lee-Simmons had a successful runway career, however she is known more for being the force behind Baby Phat, a line of baby fashion by Phat Farms. She has left the runway behind a long time ago and now makes TV appearances.
She also acted as executive producer for Russel Simmon's Presents: Def Poetry Jam for which she won a Tony Award. Lee-Simmons became president of JustFab, an online fashion retailer, in 2011 and launched her own line of skincare products in 2012 called Shinto Clinical.