Recipes: 5 delicious winter soups
December 17, 2013 18:01 IST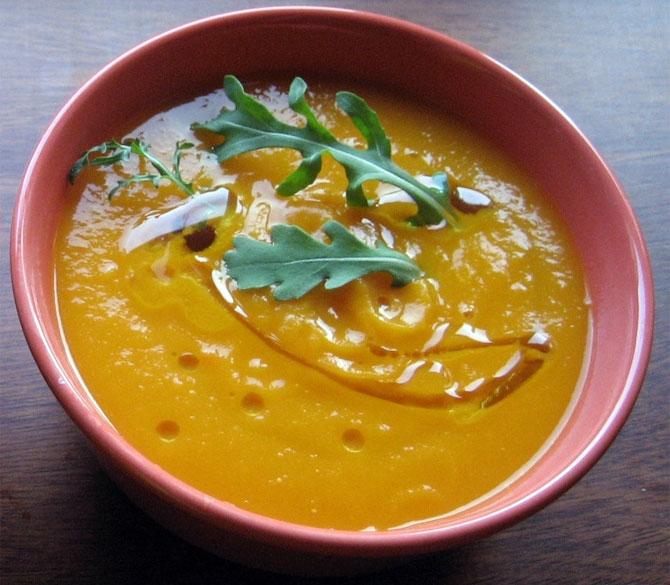 As the temperature drops, it's a good time for some yummy piping hot soups. Here are some ideas to create a healthy but tasty option for bhujias or coffee, this winter.
From pumpkin to soyabean, here are some recipes of soups you must try at home this winter.
1. Pumpkin sweet potato soup
Ingredients
Two small-medium chopped sweet potatoes
1 cup chopped pumpkin
1 onion
1 tomato
1 celery stalk
1 garlic clove
100 gm chopped spinach
1 tsp cream cheese
1 tsp olive oil
1 tsp salt
Method
Heat the oil in a pan and add the chopped onion and garlic.
Lightly fry the onions and garlic until clear, then add tomato.
As tomato starts to cook, add sweet potatoes and pumpkin and stir.
Add water so that all the veggies are under water and bring it to a boil.
Add chopped celery, spinach and let it boil for 30 minutes.
Serve soup with a teaspoon of light cream cheese mixed in with each serving.
Liked this recipe? Click here for more recipes and food features!
Recipes: 5 delicious winter soups
December 17, 2013 18:01 IST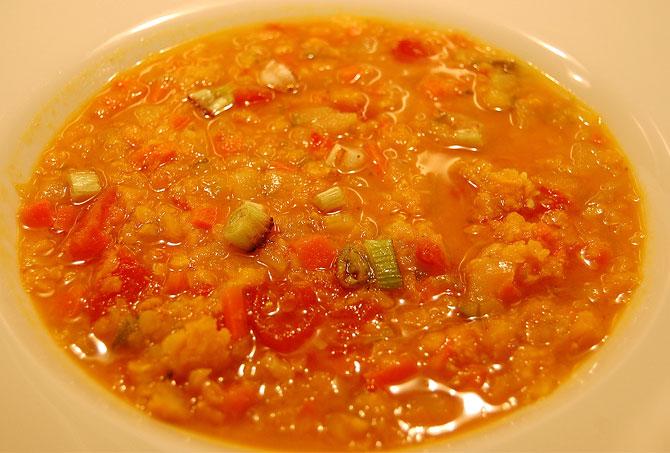 2. Spicy Veggie Red Lentil Soup
Ingredients
1 potato
1 cup cooked red lentils
A few veg stock cubes
1 carrot
1/2 cup chopped cabbage
1/2 cup chopped broccoli
1 clove of garlic
A pinch of chilli powder
Salt and pepper to taste (chilli flakes: optional)
Method
Cut the potatoes into cubes and fry in a saucepan.
Add boiling water to the pan and crumble in the stock cubes.
Add the cooked lentils, chopped carrot, cabbage and broccoli and the garlic cloves. You can also puree the vegetables before you add them to the lentils.
Season it with salt and pepper.
Garnish with chili flakes and serve piping hot!
Recipes: 5 delicious winter soups
December 17, 2013 18:01 IST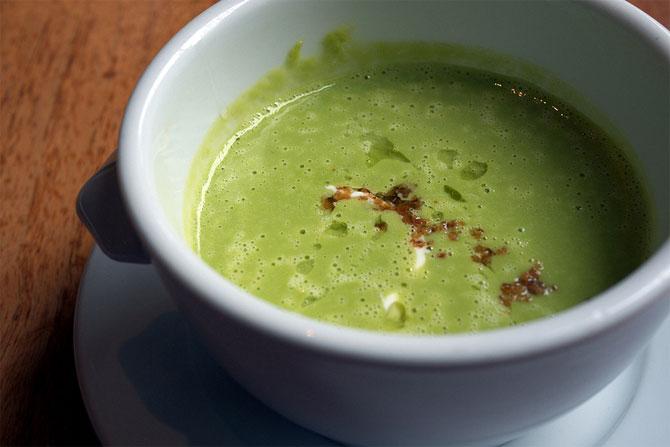 3. Minty Green Pea Soup
Ingredients
1 bunch spring onions
1 medium boiled potato, peeled and diced
1 crushed garlic clove
850 ml vegetable or chicken stock
100 gms fresh green peas
4 tbsp chopped fresh mint
1 tbsp fresh lime juice
150 ml buttermilk
1 tsp ghee or clarified butter
Method
Heat the ghee in a pan.
Chop the spring onions and add to the pan.
Add boiled potato, garlic and stock. Bring to a boil and add the peas.
Simmer till the peas are cooked and then turn off the flame.
Add finely chopped mint leaves, sugar and lime juice. Allow the liquid to cool.
Pour the mixture into a food processor.
Add buttermilk beaten to make a creamy paste.
Gently heat the soup and serve immediately.
Garnish with some drops of butter milk, boiled peas and mint leaves.
Recipes: 5 delicious winter soups
December 17, 2013 18:01 IST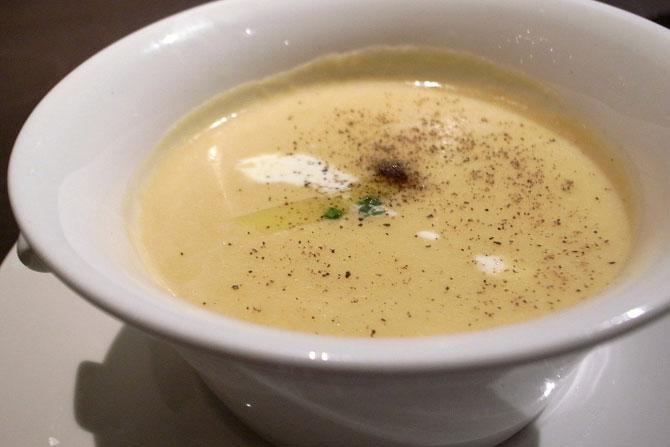 4. Super Soya Soup
Ingredients
250 gms of soyabeans
Two chopped onions
Two carrots
1/2 tsp ginger garlic paste
1 spoon red chilli powder
1/4 tsp cumin powder
Salt and pepper to taste
Method
Soak soybeans overnight, drain water and pressure cook the beans till they are soft.
Keep aside without straining the water.
Finely chop onions, carrots and coriander leaves.
Heat oil in a pan, stir-fry onions, and carrots in oil till soft.
Add crushed garlic cloves, red chilli powder and cumin powder.
Stir for a minute and add the cooked beans with the water.
If required add some more water and bring to a boil.
Allow beans to simmer, stirring occasionally.
Let the mixture cool before pureeing it in a blender to a desired consistency.
Garnish with coriander and season with pepper powder and salt before serving.
Recipes: 5 delicious winter soups
December 17, 2013 18:01 IST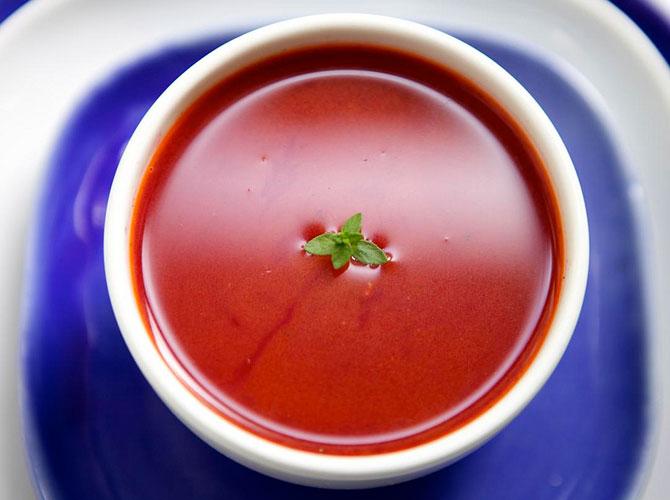 5. Red Oats Soup
Ingredients
Six tbsp oats
Two chopped tomatoes
1/2 cup grated carrot
1/2 cup grated beetroot
1 tsp garlic paste
1 tsp ginger paste
Salt to taste
Cream for garnishing
Method
Add all the ingredients in a blender and blend it till it forms a smooth puree.
Pour in a large saucepan and cook on medium heat till it obtains a thick consistency.
Add salt to taste and garnish the red soup with some cream before serving.