Image:
India has the strongest ties with Russia in terms of nuclear energy, defence and trade; Image of
Photographs:
Dror Feitelson/Wikimedia Commons
Shiphony Pavithran Suri, Careers360
Find out how you can pursue an exciting career in International Relations and travel the world as part of your job.
Kapil Patel radiates immense satisfaction as he finishes a six-month rigorous project on global nuclear order and its implications in India.
Patel is a Research Associate at India Pugwash Society, a think tank which finds solutions for global security threats.
His analysis sheds light on several questions of national importance -- how India is modernising its armed forces?
Why is India not able to develop enough technology in defence sector? India imports 70 per cent and exports 30 per cent of weapons/ammunitions -- how can we reverse the ratio?
Patel's work included sifting through all international treaties, press releases, parliamentary reports, journals, and interviewed nuclear scientists, bureaucrats and ambassadors across the world.
He credits his success to an MA in Defence and Strategic Studies followed by MPhil in International Relations.
What prompted his interest in these subjects?
"I always had deep passion to know about the world. Especially, the impact of science and technology on policies and strategies of countries," shares Kapil.
Understanding world affairs
Many issues can inspire your interest in the realm of International Relations (IR) and Defence and Strategic Studies.
Your curiosity over global affairs cuts across any issue, be it politics, sociology, history, geography or science and technology.
A course on international affairs is broadening the world-view of Urmila Rao, a writer for India-China Chronicle.
She finds much clarity in her writings today. She is able to decipher and answer many questions.
For instance, why did a Chinese minister choose India for his first trip and not Europe or Latin America? She zeroes in on the answer -- historically relationship between two countries was poor, so China wants to improve its ties with India.
"Now I have better perception of world dynamics and it adds value to my readers," says Urmila who devotes her weekends to pursuing an MA Diplomacy, Law & Business (DLB) course at Jindal School of International Affairs.
Prateek Kapil, a political analyst, is a voracious reader. He starts his day at work flipping through newspapers, magazines, popular periodicals and journals like International Security, Foreign Policy and Foreign Affairs.
If he spots a critical topic, then he takes it for corridor debates with colleagues to reach at the core of the matter. The area which interests him most is geopolitics.
For instance, how does the North East Frontier or India's finance policy affect people's lives?
Prateek who did his Master's in International Relations from Jawaharlal Nehru University (JNU) soon joined Centre for Air Power Studies (CAP).
"The field opens up your mind to solve issues related to global conflict and how to achieve cooperation," he shares.
Please click NEXT to continue reading...
The course educates students about peace and conflict issues

Image:
For representational purposes only
Photographs:
Rick Wilking/Reuters
Defence studies versus IR
International Relations and Defence and Strategic Studies are all overlapping subjects. However, the latter is considered as a sub-branch of the former.
Defence studies focuses on issues related to national security both domestic and international context.
Internal security issues like naxalism, ethnic conflict are part of the domestic context. In the international context it looks at impact of changing world order on security of India, china, Pakistan or the US.
"Students learn about how to look at India's security issues through international perspective -- it educates about peace and conflict issues," shares Dr Shrikant Paranjpe, Professor, Department of Defence and Strategic Studies, Pune University.
It comprises subjects like IR, geopolitics, military geography, defence economics, science, technology and its impact on international security.
"We call armed forces experts, scientists from Defence Research and Development Organisation and R&D engineers to brainstorm over burning security issues," informs Paranjpe.
Harshad Garje, 23, who is pursuing an MA in Defence Studies, at Pune University, is an Information Technology graduate. He is passionate to know all about cyber warfare.
International Relations
On the other side, IR is more oriented to political science -- the branch is wider than solely military issues.
It prepares you to learn global linkages which exist alongside boundaries.
A student gets a grip over world politics -- be it Africa, Europe, Latin America, East and Southeast Asia, South Asia and the Middle East.
For Sudeep Kumar, pursuing IR after BCom was more of a process than a mere accidental entry. During his undergrad days, he marked time tweeting and updating his Facebook page, on the TV debates of top bureaucrats and analysts on current world matters.
"I read a lot of comments on Israeli-Palestine conflict, but there was a constant urge to dig deep into history," shares Sudeep, who pursued MA IR from JNU followed by MPhil where he chose Chinese studies as a specialisation.
What motivated him?
As part of Dalai Lama Foundation Scholarship, he got the chance for a month-long stay at Namgyal monastery where he studied about Tibetan culture, civilization, India and China strategic triangle.
"I want to fill the gap, as there are very few Chinese researchers. It's imperative to know why there is lot of preconceived notions and biases regarding China," he says.
Analyse and synthesise data; stay updated on current issues

Image:
For representational purposes only
Photographs:
Reuters
In this interview, Dr Sreeram Chaulia, Professor and Dean Jindal School of International Affairs (JSIA) talks about the prospects of pursuing the course.
IR is a vast field. What should be the students' focus areas?
The level of awareness of international affairs in the Indian media is very low. The young generation do not research books, articles or journals.
Analysis is so much in demand -- in the private or government sector. Analyse and synthesise data, and extract some interesting insights.
You must be able to compare countries and extract the best articles -- like why some pipelines succeed, while others failed? I would recommend political journalists to read widely as possible.

There are less takers for social science. How can IR gain value?
Sadly, what attracts most parents is the professional degrees. The global consciousness is missing among average middle class Indians.
That mind-set must change. Also, most social sciences are domestic in their approach. Students must be globally aware.

How does JSIA stand apart?
We are India's first global policy school. The idea was to go beyond the cliched MA in IR.
We have combined International Relations with International Law and Business -- hence created a ground for global policies studies. Our eight-hour online test is based entirely on current issues.

What is the student profile?
We have a mixed bag comprising foreign diplomats, lawyers, journalists, corporate executives. Our week days and weekend caters to working professionals and regular students.

How to make IR more robust?
We need to be at par with western universities. Look at Japan, China, South Korea, Taiwan -- they have extraordinary research publications.
The course appeals to those who have a keen interest in world affairs

Image:
For representational purposes only
Photographs:
Adnan Abidi/Reuters
Entering the course
Both MA in Defence and Strategic Studies and MA in International Relations are open to people from diverse fields.
The course terminology differs from university to university.
At JNU, one applies for MA in Politics (with specialisation in International Studies), at Jindal School of International Affairs (JSIA) for MA Diplomacy, Law and Business (DLB), and MA (IR) at South Asian University; MA (IR) at Jadavpur University.
Invariably, the course appeals to those who have a keen interest in world affairs.
After an MBA, Nitin Arya quit his plush bank job for doing an MA (DLB) from JSIA.
What research excites him?
Questions such as -- what prompts India to go for Mercosur trade with Argentina, Brazil, Paraguay, Uruguay, and Venezuela? What is the pattern of the trade?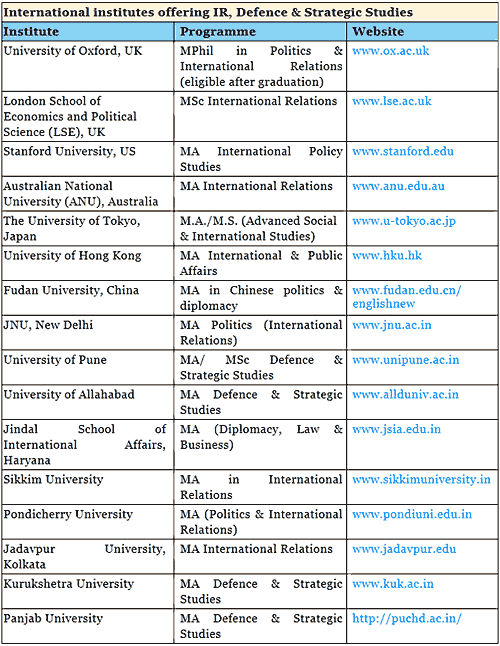 Plenty of opportunities for passionate professionals

Image:
Anil Sabharwal of the Indian Air Force interacts with US Deputy Secretary of Defence Ashton B Carter in Delhi
Photographs:
Glenn Fawcett/Department of Defence
Internships, a stepping stone
Some universities encourage students to intern with popular think tanks, government organisations or non-profits.
After finishing MA in Defence and Strategic Studies at Pune University, Tanvi Sharma interned with the Centre for Peace and Conflict Studies, Delhi.
She plunged into writing opinionated articles related to South Asian security issues -- India-Pakistan confidence building measures and more.

Pursuing an MPhil
Sudeep and Tanvi are just a few students who are passionate for gaining higher degrees in IR.
As per JNU's admission statistics 2013, only 30 per cent MA graduates opted for MPhil degree, rest 70 per cent preferred to grab jobs early.
There are various reasons attached -- either for financial growth or no inclination for deeper studies. So many consider Master's as a terminal degree.
Build language skills
Language is key -- whether writing a paper, reading a journal of international reputation or interacting with diplomats.
Nitin learns Spanish, as he plans to do PhD from Latin America. It will help him understand the country better.
Same is the case with any other professional who wants to specialise on any particular country. With China gaining ground on the economic scenario, learning Mandarin is a top priority for many.
Getting the right job
After MA, you can join security organisations; defence journalism; private or public think tanks, NGOs; international bodies (United Nations/World bank), Foreign Services and teaching.
You can rise up the ladder if you have a problem -- solving ability and can argue over complex political issues.
Monetarily, it is not that well-paying field. Prateek considers it as more of an interest-based job than a monetary based job.
You enter as a research associate or political analyst, drawing a salary of Rs 20,000 per month. And as you rise up as senior researcher with PhD in hand, you can expect Rs 40,000 to Rs 60,000 per month.
Of course, the salary levels and perks vary drastically, if you are interested to join politics or become a diplomat/ambassador through foreign services.
Being a diplomat gives you a lot of responsibilities which are closely related to domestic and international happenings. Though one may enjoy a high profile career abroad with a high salary, it takes a toll on your personal life.
"At a personal level, your family life is unsettled because of constant shuttling between countries," says G Parthasarathy.
He adds that professional satisfaction depends on how the government takes forward your contributions on any subject.
"Professionally, you are less affected by political functioning of your native country. You give your independent assessment, and it's on India to decide it further."
However, the field of strategic analysis gives a lot of satisfaction to professionals in this field.
The confidence on Kapil's face is evident as he shares his networking experiences. "The regular brainstorming sessions and interactions on topical issues with ministers, bureaucrats, ambassadors, top analysts always keep me on my toes," he rounds up.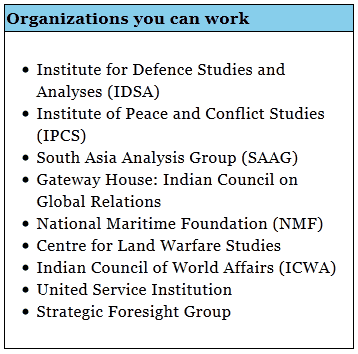 CAREER FAST FACTS
The course: MA International Relations; MA Defence & Strategic Studies
Key institutes: JNU; University of Pune; University of Allahabad; Jindal School of International Affairs; South Asian University; Jadavpur University
Work areas: Security organisations; media houses; public/private organisations (think tanks, non-profits); international organisations (UN/World bank), Foreign Services and teaching
Job roles: Political Analyst, Research Analyst, Ambassador/Diplomat/Political Journalist