How to crack JEE: Success mantras from a topper
Last updated on: February 26, 2014 20:40 IST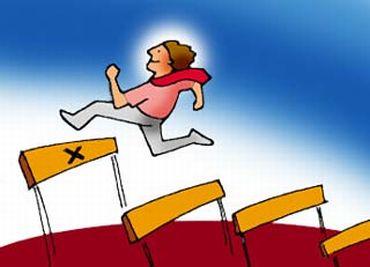 A firsthand account of JEE Main preparation by Nikhil Chaturvedi, who scored an All India Rank 4 in JEE Main 2013
JEE Main 2014 is just a few weeks away. Last minute preparations are afoot by all candidates for the most important engineering entrance exam of the country -- JEE Main 2014.
As part of the Careers360 JEE Main 2014 Preparation Series, we bring you a firsthand account of JEE Main preparation by Nikhil Chaturvedi, who scored an All India Rank 4 in JEE Main 2013. Currently studying at IIT Delhi, Nikhil share his JEE preparation mantra as well as tips and guidelines for the JEE Main 2014 aspirants.
Read on to gain from the valuable exam tips and preparation experience of the topper...
Tell us something about yourself. Where you did your schooling? What are you doing currently and what are your interests?
I did my schooling from St. Columba's School, Delhi and my JEE coaching from Vidyamandir Classes, Delhi. Currently, I am in my second semester at IIT Delhi, pursuing a dual degree course of computer science and engineering.
My interests include creative writing, debating and programming, along with social networking.
What was your JEE Main rank and score? What was the score you targeted when you were preparing for the entrance exam?
My JEE Main All India Rank was 4 and Delhi Rank was 1. My score was 321. My main aim in JEE Main was to gain some confidence for JEE Advanced, which held more significance for me. I targeted a score of over 300.

Did you expect to be one of the toppers of JEE Main 2013?
I did expect a rank in the top 200, but definitely not 4. I wasn't sure that my board score would have such a high impact on my overall rank.
What was your preparation strategy to crack JEE Main? Did you follow any study plan or schedule for that?
There wasn't any such set study plan for JEE Main. I did sufficient number of practice tests before the exam, which proved to be quite useful. Other than that, I was thorough with my NCERT and JEE Advanced course, which is more than enough.
What was your time management strategy during JEE Main exam?
I allotted 45 minutes for chemistry, which was my strong point. Then one hour was allotted for physics and the rest of the time was allotted for maths. Time management also is dependent on the individual. I planned my strategy as per my strong points and preparation.
Which books, according to you, are the best for JEE Main preparation?
I did not refer to books other than my coaching modules and NCERT at the end for the boards. Those along with practice papers are more than sufficient, as the exam is more about speed and accuracy, rather than in-depth knowledge.
Do you think a student can crack JEE Main exam and get good score without any coaching?
It depends on how you define what a good score is. Yes, the exam does not involve a very high level understanding, it is more about knowing a wide variety of concepts. But, at the same time, it does require you to donate some amount of time for practice. The resources for that kind of practice are compiled and provided best by coaching centers. The concepts can still be prepared without coaching.
What is the importance of mock tests according to you? Should candidates practice often with mock tests?
Yes, as I have mentioned earlier, specially for the JEE Main exam, the main focus should be practice, both, JEE Main Mock Tests and previous year papers. The main focus should be on practice especially for JEE Main. One should practice mock tests as well as the previous year papers. Preparation strategies during the months prior to the exam should definitely include a lot of practice tests to improve the speed and test one' knowledge.
Why did you choose IIT Delhi?
It is one of the most renowned institutes of the country. I was getting the department of my choice along with the fact that it was in Delhi, giving me a choice to switch between hostel life and the comfort of home whenever I wished.

What are your future plans?
I'm not very sure about that. I'm not really the MBA types, so I'd look to avoid that. I want to pursue higher studies, but that'll depend on how my years go. As of now, I'm taking life as it comes, there aren't any very long term goals.
What tips and suggestions do you want to give to JEE Main aspirants, who will be appearing this year for the exam?
I don't think I stand justified in giving any tips. The mode of preparation, style of study and retaining capacity varies from person to person. So, a study plan that suits me might not be useful for somebody else. The only thing I can say is that one should look to build his/her confidence, as exam temperament is a very important factor in competitive examinations.
Keeping your calm and believing in yourself can actually better your performance multi-fold.