Meet the 16-year-old who climbed Mount Everest
Last updated on: May 27, 2013 17:22 IST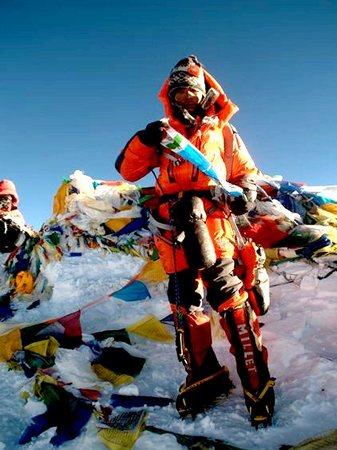 On May 18, at 5 am IST, 16-year-old Nameirakpam Chingkheinganba scaled Mount Everest. This is his story.
Over the course of these past few years, Manipur teenager Nameirakpam Chingkheinganba made it a ritual to wake up at 5 every morning and take a walk that lasted four hours.
Upon his return, a breakfast of milk, bananas and honey followed and he would be off to school, then to tuitions and finally back home, where he would study. At the end of each day, he would meditate, reflect on its occurrences and take rest. And Sundays were dedicated to running for about seven hours.
In between all of this, he found the time to play the guitar, watch a bit of television and managed to keep within the top 15 in a class of about 55.
All of this had been in preparation for the one dream he's had for as long as he remembers -- to scale Mt Everest, a dream that his father Nameirakpam Tomba also once harboured but gave up for domestic responsibilities. Tomba is now a civil contractor and a pradhan of the Patsoi gram panchayat,
Last year, Chingkheinganba undertook a basic course at the Nehru Institute of Mountaineering in Uttarkashi and participated in two pre-Everest expeditions.
And the faculty at Kanan Devi Memorial School, where he studies, was happy to let him pursue his dream, helping him catch up in any way possible.
On May 18 this year, his efforts finally paid off. As part of the first North East Indian Top of the World Mt Everest Expedition 2013, which the President flagged off on March 20 from Rashtrapati Bhavan in New Delhi, Chingkheinganba became the youngest Indian from the North East to have scaled Everest.
Born on October 7, 1996, he was exactly 16 years, seven months and 11 days old when he accomplished the feat, beating a previous record set by Arjun Vajpai of Noida, who reached the summit when he was 16 years, 11 months and 18 days old.
Days after Nameirakpam achieved this feat, 15-year-old Raghav Juneja from Moradabad, broke his record too.
"Father always wanted to climb Everest, but he never could. There was never enough money. I did it for him," an ecstatic Chingkheinganba said over the phone from Everest Base Camp.
Tomba, one of the founding members of the Manipur Mountaineering and Trekking Association, which organised this expedition, is of course over the moon. "I felt as if I had set foot on top of the world," he told Imphal Free Press in an interview.
Chitra Ahanthem, the paper's Resident Editor tells me that despite the popular perception that Manipur is highly supportive of sporting activities and sportsmen, the prevalent attitude actually isn't very different from most other states. Chingkheinganba had to switch from a private missionary school in class VIII, because they didn't appreciate his absence from class in order to undertake expeditions.
Kanan Devi Memorial School -- where he a student of Class XI -- has been an exception. "They'd help me (catch up) if I was out for an expedition, or let me write an exam later," said Chingkheinganba, adding that he wouldn't be able to achieve half of what he has had it not been for their support.
Then of course there was the MMTA, through which he participated in adventure activities, treks and endurance camps.
"They taught me how to survive in forests, engage in search and rescue missions, understand the mountains and most importantly, helped me understand the value of endurance," he says.
In the following pages, Nameirakpam Chingkheinganba tells the story of his expedition and just how all that hard work has paid off.
Meet the 16-year-old who climbed Mount Everest
Last updated on: May 27, 2013 17:22 IST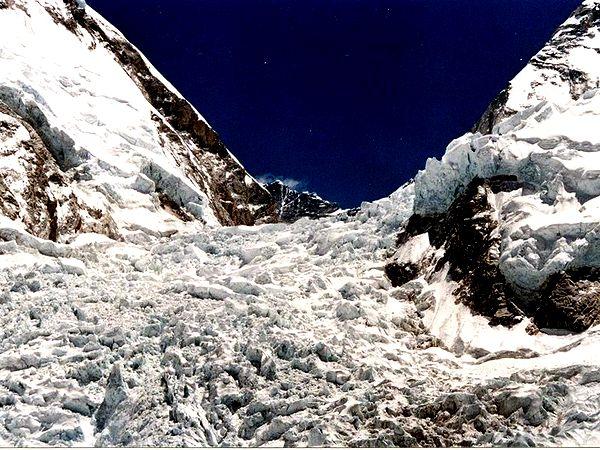 The journey to the top of the world began on February 22 when most of the team members arrived at Imphal and everyone performed a puja at Kangla for the success of the mission.
On February 25, Gurbachan Jagat, His Excellency the Governor of Manipur and I. Hemochandra, Minister Public Health Engineering Department, formally flagged off the first leg of this mission from the historical Palace of Manipur, Kangla Uttra Mamang.
The team left Imphal for Tawang in Arunachal Pradesh on February 26 for a 10-day high altitude meditation programme with high altitude acclimatisation training by the Sports Wing of Brahmakumaris and Mt Abu and 190 Mt Brigade Tawang.
On March 20, President Pranab Mukherjee formally flagged-off the expedition from the Yellow Drawing Room of the Rastrapati Bhavan in New Delhi. 
March 22
We reached Kathmandu by Indigo Air where our agency warmly received us at Kathmandu airport and took us the Nirvana Garden Resort at Thamel in Kathmandu.
In the evening, we checked our mountaineering equipment, which was stored by our agency.
March 25 
More divine intervention needed. So we went to Pashupatinath Mandir for a puja. In the evening, Thupden, manager, Arun Trek and Expedition came to us for a briefing of the expedition. We are supposed to leave for Lukla tomorrow by a chartered flight.
March 26
The weather is horrible and the flight is cancelled. We will have to wait another day. (Lukla is the closest airport to the Everest Base Camp or EBC and also one of the most dangerous ones. According to Wikipedia, the runway is just about 460 by 20m; there are no landing aids available and is accident prone.)
March 27
We land safely at Lukla at 8 am and proceed to the Base Camp which will be our home for the next few days as we rest and get ourselves acclimatised to the new weather conditions.
April 12
We conduct a puja at the Base Camp. The Mt Everest region is believed to be the abode of the gods and we must seek their 'permission' before scaling it.
April 13
Our acclimatisation process finally began in earnest today at the Khumbu Glacier.
(Located at elevations of 4,900 m at its terminus and 7,600 m at its source, Khumbu is the world's highest glacier and also one of the most treacherous. What makes it so dangerous is its icefall, which moves at such speeds that crevasses can open with practically no forewarning; blocks of ice are also known to come tumbling down. The Khumbu Glacier is the first of the most dangerous sections along the southeast ridge.)
We practised climbing using a jummar with a safety measure, using, a cross ladder on large crevasses and how to overtake during a climb etc.
(Beyond the Khumbu Glacier are Camps 1, 2, 3 and 4. Beyond Camp 4 -- also known as South Col -- lies the final leg of the climb, at the end of which is the summit.)
Meet the 16-year-old who climbed Mount Everest
Last updated on: May 27, 2013 17:22 IST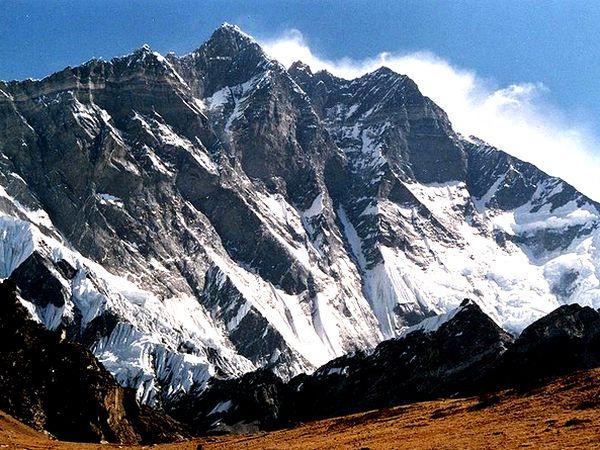 April 15
We woke up at 3am today to trek to Khumbu glacier and returned around 1 pm after getting some real experience of the Valley of Death.
April 16-18
We spent most of our time at the Base Camp itself where we rest and prepare ourselves 
mentally 
for the days to come. (
During this time they also had to bid goodbye to their expedition doctor, L Nelson, who developed serious sinus problem.
)
April 19
Today, we left the Base Camp at 4 am to head to Camp 1. Most of us took about 4-5 hours to reach the camp; however one of our climbers --
 Manish Kumar Deka -- took 12 hours because of some health issues. In any case, it was a happy moment for us at Camp 1 because everyone had reached safely.
April 20
Some of us trekked to Camp 2 (also known as Advanced Base Camp) today and returned to Camp 1 where we experienced heavy snowfall. It was decided we spend the night at Camp 1.
April 21
We headed back to the Base Camp today. On our way back we missed an avalanche by a whisker. The path was dangerous and sure enough two of our members Wansuk Myrthong and Ansu Jamshenpa slipped and fell into a crevasse. Fortunately, they were safe and all of us eventually reached the Base Camp safely before noon.
For the next few days, we would be at the Base Camp itself, resting. At the end of this resting period we would begin our final acclimatisation to Camp 3.
April 27
To trek to Camp 3, we decided to split the group into two.
The first team (which included relatively slower members of the group) would leave on the morning of April 27, stay at Camp 1 the first night and trek to Camp 2 the next morning.
April 28
I was part of the second team, which left on the morning of April 28 and headed to Camp 2 without a stopover.
Both teams reached Camp 2 on the night of April 28. It has been a long and tiring day.
April 29
Today, we left for Camp 3, a tough route that I covered in about four hours. Some of the others in the group took longer, a few others turned around halfway.
All of us returned to Camp 2 the same day and to Base Camp the following evening. After visiting all three camps, the highest of which is located 7,470 m above sea level, our acclimatisation was now complete.
Meet the 16-year-old who climbed Mount Everest
Last updated on: May 27, 2013 17:22 IST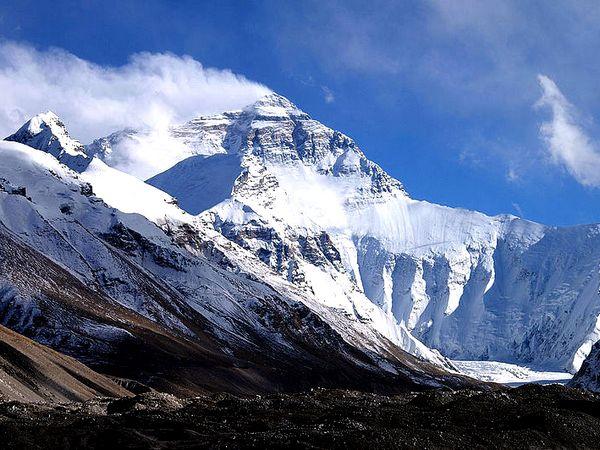 The wait
Climbing Everest is a slow process. You wait, you prepare, you rest and you wait some more before you finally start out.
Our acclimatisation was complete but it didn't mean we could start climbing right away. We needed approval from the International Mountain Guides or IMG, which checks the routes and ropes, new hidden crevasses etc.
Initially, we planned to leave from Base Camp on May 11 and reach the summit on May 14, but because of bad weather, the route remained closed. We had no option but to wait. 
On May 6, all of us visited Gorak Shep, a village below the Everest Base Camp. (Gorak Shep offers trekking lodges and few modern amenities such as satellite high-speed Internet access.) We updated our expedition report using the Internet and headed back to the Base Camp.
Meanwhile, we received word that the best days on top of Everest were from May 16 to May 19 and we were subsequently informed that the route would open on May 12.
A new plan was decided upon and accordingly, the group decided to leave on May 13.
Meet the 16-year-old who climbed Mount Everest
Last updated on: May 27, 2013 17:22 IST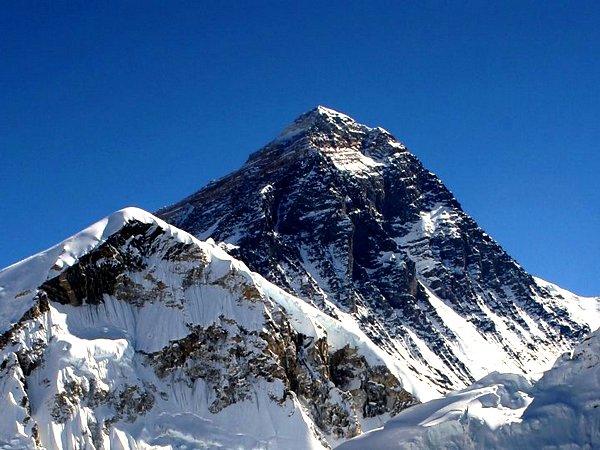 The ascent begins: May 13
Today is when we begin our climb. The first team left for Camp 1 at 4.20 am and will spend the night there.
May 14:
Today my team left the Base Camp at 4 am. I am excited and am looking forward to climbing the summit. We catch up with the first team and reach Camp 2 on the night of May 14. The next day we would trek to Camp 3.
May 15
The sun was out and the weather favourable, but we could not leave Camp 2 too early -- the idea was to reach Camp 3 as late as possible, so we wouldn't have to spend a lot of time there.
We were on schedule so far and reached Camp 3 around 6 pm. The sun had set and we began using our supplementary oxygen and slept.
When I fell asleep it was dark around me; when I woke up, the sun was shining brightly. I had been asleep nine hours.
May 16
Everyone was up early in the morning. We prepared breakfast, made some popcorn and had a cup of coffee. I hadn't brushed at all. Our next stop was Camp 4, or South Col.
(South Col is a pass that lies between Mount Everest and Lhotse, the fourth-highest mountain in the world. Thanks to high winds, there is fairly little snow accumulation here. It is also known as the Death Zone, because altitude sickness at this elevation can prove fatal. Sleep doesn't come easy and your digestive system slows down. If they haven't already, climbers start using oxygen from this point on.
(From South Col begins the final assault and climbers who use oxygen don't have a lot of time to make a bid for the summit. If the weather doesn't permit it, climbers have little or no option but to descend, sometimes all the way back to Base Camp.)
I was among the first people to reach South Col. It was the first time in the course of the whole expedition that I felt genuinely scared. Oxygen levels were drastically low; winds were high and at 7,900 m, it wasn't the most pleasant place.
As planned, we began our final assault at 8 pm on May 16, but the winds got stronger and it began to snow.
Usually, climbers begin their final assault around midnight so they can reach the summit by morning. The first major landmark after South Col is called The Balcony (a small platform that is located at 8,400 m, which offers climbers some much-needed rest and stunning views of the peaks and ridges around them).
Since we had left South Col around 8 pm, we reached The Balcony at 11.30 pm.
Here the weather went from bad to worse so some of us, including me, had to head back to South Col where we spent the night.
Meet the 16-year-old who climbed Mount Everest
Last updated on: May 27, 2013 17:22 IST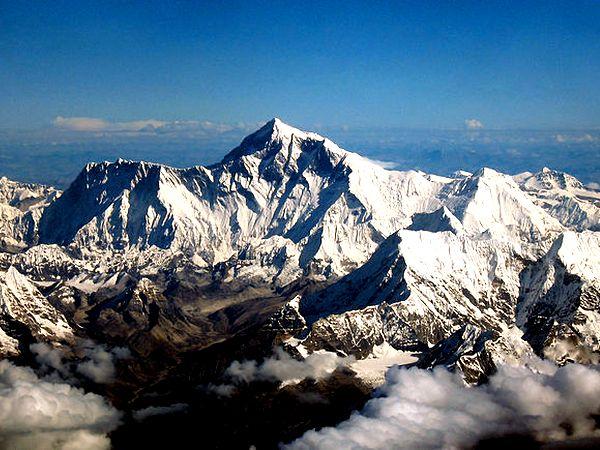 May 17
We woke up at around 8 am to the news that one of our members had reached the summit. It was good news but I felt really bad because I wanted to be there too.
A second attempt is always tricky. For one, you've lost a fair amount of energy and you've depleted your stock of oxygen. Each of us had five bottles of oxygen with us. I had used up one each at Camp 3 and Camp 4 respectively.
On the night of May 17, we began our ascent at 8 pm. The idea behind starting out this late in the day was to avoid the traffic -- there are several climbers attempting to reach the summit and are known to cause a bottleneck, especially at Hillary Step.
(Hillary Step is a huge 40-foot rock wall that is one of the last major obstacles before you reach the summit. Named after Sir Edmund Hillary, who along with Tenzing Norgay became the first person to scale the rock using primitive equipment, Hillary Step is now technically more easily ascended using fixed ropes that have been set up.)
By now my energy levels had dropped considerably.
(At this level, the body's digestive system slows down to preserve energy and you cannot simply consume food the way you would under normal circumstances.)
So I drank a cup of water at The Balcony, had a Kit Kat and continued with my ascent. This was the most daunting part of the ascent, overcome entirely because of my willpower.
It was 4 am when I saw Hillary Step. By now I knew I had made it. When you are so close to your goal, you are happy, but you are also scared.
I crossed Hillary Step and the sun came out; it was magical.
May 18
From there on it was a fairly easy trek. My spirits were high and even though I was quite tired, I kept walking, knowing that my goal lay right ahead of me.
At 5.15am Nepal time (5am IST) I finally fulfilled my dream.
I looked around and took in the view; I could see everything -- from the Camps to Khumbu Glacier and the paths that I took.
It was overwhelming; I started crying. There I was, on top of Mt Everest. I had overcome the one thing that I had feared most. When I started my ascent, my family went on a fast to pray for my safe return. Many people have lost their lives while attempting this -- I was scared too. Till that moment I wasn't sure I'd be able to make it.
Now here I was on top of the world. I wasn't scared anymore.