'My darker side is super dark and I'm not afraid of it.'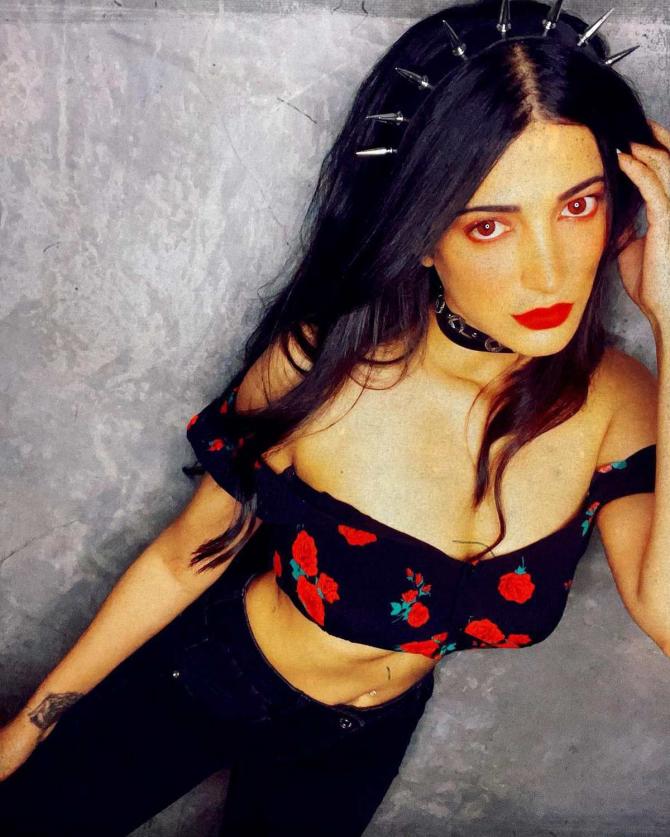 She's the daughter of well-known actors, an accomplished singer and a talented actor herself.
But there was a time Shruti Haasan struggled to fit into a world where she felt she was being punished for being different.
"My mental anxiety had been building up for years," she tells Rediff.com Senior Contributor Roshmila Bhattacharya.
Today, the actress is a happy, secure and confident woman who is determined to stay true to her real self.
In a heart-to-heart chat, Shruti advocates the importance of mental health and financial restructuring in the wake of the pandemic.
In 2018, at the peak of your career, you surprised everyone by taking a year-long break from films. What was going on in your mind at that point?
Nothing. Opinions and expectations had ceased to matter. I was only willing to take constructive criticism, not an opinion that someone has on a life that they don't live.
It's like when you have high fever... you don't care about how you are looking, you just want to get well.
My mental anxiety had been building up for years. Suddenly, I stopped caring about others. I only cared about being true to myself.
I knew I would come back strong because I believed in myself.
The pandemic has put the spotlight on mental health.
Yes, I'm happy to see that. I've been a great advocate for a long time.
I believe therapy kept me alive. Truly alive. It taught me not just to live, but to see my life through my own lens.
It's strange that in the West, therapy has become a part of one's life and anyone who is successful, be it an actor, a musician or even a sportsperson, talks about it unabashedly. But, in India, there is still so much stigma attached to it. It's brave of you to be so open about it...
I want to always be honest about my journey.
If I speak about therapy, maybe someone will read it and think, 'Oh, if Shruti opted for it, maybe I can consider it too.'
We have amazing therapists in India. And there are various forms of therapy, like psychotherapy and psycho-analysis. It's about finding that person who understands you, understands why you want to open up to them.
During the lockdown, a certain news channel emphasised the need to focus on the mental health of children and what they were going through.
I loved that parents would be watching that programme and hoped it would open their minds to therapy.
What was the reaction of your parents, Kamal Haasan and Sarika, to your decision to seek therapy?
(Laughs) I usually make a decision myself and then share it with them. They were very supportive.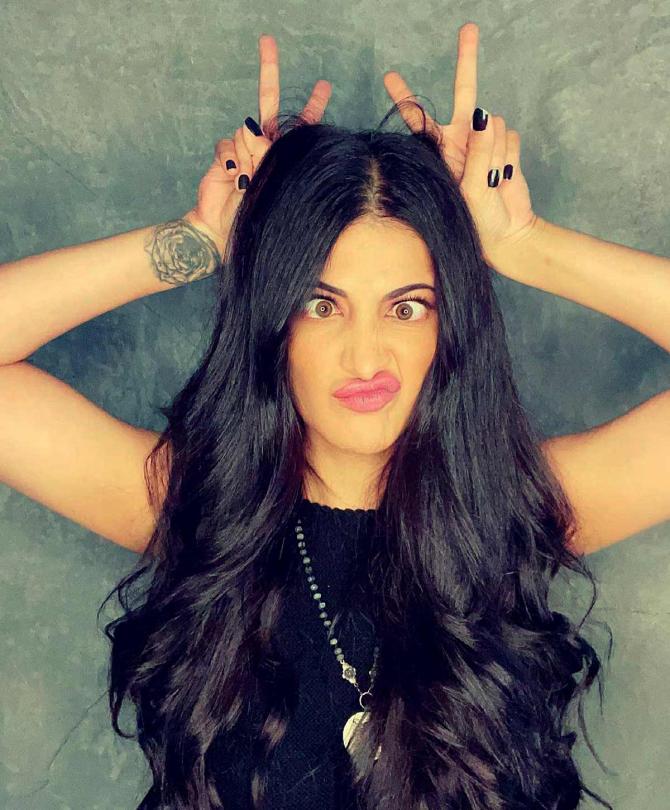 Yes, I am having fun. And it doesn't end there.
If I'm going through a bad day or if I haven't slept, I put that up too and my Instagram family instantly knows something is wrong with me.
They will ask, 'Angel, are you okay? You can't hide anything from us.'
They come to my handle for my honesty, so it's my duty to stay true to them. I've never had the chance for many years to be myself. Now, I enjoy being able to showcase who I really am.
Of course, it's not all marshmallows and 'I love you.'
I get a lot of bad energy too from people who ask, 'Why can't you be a normal Indian girl? 'Aap kyun chudail ke kapde pehnte ho? (Why are you dressed like a witch)?'
Have you ever tried to dress like a conventional Indian film heroine?
I did try. My stylist would tell me that pink is the colour of the season or everyone was doing rust and I would give in. But I never felt good.
Now, I tell them they have three colour options -- grey, army green and black. At the most, I might go with brown.
Why this fascination with black?
I've always loved Rock 'n' Roll and Metal (music). And black has been a part of that kind of music.
When I was younger, I was influenced by everything Goth. I loved Edgar Allan Poe, Franz Kafka and dark poetry.
People tend to think that Goth is just fashion and music. But it's about being in a state of grey too; enjoying the shadows along with the light.
I'm usually on the lighter side of Goth. My darker side is super dark and I'm not afraid of it. It's just a vibe which helps me appreciate the light in myself and my music. It allows me to channel my feminine sexuality in a way that is not objectified.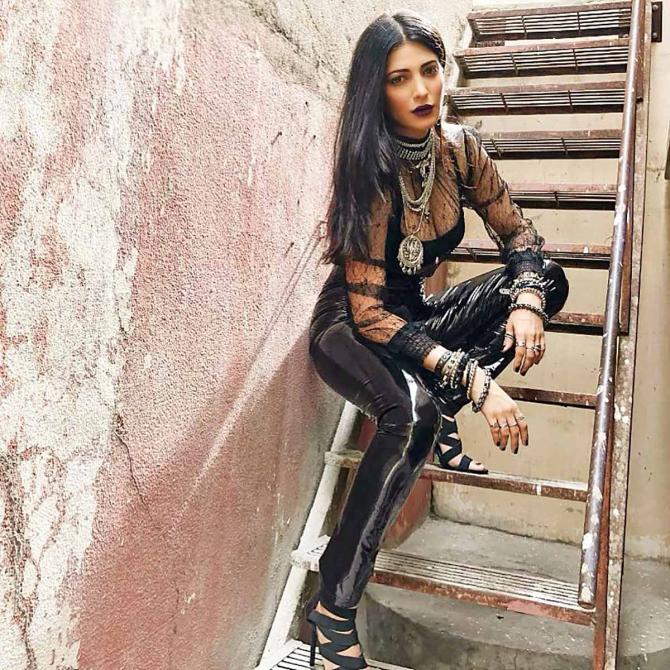 This Shruti is obviously a product of much soul-searching and self-realisation.
She is. Earlier, I used to feel punished for being different. Now, I celebrate being a misfit.
This is a more natural fit than me trying to fit into the mould of an appropriate heroine.
I don't even know what an appropriate heroine is. Thankfully, things have changed; it wasn't like this 10 years ago.
When someone like you celebrates being a misfit on social media, it makes them a role model...
I don't know if I can be a role model because that means different things to different people. I just want to be a friend.
I wanted to be friends with artists like Chris Cornell and Alanis Morissette not because they were famous or they were hot but because, when they spoke, their words resonated with me.
I want to forge a connection that goes beyond a movie star or a fan. Those are just labels. I want to connect as a person.
In your opinion, what's the best kind of help we can offer people during the ongoing pandemic?
The first phase of the pandemic was about helping migrants get home.
The second phase was about getting oxygen beds in hospitals.
Now, people in a certain economic stratum are on the verge of killing themselves after the extended lockdowns. And the government cannot bring the situation under control without a lockdown. So we are in a terrible Catch-22 situation.
The pandemic has made me look at my earnings too. I'm an artiste; I never thought of these things before and, frankly, my finances were a mess. You wouldn't think I was working for 12 years.
So, speaking purely from a privileged point of view, I believe the need of the hour is the financial restructuring of our society. That's one way to help people reeling from the after effects of the pandemic.