Ajit Mishra, vice president, Research, Religare Broking, answers readers' queries on stocks they own or want to buy.
Here are his replies to some of the 'buy, sell, hold, avoid or exit?' e-mails that we have received.
If you want his advice on your investments, please mail your questions to getahead@rediff.co.in with the subject line, 'Stock Market Query', along with your name, and Ajit Mishra will offer his unbiased views.
Illustration: Dominic Xavier/Rediff.com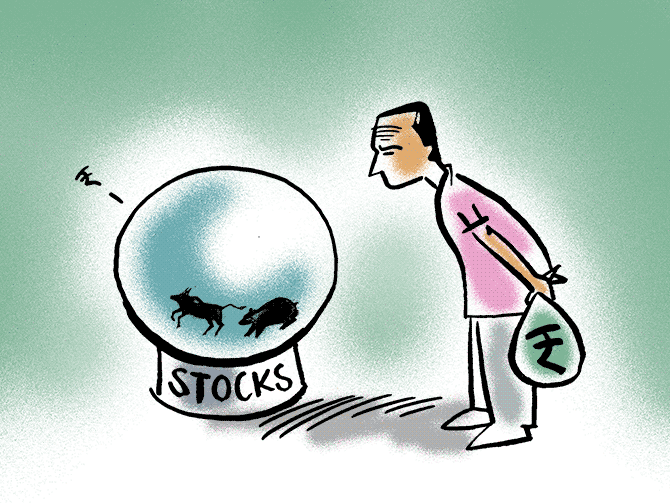 ---
P H Narayanan: I have in my portfolio the following shares:
1. Sintex Industries - 10,000 shares
2. Sintex Plastics - 5,000 shares
I have trying to sell them, but no buyers are found. What will be the future of these 2 companies. Please let me know.
Ajit Mishra: Exit both the stocks, when you get the opportunity, as revival seems difficult.
---
Abhik Palit: I have started SIP for the following shares through Sharekhan, please guide me further:
1. SBI
2. AXIS BANK
3. TATA STEEL LIMITED
4. NIIT LTD.
5. ICICI BANK LTD
Ajit Mishra: You can continue with SIP in stocks such as SBI, Axis bank, Tata steel and ICICI Bank while avoiding NIIT.
---
Achal: I am holding Bhansali Engineering Polymers Limited shares. The quantity is 900 shares at average price of Rs 84. What should I do?
Ajit Mishra: Hold and try to exit on bounce around 70
---
Daniel: I have 700@1500 of Shriram Pistons and Rings. Should I hold or exit?
Ajit Mishra: Exit
---
Nonie Singh: I have Panth Infinity Ltd. 500 Qty @ 150. What shall I do, kindly guide?
Ajit Mishra: Exit
---
M J Dave: I am investor since last 20 years and was holding many good stocks and I am in profit but the following shares are giving me loss. Please suggest if I should hold or sell?
Ajit Mishra:
Nocil100@ 124- Hold
HSIL 40@ 224- Hold and exit on rebound
TV18 100@28- Hold and exit on bounce.
ashok buildcon 50@ 93- Exit
---
Varun Tripathi: I have bought Yes Bank @ 57.40 i can hold it for long time. Is it worth to hold this? Thanks in advance
Ajit Mishra: Yes, you may hold.
---
Nisarg Shah: I have following stocks in my portfolio and all are in loss; what shall I do?
1. HEG @ 3600
2. Sun Pharma @ 513
3. Bank of Baroda @ 135
Ajit Mishra: Exit HEG and Bank Of Baroda on bounce. Hold Sun Pharma.
---
Mahesh: I had purchased the following stocks 2 months ago. Please advise if I should sell now at CMP (which is lower) or hold until it crosses my purchase price?
1) Info Edge at ₹2667
2) Vadilal Industries at ₹816
3) MIDHANI at ₹183
Ajit Mishra: You can continue to hold Info Edge and Midhani. Exit Vadilal.
---
Rajesh Pande: I am small time investor and need guidance from experts like you on my stock investment. I am looking for a profit margin of INR 30-35000 in the next whole year and my investment capacity is INR 1 to 1.5 Lacs.
Please guide me, which share I should buy now so that my target will be achieved.
Ajit Mishra: You can invest in stocks like Coromandel, Gujarat Gas, Inox Leisure, L&T, Reliance Nippon, Britannia and Tech Mahindra which are expected to earn around 20%+ returns.
---
PR Subramanian: Kindly send me your advice. Especially Thomas cook, Jyothi Labs, Quess Corporation.
Ajit Mishra: Exit Jyothi Labs, while in Thomas Cook and Quess Corporation there has been an announcement of demerger. Wherein Human Resource Services Business of Thomas Cook (India) Ltd into Quess Corp Ltd, which was approved by NCLT Mumbai and Bengaluru on Oct 10, 2019 and Nov 7, 2019 respectively.
Thomas Cook shareholders would receive 1889 fully paid-up equity shares of Rs. 10 each of Quess Corp Limited for every 10,000 fully paid-up equity shares of Re. 1 each, held as on 6th December 2019. Hence, hold both Quess Corp and Thomas Cook.
---
Rajneesh Bankura: Please suggest on these stocks and also any short term stock which I could buy with timeline of 6 months. I hold following shares:
Ajit Mishra:
1. Dilip Buildcon Ltd: 1550@447 - On short-term chart, it's looking under pressure. Stiff resistance placed at 440 and Support is at 374. Hold with strict SL.
2. AllCargo Logistics: 2200@101- It's trading under pressure for last several months and still there's no sign of reversal. Overall trend is sideways to weak. Resistance is at 106 and Support is at 96.
3. Petronet LNG: 100@250 - currently it's hovering in the middle of the moving averages ribbon but overall trend is sideways to positive. One can hold long position with closing SL at 245 for the upside target at 320.
4. Gail: 70@124 - Short-term trend is sideways to negative. Resistance is at 129 and support is at 120.
5. Infosys: 100@705 - It has been struggling around the resistance zone of 750 levels for past two weeks or so on daily chart and posted a fresh breakdown today i.e. on Jan 8, indicating a negative bias to continue ahead. Next strong support level is at 700.
---
Ajay: I want to invest in stock for long term i.e 4 to 6 years. I had selected the following shares but guide me which share should I pick?
1. Lloyd Steel 2. IDFC First 3. Munjal Auto
Ajit Mishra: You can invest in stocks like Coromandel, Gujarat Gas, Inox Leisure, L&T, Reliance Nippon, Britannia and Tech Mahindra.
---
Durgababu Nallagachu: I bought Agro Phos share at 156 and it suddenly went 30 points down. My advisor suggested that it will go to 300 in 3 months but it went 20 points down in single day. Should I wait for long term or exit now itself?
Ajit Mishra: Suggest exiting at cmp.
---
Sankeesa Suryaprakasham: I am holding 500 RIL shares for the last two years. Is it a good idea to reap profits and invest in DMart? Or to go for Gujarat Gas?
Ajit Mishra: Yes, you can book partial profits in RIL and shift to D-mart or Gujarat gas (buy the stocks on dips) as both the stocks are fundamentally sound and can be brought for long term.
---
Hiral: I want to seek your opinion for below mentioned stocks, all these stocks have hit low circuit and I'm unable to exit them. Requesting you to give your take on these and provide me the solution for the same.
Mauria Udyog 30 shares @281.90; 52-week high: 412.10; 52-week low: 131; CMP: 213.05
Darjeeling Ropeways 165 shares @ 100.80; 52-week high: 112.40; 52-week low: 52.40; CMP: 52.40
Agro Phos 225 shares @119.61; 52-week high: 155.40; 52-week low: 55; CMP: 80.05
Ajit Mishra: You can only sell the listed stocks in the market; thus, you need to wait for the circuit limit to open and then try to sell the stocks.
---
Ashok Kulkarni: JSW steel @ 280, Mirza International @ 80, HIL @ 450, Amara Raja Batteries @ 650, Tech Mahindra @ 754, Agro Phos ltd. @136, 7NR RETAIL ltd. @ 226. Kindly let me know when to exit these stocks.
Ajit Mishra:
JSW STEEL- After a decent correction, it has been rebounding for past three months or so on daily chart and this may continue further. Strong support is at 245. Hold
MIRZA INT - It has been consolidating in a range for more than a year now and still there's no sign of reversal. Better to exit on bounce else hold with strict SL at 50.
AMARA RAJA - It's currently hovering in a narrow range but overall trend is sideways to positive. Hold with SL at 700. Resistance is 740.
TECH M - It has been holding strong in multiple time frames. Also, the strong buoyancy in IT space is further adding to the positivity. Book partial profit at the current levels (780)and Hold rest with SL at 760. Next strong resistance is at 790.
AGRO PHOS- Exit at cmp.
7NR- Exit
---
Samaraj Kunni Chetty: I am holding the below stocks bought at rates rates mentioned herein:
Kindly advise whether I should HOLD or SELL these stocks. If you advise for hold then what is the exit price? Awaiting your earliest response in this regard.
Ajit Mishra:
1. State Bank of India @Rs.333.50- Hold with strict SL at 300. Strong resistance is at 345
2. Gujarat Gas Ltd @ Rs.254.50- Hold with strict at 240. Upside resistance is at 265.
3. Escorts @ Rs.608.00 Hold with SL at 580. Resistance is at 640, 680.
---
Girish Neelkant: Future prospects of Sanwaria Consumer? Should I retain or sell 30000 shares purchased at avg price of Rs 3.40. Am prepared to wait another year.
Ajit Mishra: Exit the stock on every rise as it is not fundamentally sound.
---
Sanjaybaja: Is this company ROSS MURARKA FINANCE listed on any exchanges? If yes, please share the latest details like ISIN no etc. Holding them in physical form. Please reply and guide
Ajit Mishra: The company is a private limited company and so you need to directly contact the company's office.
---
Rajan Lamba: I am 38 years old and have two kids - Boy - 6 years & Girl - 3 years. I may like to invest in Blue Chip Stocks with a time horizon of 10-15 years for my kids study or for future investments for them. Please suggest some stocks, where I don't lose my money.
Ajit Mishra: According to your requirement, you can invest in mid to large cap companies like Asian Paints, Britannia, Dabur, Maruti, Whirlpool, Bata, TCS, HDFC Bank, Axis Bank, Voltas, ACC and Ambuja Cements.
---
Rohit Gupta: Please advise regarding my portfolio whether to hold or exit. I have shares of Bajaj Auto, Bajaj Holdings, Bajaj Finserv, Castrol, Emami, Cipla, DCB Bank, Pitti Eng and Rasandik Eng. Thanks.
Ajit Mishra:
Hold -- Bajaj Auto, Bajaj Holdings, Bajaj Finserv, Emami and Cipla
Exit -- Castrol, DCB Bank, Pitti Eng and Rasandik Eng
---
SARMACH: I am holding Yes Bank shares 600. The average buying price is around Rs.80. Should I hold or liquidate? Kindly help me to take a decision.
Ajit Mishra: Hold
---
Gajanan Joshi: I have the following shares, should I sell or hold?
1) Caplin Point Laboratory 230 - Avg cost price 307; 2) Mangolore Refinery and Petro 50 Avg cost price 63.54; 3) Yes Bank 125, Average cost price 53
Ajit Mishra: Hold Yes Bank and exit others.
---
Nagendra SK: Holding 3000 IOC at 200 from 2 years. Your views
Ajit Mishra: You can continue to hold IOC for long term.
---
Mahesh Sarade: I read your article on Rediff.com. Kindly suggest what I should do?
Edelweiss Finance Ltd -- 300 @90.53
Yes Bank - 560 @ 53.93
Kindly suggest for more investment in market.
Ajit Mishra: You should exit both the stocks. Invest in stable counters such as Britannia, Gujarat Gas, L&T, Tech Mahindra, Ramco Cements, Dabur, Maruti and M&M.
---
Disclaimer: This article is meant for information purpose only. This article and information do not constitute a distribution, an endorsement, an investment advice, an offer to buy or sell or the solicitation of an offer to buy or sell any securities/schemes or any other financial products /investment products mentioned in this QnA or an attempt to influence the opinion or behaviour of the investors /recipients.
Any use of the information /any investment and investment related decisions of the investors/recipients are at their sole discretion and risk. Any advice herein is made on a general basis and does not take into account the specific investment objectives of the specific person or group of persons. Opinions expressed herein are subject to change without notice.