Suhasini Kejriwal's art is born of the streets of working class Kolkata and Mumbai, discovers Ritwik Sharma.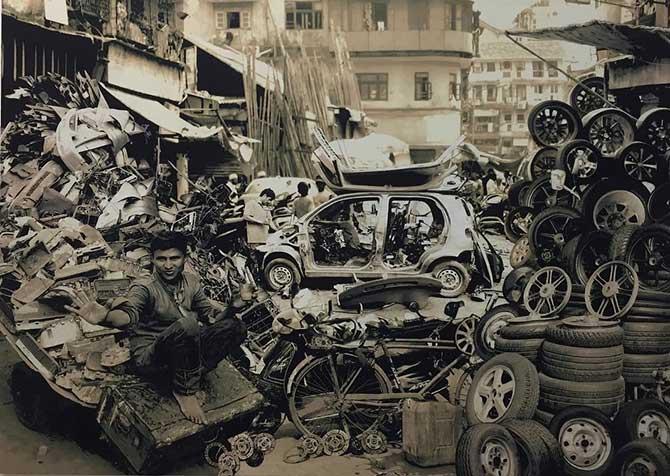 A mechanic sitting on a tilted box, gesturing with one hand and holding a glass of tea in the other, is barely in the foreground.
For, in a signature artwork of Suhasini Kejriwal, humans jostle for space with a multitude of objects.
Titled Break -- a mix of acrylic paint, embroidery and digital print on canvas -- the painting is part of a collection of 14 works that are on display at an exhibition in New Delhi.
In a composition like Break, a pile of vehicle parts, tyres etc and buildings surrounding them leave no empty spaces.
And with a sepia-toned work, there is no break from shades of brown, black and grey as they fill the canvas with rich detail.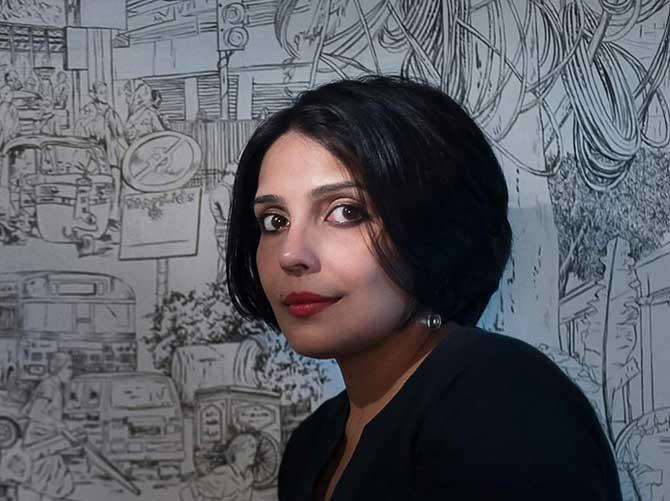 As the artist has blended disciplines such as photography, painting and embroidery on it, the visual effect on the viewer is layered.
Yet it appeared like a collage and a seamlessly single piece at the same time.
At least, this was apparent at Delhi's Nature Morte gallery, helped perhaps by the daylight when I visited.
The solo show, Everyday Extraordinary, exhibits the Kolkata-based artist's new works that, in her words, resulted from a 'journey' that expanded her detached vision as flaneur and artist to a more empathetic role as witness and collaborator'.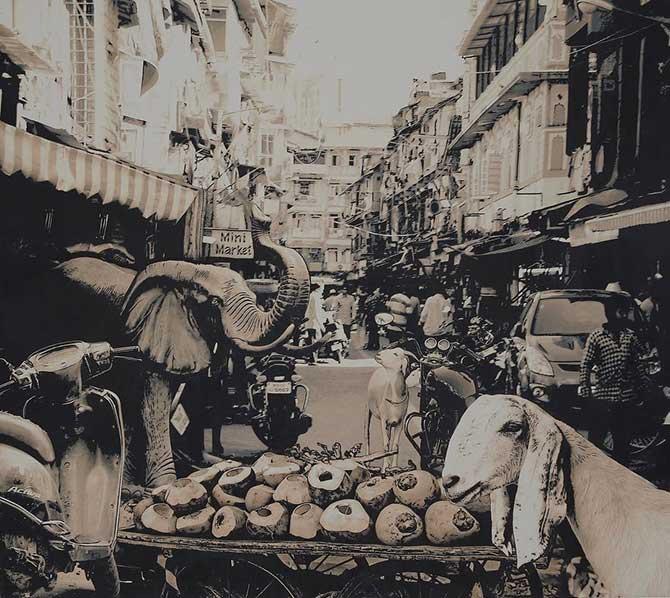 All the works have a relation to photographic images, she says.
In some, such as Break, the photographic images are more directly present as digital prints which are then painted, embroidered and collaged.
Some of the works are entirely painted.
Each work took the artist anything between three and nine months to make, she says.
They are derived from her time spent in the North Kolkata neighbourhood of Chitpur and Chor Bazaar in central Mumbai.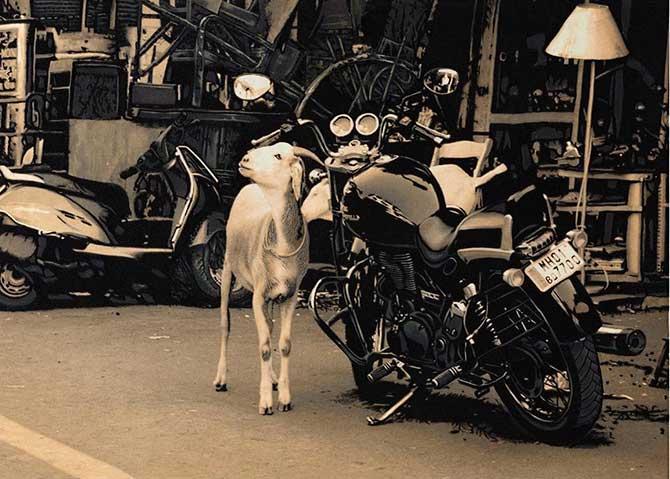 She picked the neighbourhoods after walking through many in Kolkata and Mumbai with friends, photographers, designers and artists who showed her the places that nourished their creativity.
"I found myself going back to Chor Bazaar and Chitpur again and again and found many similarities between the two. Both are old, historic neighbourhoods that draw you in with their striking theatricality but reveal their layered beauty slowly every day."
Kejriwal, whose paintings often overflow with information and detail on a crowded canvas, spent her childhood in Kolkata and has degrees in fine arts from colleges in New York and London.
Returning from these sojourns abroad, her earlier works cast the familiar as strange.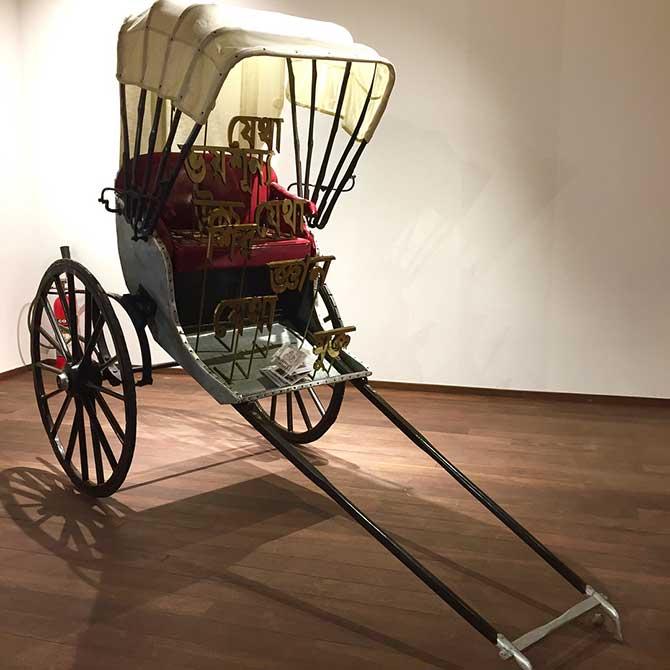 Now, empathy in the role of witness has been enhanced in part by repeated visits over four years to Chitpur and Chor Bazaar and "seeing how they are transforming before my own eyes".
Partly, it was also helped by becoming a collaborator in Chitpur as part of an artists's collective called Hamdasti.
The collaboration comes through in a few installations, such as that quintessential Kolkata artefact, a pulled rickshaw, a cart and a mirror each of which bears brass letters in Hindi and Bangla quoting Tagore and Kabir.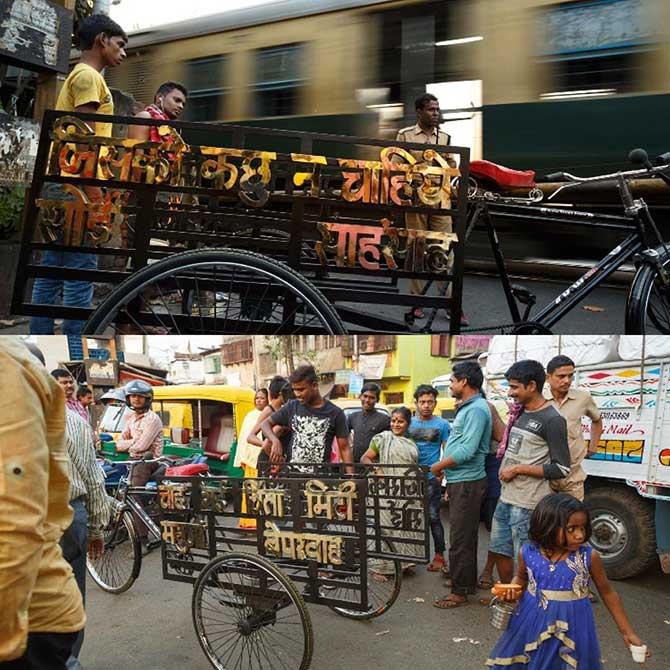 "This experience of collaborating with community partners has allowed me to be vulnerable to the same audience that I am photographing by putting my works back on the very streets that I usually photograph for my work."
"In that sense, I feel that I have engaged with the streets more completely and with more sincerity," says Kejriwal.
Everyday Extraordinary is on till March 14 at the Nature Morte gallery, New Delhi.