India's first male ballet dancer began learning the dance form at the advanced age of 19. Eleven years later, his passion for ballet continues to shine brightly.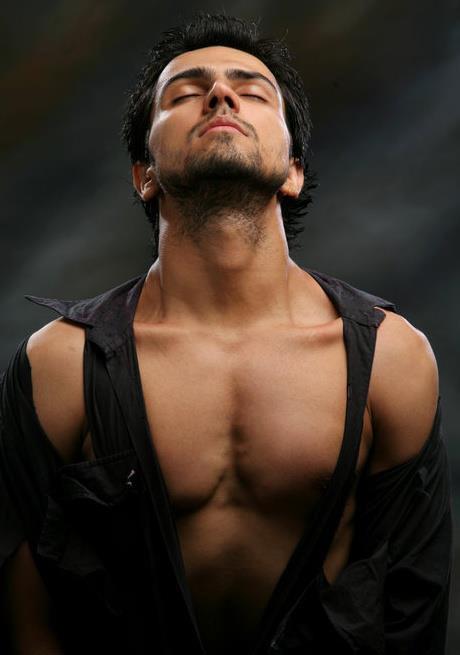 Sanjay Khatri was just 19 when he fell in love for the first time.
His beloved was beautiful, graceful and elegant.
"It may sound cliched," he tells Jahnavi Sheriff, "but I did not choose ballet. Ballet chose me."
The 30 year old is India's first male ballet dancer. Although dance has been part of India's ancient tradition, ballet has not been able to draw many male dancers.
Sanjay, who was felled by the dance form's charms at the advanced age of 19, had to face many disappointments due to his "lack of background" in ballet.
But that did not deter him and he has been learning ballet for the last 11 years. Today, the New Delhi-based dancer also teaches ballet in the national capital and in Mumbai.
"We opened the Central Contemporary Ballet academy in 2010. I have been teaching since 2005," he says.
Having performed around the world with international ballet companies, he has a word of advice for aspiring dancers: Do not maintain an unhealthy competition with each other as we're all unique.
Heard you started learning ballet at the age of 19!
It may sound cliched, but I did not choose ballet. Ballet chose me.
Before the age of 19, I had never heard of ballet. Then, I got an opportunity to audition for a ballet class. I was fascinated by the turns and jumps and fell in love with the dance form. From then onwards, I have been pursuing it wholeheartedly.
It was difficult to start at the age of 19. I had to work hard to develop the required agility and the arched feet. I pushed my body to the limit.
Did your age ever bother you?
There were many times when I wondered why I did not start earlier, but everything worked out for the best.
Did you have any prior training in dance before taking up ballet?
No, I had absolutely no training in any dance form prior to my encounter with ballet.
How did your family/friends react?
My mother never stopped me; she always supported me.
My relatives could not understand ballet so they ridiculed and discouraged me.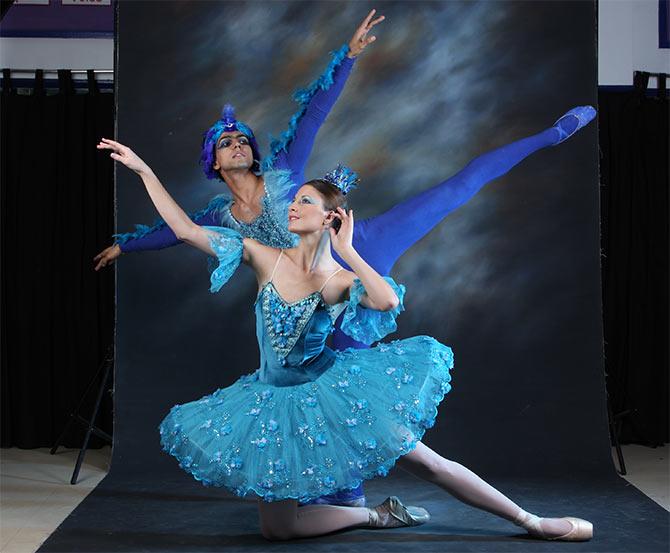 How do girls react when they find out you're a ballet dancer?
Some of them are curious about my sexual orientation.
Did you face any discrimination as a male dancer?
Yes, many times. People do not want to help a Western classical dance form; they'd rather support an Indian classical dance form.
What other difficulties did you face?
There were many challenges; the biggest was to carve a space for myself at the international level.
Whenever I tried auditioning, I would be asked about my ballet background and the school I learnt from. As a result, I was rejected many times.
In 2012, South Korea's Universal Ballet Company gave me the opportunity to audition as a professional ballet dancer. I was selected and became the first Indian to work with them.
Later, I got an opportunity to work with the American Ballet Theatre; it was another dream come true.
You have been teaching for 11 years now. In terms of students and shows, is ballet accepted in India? How many male students do you have?
Compared to a decade ago, there is more awareness now. Dancers have recognised the benefits of ballet; it helps in all dance forms.
We have around 20 male students in our young artiste programme, which provides long term professional ballet training.
What pieces and roles did you get to do? What has been your most memorable performance?
My most memorable performance was The Nutcracker with the Universal Ballet Company in December 2012.
I have performed in Argentina, South Korea and London. We have an upcoming show for the Central Contemporary Ballet in Delhi on March 8, 2015.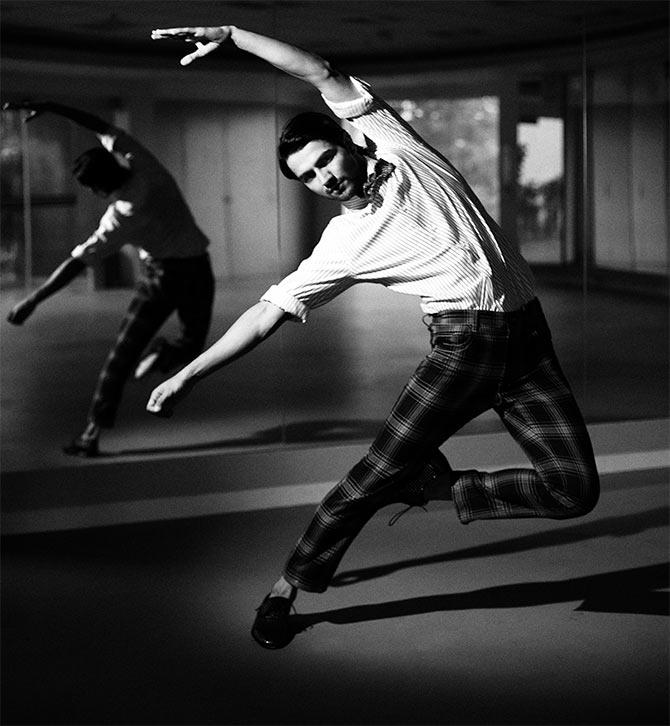 What were some of the funny situations you had to face? And the most difficult?
Once, while performing, my leotard came off. It was pretty embarrassing for me and funny for the audience :)
My most difficult moment was my audition for the Universal Ballet Company.
What can be done to remove the misconceptions about classical dance forms, especially where boys are concerned, in India?
We have to spread awareness that ballet is not just for girls and encourage youngsters to pursue it, if it is their passion.
Has the popularity of dance reality shows helped in any way?
People are more aware about ballet and other dance forms. I can now go anywhere in India and teach ballet.
Would you like to choreograph for films?
I would love to as long as I do not have to mould my art to suit commercial tastes.
How many professional male ballet dancers do we have in India?
There are many who do a little bit of ballet and mix it with other dance forms.
I don't know of any other Indian who has pursued it as a profession and performed with companies like the Universal Ballet Company and the American Ballet Theatre.
How do you feel now that ballet is a major part of your life? Does it help you financially as well?
It has been a passion for me. I am blessed to be able to do something I love.
I feel content when I teach.
One of my students, Prince Sharma, has gone to the Kirov Academy of Ballet in Washington, DC on a 100 per cent artistic scholarship. He is the first Indian student there. It is a matter of great pride for me and for our country.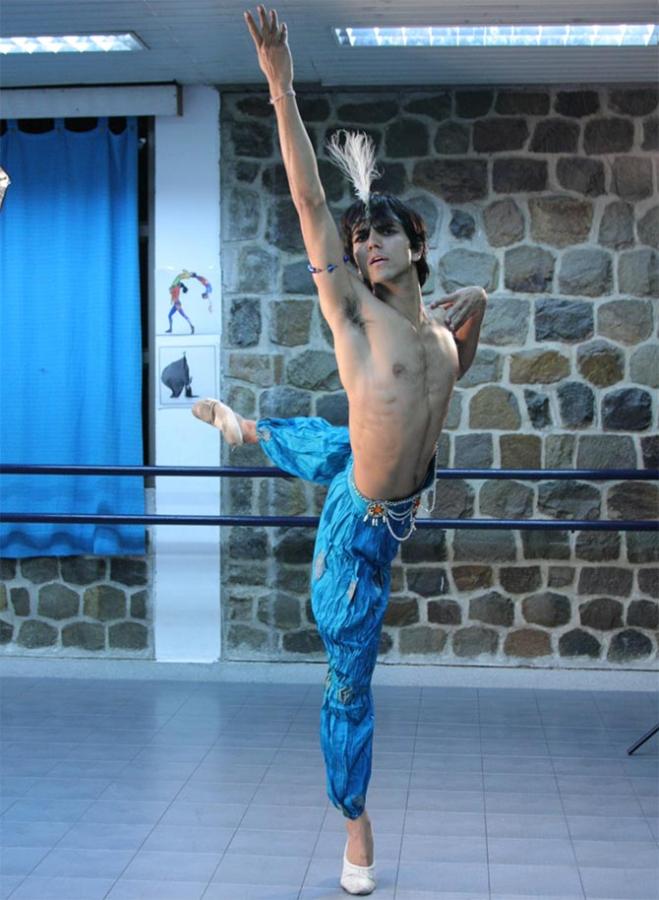 In ballet, there's the Italian style, the Russian and the French style. Did you have a preference for and train in anything particular?
Personally, I like the Vaganova (Russian) style. This is the style in which I trained.
There are only minor differences between all of them... for example, head positions, port de bras (movement of arms from one position to another) and some feet movements.
Otherwise, the essence of ballet is the same.
If you see shows and videos now, people stress a lot on flexibility, practising the splits (where the legs are extended in opposite directions) and the over splits (like the split, but one leg is raised higher than the other) for the perfect Grand Jete (a jump in which the dancer starts on one foot and ends on the other).
When they do the Adagio (slow fluid movements), they mostly have their legs above 90 degrees. They mostly do more than two pirouettes (a turn on one leg) and fouettes (turning on one leg on a flat foot as the other leg first extends out and then fold, so that the toes touch the knee. Lauren Gottlieb performed steps in the movie ABCD: Any Body Can Dance and as a contestant on Jhalak Dikhlaa Jaa).
Did all that ever make you feel nervous when you started?
All the steps you have mentioned actually challenged me instead of making me nervous.
I wanted to perform all these like Mikhail Baryshnikov (the Russian dancer and actor, considered one of the greatest ballet dancers ever). Maybe that is the reason I have been doing ballet for more than 11 years now.
As I have matured, I have realised ballet is not about how many pirouettes you can do; it is more about the artistry of the dance form. It's about doing the movements with all your heart and feeling the music.
Do you have any tips for aspiring dancers?
My only advice to aspiring dancers is not to maintain an unhealthy competition with each other.
We are all unique and special. We should not kill this aspect of our personality because we want to be like someone else or because we want to compete with someone else. Rather, we should enjoy the art and cherish the great experiences that life offers us.
Photographs: Courtesy Sanjay Khatri