The violence in the state last year reduced tourist inflow by 55% and revenue by 80%. Kasmiris hope the summer of 2017 will take them back to the highs of 2015. Sohini Das reports.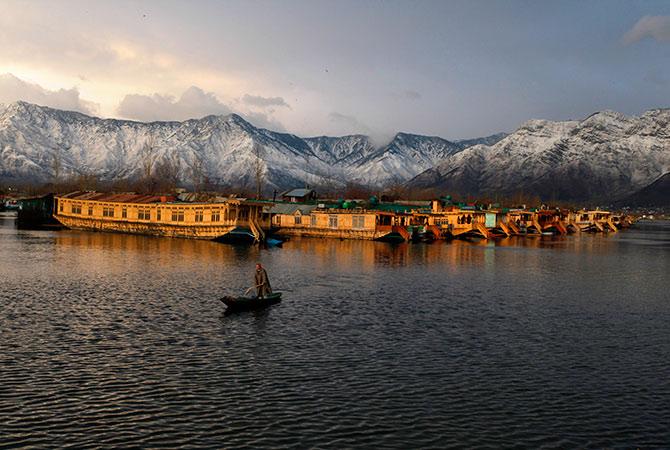 IMAGE: Srinagar's famous Dal Lake. To draw tourists, the J&K tourism department has been conducting roadshows across India, including in Mumbai, Chennai, Raipur, Kochi, Lucknow, Delhi, Rajkot and Ahmedabad. Photograph: Danish Ismail/Reuters.
Tour operators are keeping their fingers crossed this summer after tourist footfalls declined sharply since last July in Jammu and Kashmir. Enquiries have picked up significantly in the past month.
Queries are coming in from South East Asia as well.
"We are receiving hundreds of queries from Malaysian tourists for the summer. Also tourists from Singapore and Thailand are showing interest. Around 30-40 per cent of the arrivals this season will be foreign tourists," said Khaliq Wangnoo, chairman of the Jammu and Kashmir chapter of the Indian Association of Tour Operators (IATO).
He added roadshows in the country had helped to dispel fears in the minds of tourists.
Kargil was adjudged the best destination this year at the outbound travel market, one of the key travel and trade shows held in Mumbai earlier this year.
The J&K tourism department has been conducting roadshows in the country, including in Mumbai, Chennai, Raipur, Kochi, Lucknow, Delhi, Rajkot and Ahmedabad.
"Traveller sentiment is positive for the Valley, which is evident from the increase in airline ticket prices as demand picks up," said Abhishek Dogra, destination strategist at TravelTriangle.
He added travellers were booking up to two months in advance.
"Earlier, travellers used to plan a year in advance, but now that trend has changed. Advance booking has reduced to three months due to the nature of the destination and recent events," Dogra said.
Although tour operators in Kashmir claim this season will be better than last summer, national operators differ. "Travel agents expect tourist numbers will take time to climb to the highs of 2015. It might take one more season for Kashmir to reach its full potential as a tourist destination," Dogra said.
Jammu and Kashmir has witnessed a 55 per cent decline in tourist arrivals and an 80 per cent tourism revenue loss to the state government, according to Arvind Lama, co-founder and CEO of Travelyaari, an online bus booking platform.
The Centre last year approved projects worth Rs 500 crore for the development of tourism in the state. In addition, Rs 99.99 crore were approved for development of tourist facilities damaged in floods.