We'd asked you, dear readers to tell us about the woman who inspires you the most.
Rediff reader Nikhat Perveen Quasim writes about her best friend Aamna Rehman.
I admire my best friend, Aamna Rehman. She is a British Pakistani.
I met her 10 years ago in the city of London.
We were in same project called ASHA-Hope run by the department of work and pension.
When I was a student, I worked part time while Aamna was a full timer on the project.
Her sophistication and sense of wisdom was great.
Even when faced with the danger of being left by friends or being oppressed, she always stood for truth.
She was down to earth and never ambitious.
When we became close, I realised that I could rely on her.
She stood by me without any reluctance and prejudice.
According to me, having a virtuous friend is an admirable achievement.
I strongly believe that without a good friend, it's extremely tough to face various circumstances and hurdles of our lives.
After meeting Aamna I realised that happiness does not come from money or material things. It comes when you appreciate the little things you are given in life.
You don't have to win an award to be an inspiration. A spark of inspiration can come from someone you admire, a person who gives you happiness and is always there for you.
For me, that is my best friend Aamna.
You are not one in a million but a million in one.
---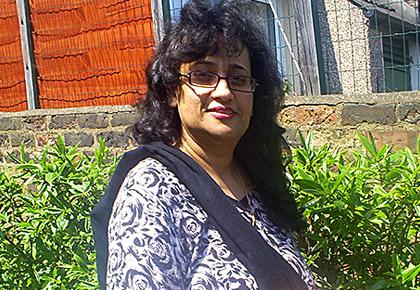 Share a picture of the woman you admire the most.
Tell us what is the best lesson you learned from her and how it helped shape your life.
Write to us at getahead@rediff.co.in (The Woman I Admire) along with your NAME, AGE, LOCATION and a photograph, if possible.
We'll publish the best responses right here on Rediff.com.