We'd asked you dear readers to share your love story with us.
Roshanlal Kewat from Baroda tells us how he found his partner Radha and gradually fell in love.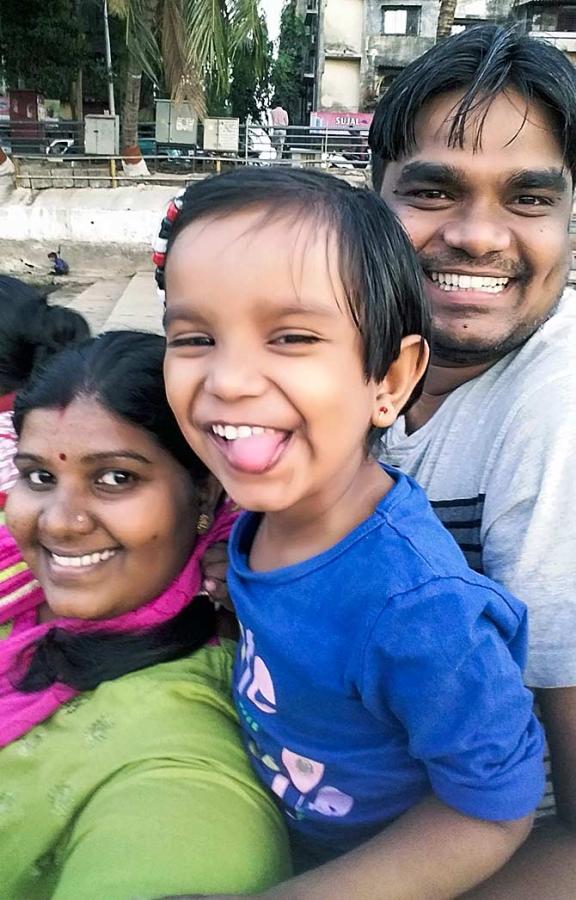 After my engineering, I was working in Baroda for around four years.
My family was looking for a girl I could marry.
The situation was similar for Radha (my wife) in her family.
She had completed masters in science and was preparing for her BEd.
Her family was also searching for a perfect groom.
My bhabhi created my profile on a matrimonial site. Around the same time Radha also updated her profile.
I was not much interested in matrimonial dating, but the website started sharing profiles of prospective brides for me.
At one point, Radha and I selected each other's profiles.
I was not a frequent user of the Internet at the time.
After searching for my name, Radha had sent me a friend request on Orkut (a social networking website which is now defunct).
As my name is unique, it was easy to find me.
I was happy to see her friend request.
After looking at her picture, I fell for her.
I accepted her request and we started chatting occasionally.
I liked her confidence and developed an interest in her.
I started using the Internet on my mobile so I could stay in touch with her.
Soon we exchanged numbers and started talking and messaging.
We'd become friends and forgot that we'd got connected to each other through a matrimonial site for marriage.
I was just happy to talk to her and was waiting for the right time.
I used to visit my family in Mumbai every alternate weekend and Radha was also staying in Mumbai at the time.
Although we regularly spoke over the phone, we never met each other.
I used to board Baroda Express at around 11.45 pm from a station that was close to Radha's house.
Once I called and told her that I was standing near the station and if she could come and meet me.
I said this a few minutes before I was to board the train.
What started as fun turned into an ugly argument. She started shouting at me.
She wanted to know why I had come to meet her without informing her. That how could I have expected her to come out so late in the night.
After arguing for 30 minutes she said 'If you are really interested to meet me, why don't you come to my house and meet my family members?'
It took me quite some time to settle her down and tell her that I was just kidding.
After the argument, I also got an opportunity to call her for a meeting, which I had been thinking for a long time.
I told her I'd like to meet her before discussing with our parents. She agreed.
The following weekend, we met at Cafe Coffee Day in Powai. She'd told me that she would be there for a few hours only.
But once we met each other, love was in the air.
We did not realise how time went by.
We were together for almost eight hours and it wasn't enough.
I couldn't stop looking at her while she was talking to me.
I was just mesmerised by her cute face and simplicity.
I was happy that she loved me too.
Even though she did not say it, it was clear from her beautiful eyes and cute dimples on her smiling face.
The week after that I went to her house and met her family members.
Later, Radha and her family visited our house.
There were no issues from either families since they were both eager to find a good match for us.
Radha and I have been married for six years and our daughter Suhana is four now.
Our love has only blossomed and grown over the years.
I never thought I would find love like this.
I can safely say that 'Love isn't something you find. Love is something that finds you.'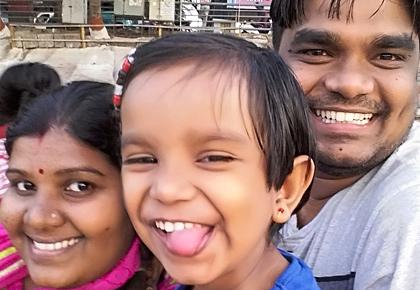 ---
You too can share your love story with us.
Write in to us at getahead@rediff.co.in (subject line: 'Our Love Story').
You can also include a photograph of you and your partner and we'll publish the best entries right here on Rediff.com.