Avoid these five mistakes new moms make to lose post-pregnancy weight.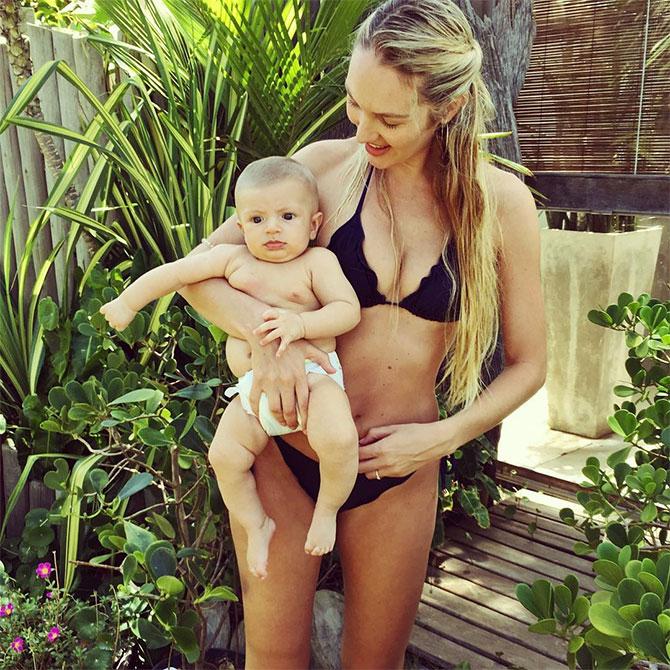 Photograph: Kind courtesy Candice Swanepoel/Instagram
The moment your baby is born, your primary concern besides of course the baby's needs, is when and how would you lose all that flab that you have piled on over these last 10 months or so.
And, trust me, since we all are in such a hurry to lose all the postpartum weight, we end up making way too many mistakes that can cause us more harm than good.
I've been through that phase when I had just delivered my daughter, six years back, and all I can remember was how desperate I was to fit in that old pair of jeans and dresses that had burned a hole in my pocket.
However, I ended up making a couple of mistakes that slowed down my weight loss process and in fact didn't help me at all.
And guess what, like it or not, I noticed that these are some things that all Indian new mums follow and end up feeling more demotivated than before.
So all you new mums out there, here are afew things that you must never do if you want to lose all that postpartum weight:
Yes, all new mums are in a hurry to lose that post-pregnancy weight and when they see celeb mums such as Kareena Kapoor Khan and Mira Rajput Kapoor flaunting their toned bellies in three months flat, they suddenly feel that they can do that too.
Let me tell you that comparing yourself to other mommies is totally unfair and when it comes to Bollywood celebs we all know that they have an army of fitness experts and nutritionists who are there to take care of them.
Therefore, the best way to lose all your pregnancy weight would be to take it easy and first allowing your body to recover completely, which experts say usually takes around six months.
So before you've crossed that six-month mark, take it easy, moms!
Losing all that sleep over your weight and other would only add to your kilos. Yes, that's right!
According to WebMD, in a research conducted over new mothers studied, those who slept 5 hours a night or less were more likely to have at least 11 more pounds to lose by the time their babies were a year old than moms who slept 7 hours a night.
So, the only way you can help yourself in losing all that baby weight is by sleeping whenever you can and giving yourself that much-needed rest. It will also help you heal faster.
Staying away from all kinds of carbs
Another mistake is completely eliminating carbs from your diet. New mums forget that they need extra calories in a day as they are breastfeeding and also all the energy to go through those late night feeding sessions and diaper changing.
This can only be supplied through healthy carbs such as those found in bananas, chickpeas, oats, yoghurt/dahi, whole wheat breads, pastas, sweet potatoes, and cereals.
So don't hesitate and eat your heart out, at least till the time you're breastfeeding.
Most people must have advised you that the only way to lose weight is by burning those extra calories you consume in a day, which means exercising way more than that is required. Sadly, that's just another myth.
For effective weight loss, you have to burn those calories effectively and smartly and by choosing a workout that helps you!
Not watching what you eat and when
Breastfeeding moms often end up eating whatever they can lay their hands off when those hunger pangs strike, even if it means grabbing some namkeen.
However, neither is that unhealthy, it would also add more calories to your day.
The key lies in choosing healthy snacks such as a bowl of dry bhel, roasted chana, a bowl of makhaanas, or even any fruit of your choice.
Post pregnancy weight loss should be a gradual, healthy process and the more patient you are, the better results you'll achieve.
So hang in there mommies, give yourself some time and love and we're sure you'll be as fit as ever!