Hrishi Sathawane, who recently married his gay partner in a ceremony in Maharashtra, says, "Society is more open-minded than you think."
He shares his love story with Rediff.com's Divya Nair.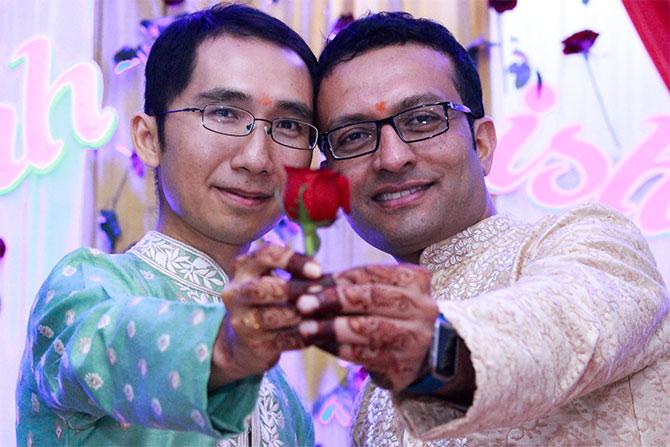 Hrishi and Vinh had a Maharashtrian style wedding in Yavatmal on December 30, 2017.
All photographs: Kind courtesy Hrishi Sathawane
On December 30, 2017, Hrishi Sathawane, 43 from Yavatmal, Maharashtra, and Vinh, 35 from Vietnam had a simple, fun marriage in Yavatmal.
While the two would have wanted to keep the affair a private one, celebrating only with close friends and family, it wasn't going to be.
Days later, the Supreme Court decided to review the controversial IPC Section 377 which criminalises homosexuality.
And soon details of Hrishi's and Vinh's life and commitment ceremony were out across newspapers and life was not the same.
On January 15, Hrishi posted an elaborate note on Facebook explaining why he was upset.
'There has been much inaccurate media coverage where the reporters found Facebook posts from my friends, and in a rush to publish articles, most did not bother asking for my permission to use the pictures or bother to hear the story from me first hand. Instead, these articles were sensationalized, containing outright false information. I am very much disgusted by such unprofessional (and illegal) media coverage,' the IIT-B alumnus wrote on his page.
He added, 'Many questioned the legality of this event.'
He also clarified, 'According to IPC 377, gay sex and many other forms of heterosexual sex are also illegal. But there is no law to prevent a commitment ceremony. The legality of a gay marriage is unclear in Indian law. It's neither legal or illegal. There is no legal basis to prevent a Hindu wedding for gay people.'
When Rediff.com reached out to Hrishi, he was more than willing to share his love story and photographs from the event.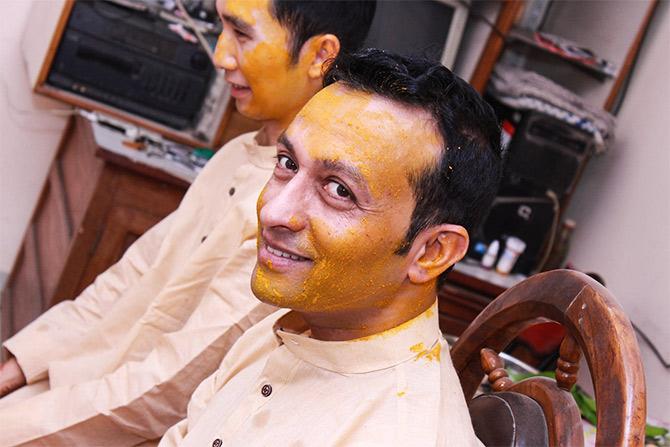 Hrishi and Vinh during the haldi ceremony.
Jab Hrishi met Vinh
Hrishi, who holds an MBA from University of California Los Angeles-Anderson, met Vinh on a gay dating website in late October of 2016.
After dating each other for a while, they went on a road trip to Australia in December 2016.
The two attended Vinh's cousin's wedding in Sydney where the latter's family welcomed Hrishi as his significant other.
After coming back to the States, the two met over weekends and, in Hrishi's words, "love blossomed."
"I proposed to Vinh in April of 2017 when we were visiting Antelope Valley California State Reserve. My parents and sister celebrated the engagement by holding a reception in June," he shared.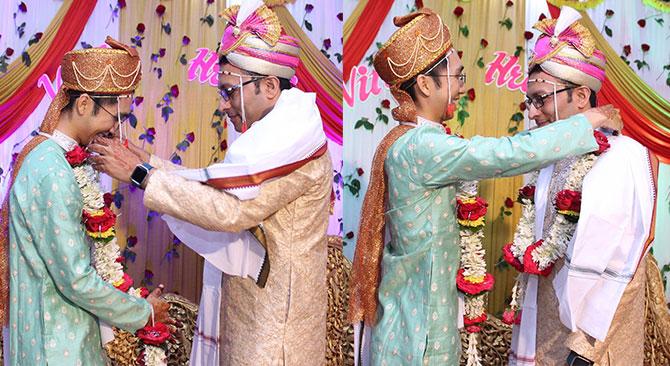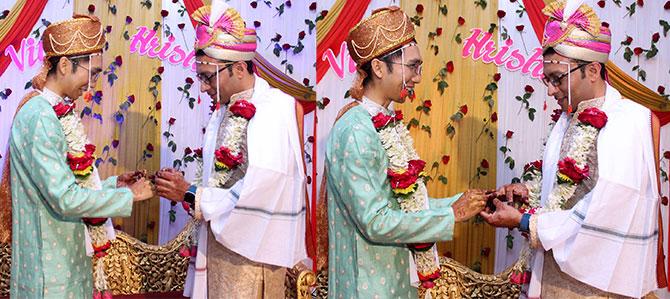 The mangalashtak was played on a YouTube video. The two exchanged flower garlands as part of Hindu rituals.
They also exchanged rings.
The ceremony
The ceremony was attended by approximately 100 people, including Hrishi's friends, relatives, and school teachers.
"Yavatmal is far more progressive than what one would imagine," Hrishi said.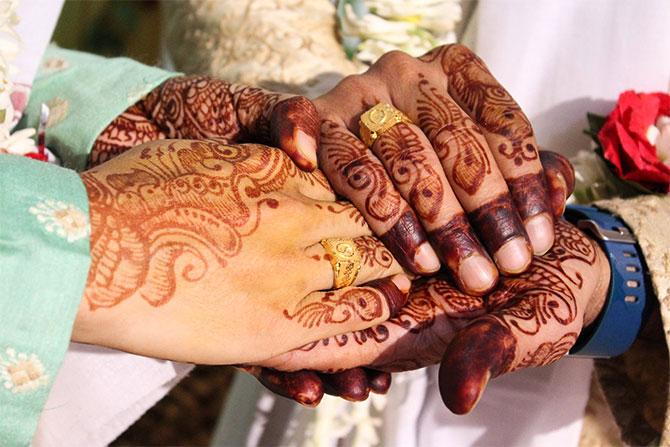 The rings shine on their henna-adorned hands.
The challenges
Hrishi said, "Growing up, I knew I was different, but it was difficult to make sense of the feeling as I did not know anyone else who felt the same way.
"I chose to focus on studying and fortunately did well in school. A psychology class at IIT briefly mentioned homosexuality, but I did not think it was me."
It was only after Hrishi went to the United States, he made peace with the truth.
"When I went to a gay support group at Iowa State University and talked to other open and confident gay men, I understood I am also gay. I came out to my parents immediately in late 1997."
Over the next few years, Hrishi's parents, he says, "went through a range of emotions from denial, guilt, frustration to sadness, crying and what not. They believed that if I just marry a woman it would all be fine. However, I refused to ruin the life of another woman.
"My sister played a crucial role in helping our parents understand the situation.
"After that initial strong opposition, my parents gradually came around and started accepting me. "
A couple of days before the wedding, Hrishi's aunt requested him to have the ceremony elsewhere as this would "apparently ruin the family name."
But Hrishi ignored her and stuck to his plan. "In fact, more people showed up than what we initially thought," he said.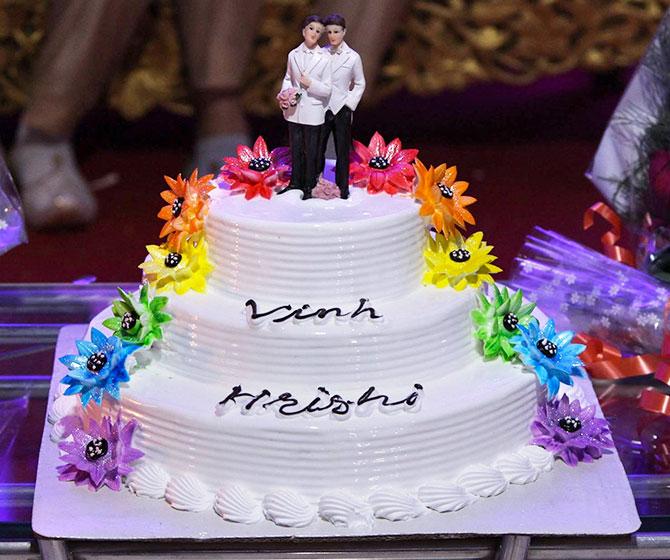 The rainbow-hued flowers on the cake spoke volumes.
The top piece, Hrishi said, was purchased online.
The message
Hrishi, who has been on the boards of Trikone (the oldest LGBTQ support group for South Asians in the United States) and PFLAG (Parents Friends and Families of Lesbians and Gays), has a powerful message for all those reading this: "If you are an LGBT person, (understand that) society is more open minded than you think. If you have a confident attitude, people will believe in you.
"Dear parents, s/he is still your loving child. They have a long fight ahead. Aid them facing this world by becoming their strength instead of opposing them and making their life miserable. Parents support is very crucial."
For everyone else reading this who finds it uncomfortable, he says, "Stop worrying about why someone is gay. Instead, focus on making this world a better place by making it safe and acceptable for everyone. We have a lot of more important and complex problems to solve... Like hunger, poverty, etc."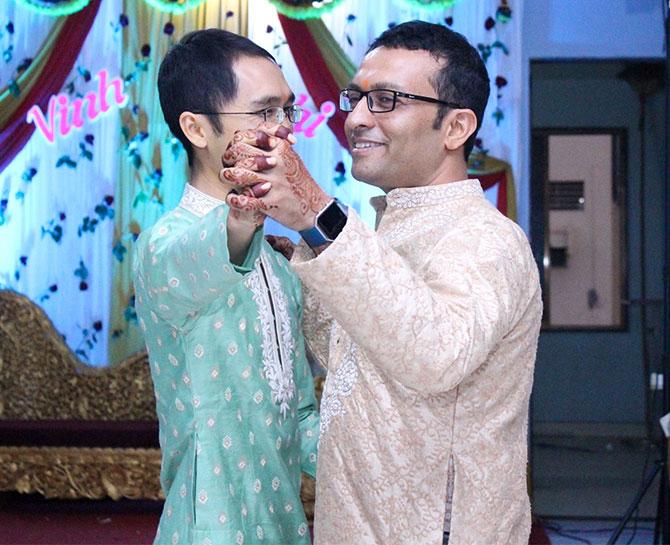 Hrishi and Vinh danced to the Hindi song 'Aate Jaate, Haste Gaate' from the film Maine Pyar Kiya.
The future
Hrishi and Vinh will have a legal wedding in California.
"We're planning to have legal wedding in Stockton, California (where Vinh's parents and family live) this summer. Some of his relatives from the US (including parents and siblings) and Australia will be attending this for sure," Hrishi told Rediff.com.
Hrishi also said that they'd like to foster and adopt kids in the future.
"We look forward to adopting a couple of kids as both of us are not keen on having biological kids. We've started the process last year by taking classes organised by Alameda County foster kids program. After more classes/ training and checks we look forward to fostering kids, and hopefully adopt a couple of them eventually," he said.