We'd asked you, dear readers to send us a picture of your brother/sister and tell us what you miss the most about him/her.
Rediff reader Heera Nawaz, 59 shares an incident from her childhood about her elder brother Munna Nawaz, 60.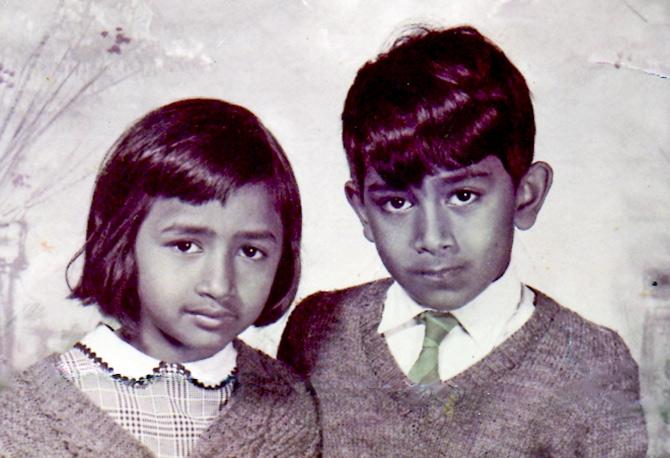 This photograph was taken in New York City when we were in primary school.
I remember in our school in New York City, our scholastic studies were very competitive. They expected students not just to work hard, but to work smart as well.
When we left the USA and came back to our sleepy home town of Bengaluru to joined Bishop Cottons, we were still highly competitive.
We were used to the fast American life but education in India was different.
My brother would tease me that I was learning the subjects by heart (rote learning) because of which I was scoring higher marks.
He told me that rote learning was old-fashioned and that one must learn to study intelligently like how we used to study in America.
'Wait until you come to the higher classes where "mugging up" just won't pay,' he would warn me.
My brother would call me a "mug-pot". But I was used to this way of studying and continued to do so.
I could never explain to him that although I appeared to memorise the different subjects, I also understood them which is how I'd managed to score high marks.
Over the years, I came to know that we could write an answer in our own words without necessarily using exact words from the school text book.
In 1975, when I secured second rank in the ICSE examination, he rushed to my school to find out how much I had scored.
He was surprised that I had stood first in mathematics and science -- both subjects required you to understand the concepts intelligently.
You cannot memorise or as my brother would say "mug up" and score marks in either subjects.
With his eyes shining, he said to me, 'Heera (meaning diamond), you are the most intelligent mug-pot I have ever came across! Heartiest Congratulations. You have proved me wrong. Behind that facade of aloofness, I'm glad that I have got a younger sister who has also got real brains. Aim for engineering!'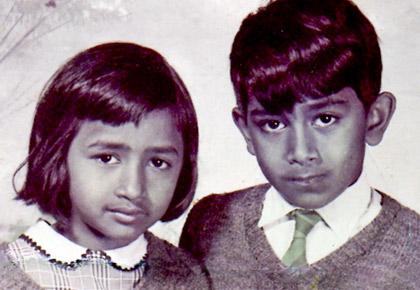 INVITE
Send us a photograph of you with your brother/sister.
It could be a picture from your childhood you treasure the most. Or it could be a photograph that you clicked recently.
Tell us what your sister/brother means to you. What do you miss the most about him/her?
Share your pictures, memories and stories on getahead@rediff.co.in(My Rakhi Story) along with your NAMES, AGES and LOCATION. We'll publish the best responses right here on Rediff.com.