Easy, tasty recipes for Raksha Bandhan by Maharaj Ganga Singh from Rasotsav, a vegetarian restaurant serving Rajasthani and Gujarati food in Mumbai.
Nothing spells a celebration like ghee-laced, satisfying Moong Dal Halwa.
Kesar Lassi, with its tickle of delicate saffron, is the ideal festive beverage.
Moong Dal Halwa
Serves: 2
Ingredients
100 gm moong or mung dal
100 gm ghee
100 gm sugar
5 gm green elaichi or cardamom powder
½ l hot water
Nuts of choice like almonds, cashew nuts, pistachios, walnuts, slivered, for the garnish
Method
Wash the moong dal well under running water and soak for two hours.
Drain off excess water and grind the moong dal in a mixer.
Keep aside.
Heat the ghee in a heavy-bottomed kadhai or wok kept over low heat.
Add the ground moong dal and keep stirring until golden brown in colour.
Heat the water in a heavy-bottomed saucepan over medium heat and then add the sugar.
Stir until the sugar dissolves completely.
Add the moong dal and continue stirring on low heat till the mixture blends well and has thick porridge like consistency.
Take off heat, transfer into a serving bowl, garnish with nuts.
Serve warm.
---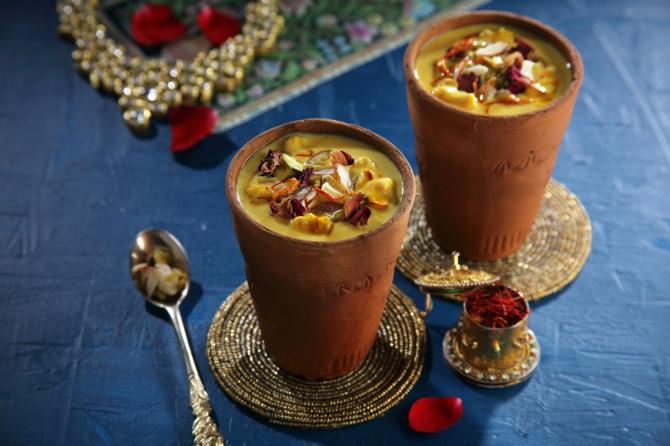 Kesar Lassi
Serves: 1
Ingredients
1 gm kesar or saffron strands
2-3 pistachios, chopped
2-3 almonds, chopped
3-4 cashew nuts, chopped
1½ cup curd or yogurt made from full fat milk
5 gm green elaichi or cardamom powder or less as per taste
8 tsp powdered or icing sugar
4 to 5 ice cubes
Method
In a blender, pulse the curd, sugar and cardamom powder for a few minutes with a few of the ice cubes.
Transfer the contents into a tall glass or earthenware matka glass (please see pic above).
Add the saffron strands and mix.
Add more ice cubes and garnish with chopped nuts.
Serve chilled.