Culinary expert and food stylist Vindhya Karwa uitilises gorgeous, fresh ingredients to put together a light, wholesome Noodle Veggie Salad.
Prepared in no time, this salad can be enjoyed as a light lunch or supper.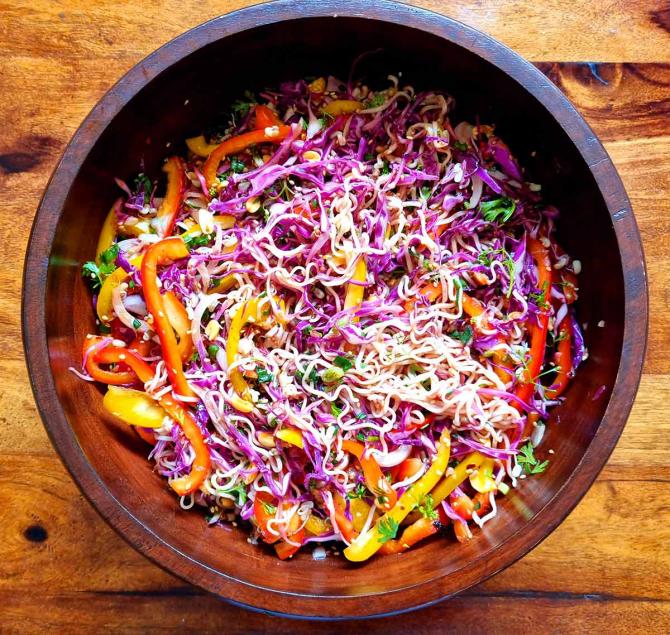 Noodle Veggie Salad
Serves: 2
Ingredients:
A pack of thin noodles, around 200-250 gm, cooked
1 head purple cabbage, chopped lengthwise
1 red bell pepper or red capsicum, chopped in strips
1 yellow bell pepper or yellow capsicum, chopped in strips
2 cups of matki or moth bean sprouts
1 big onion, chopped in strips
5-6 spring onion stalks, chopped finely
3 tbsp green dhania or coriander or cilantro chopped
3 tbsp roasted peanuts
2 tbsp roasted sesame seeds
For the dressing
2 tbsp extra virgin olive oil
2-3 tbsp agave syrup (available online or substitute with honey)
2-3 tbsp soy
1 tbsp crushed garlic
3 tsp chilly flakes
1 tsp lime juice
Method
Combine all the ingredients for the dressing in a bowl and mix well.
Take a deep salad bowl and add the noodles, cabbage, red and yellow bell pepper, matki sprouts, onions, cilantro, peanuts and sesame seeds.
Pour in the dressing.
Serve.
Vindhya Karwa posts vegan and vegetarian recipes under the Instagram handle @vinsplate.