Lift your mood this weekend with Taruna Deepak's lightly spiced Thandai Latte.
A desi version of the classic latte, this milk-based drink with soothing flavours is ideal for a post-meal refreshment or an afternoon treat alongside maybe some hearty fried snacks.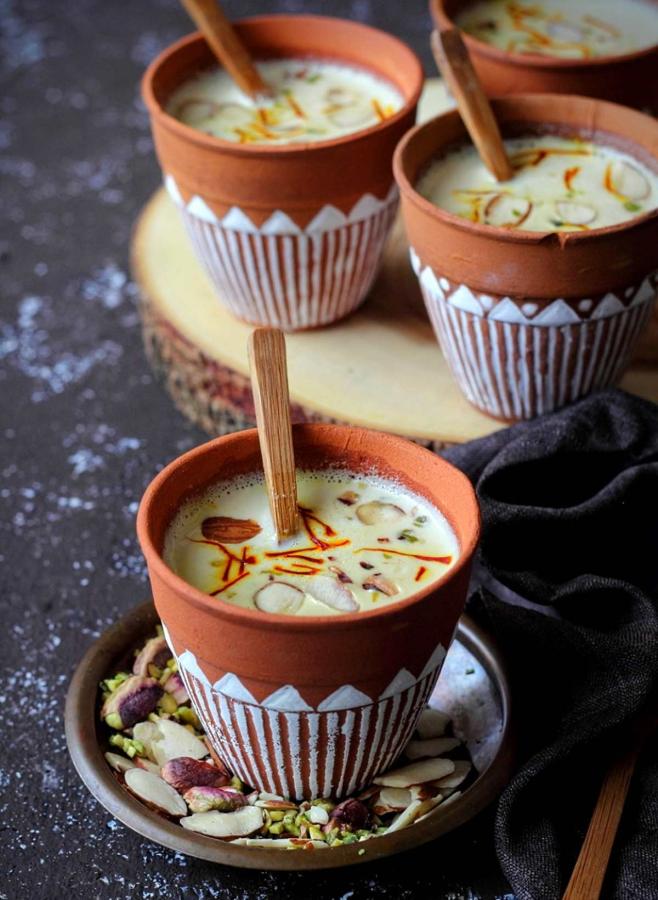 Thandai Latte
Servings: 5 small glasses
Ingredients
12 almonds, soaked and skinned
12 cashews
12 pistachios
1 tbsp magaz or melon seeds
Few black peppercorns
2 tsp white poppy seeds
1 tsp saunf or fennel seeds
1/3 cup mineral or filtered water
½ tsp green elaichi or cardamom powder
Few strands of kesar or saffron + extra for the garnish
3 tbsp warm milk, for soaking the saffron, + 3 tbsp cold milk for the cornflour slurry
1 tsp cornflour or cornstarch
4-5 tsp sweetener of choice (Taruna used agave nectar)
600 ml milk, dairy or non-dairy
For the garnish, optional
Finely chopped pistachios
Slivered almonds
Few strands kesar or saffron
Method
Soak the almonds, cashews, pistachios, melon seeds, black peppercorns, white poppy seeds and fennel seeds in 1/3 cup water overnight.
In a small bowl soak the saffron in the 3 tbsp of warm milk.
Set aside for at least an hour so the saffron flavour steeps into the milk.
Grind the soaked nuts and spices along with the water to a smooth paste.
Heat the 600 ml dairy/non-dairy milk in a saucepan and add the saffron milk to it.
Add the nut and spice paste and give it a stir.
Simmer on low heat for 5-7 minutes.
Keep stirrin
Mix the cornflour in the remaining 3 tbsp of cold milk to make a slurry and add it to the simmering milk in a thin stream, stirring all the while.
Add the cardamom powder and simmer further for a minute.
Take off heat and cover the saucepan and allow it to sit 15-20 minutes for the flavours to infuse well.
Warm the milk again and serve.
If you prefer frothy milk, whisk using a blender.
Add the sweetener of choice, stir and pour in serving glasses.
Garnish with finely chopped pistachios, slivered almonds and a few threads of saffron.
Note: Rose flavour makes a good addition and rose petals for garnish.
Or instead add a tsp of gulkand or rose petal jam.
Increase the quantity of fennel seeds for added flavour per taste.
Taruna Deepak lives in Mumbai and is the creator of the food blog Easyfoodsmith.