Sharjah-based food blogger Bethica Das prepared the fiery Mutton Recheado using her special spicy, tangy masala.
"I also added potato, my personal favourite, to the mutton curry," she says.
A must-try for any special occasion or a weekend meal, it's best served with the Goan bread poi or steamed rice.
Get transported to Goa as you enjoy this sensational curry.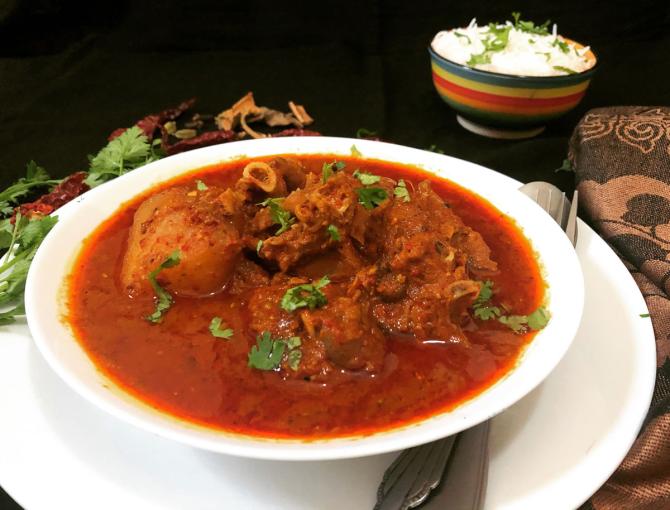 Mutton Recheado
Serves: 4
Ingredients
For the masala
5-6 Kashmiri red chillies, broken into small pieces
1 small onion, roasted on an open flame
5-6 garlic pods
½ inch ginger
¼ tsp whole peppercorns
½ tsp jeera or cumin seeds
4-5 cloves
1 inch cinnamon stick
Salt to taste
1 tsp sugar
½ tsp tamarind paste
1/3 cup red vinegar or as required
For the recheado
400 gm mutton with bones, cleaned, washed, drained and chopped
¼ cup yogurt, well beaten
2-3 tbsp oil or more
1 potato, cut into half
1 onion, chopped
Salt to taste, optional
1-2 tbsp green dhania or coriander or cilantro leaves, chopped
1 cup water
Method
For the masala
Soak all the ingredients in the vinegar for an hour.
Transfer the ingredients along with the vinegar into a blender.
Grind to a smooth paste without adding any water.
Transfer to a bowl and keep aside.
For the recheado
In a large bowl, combine the chopped mutton pieces along with the recheado masala and yogurt.
Mix well and let the mutton marinate for 5-6 hours or overnight.
Heat the oil in a heavy-bottomed kadhai or frying pan over medium heat.
Saute the potato till medium brown.
Take out, drain excess oil and keep aside.
Add the onions and stir fry till light brown.
Add the marinated mutton and cook covered on low heat till almost dry.
Add 1 cup water, fried potato and salt. As there is salt already added in the masala, taste before adding salt.
Transfer the contents of the pan into a pressure cooker and cook for 15-20 minutes or until the meat is tender.
Garnish with chopped coriander leaves and serve.
NOTE: You may also serve Goan Mutton Recheado with jeera rice, pulao, biryani, naan, tandoori roti, paratha, chapatti, dosa, appam or iddiyappam.