Pooja Goyal's rich creamy Quinoa Phirni is a nutritious pudding treat for your family.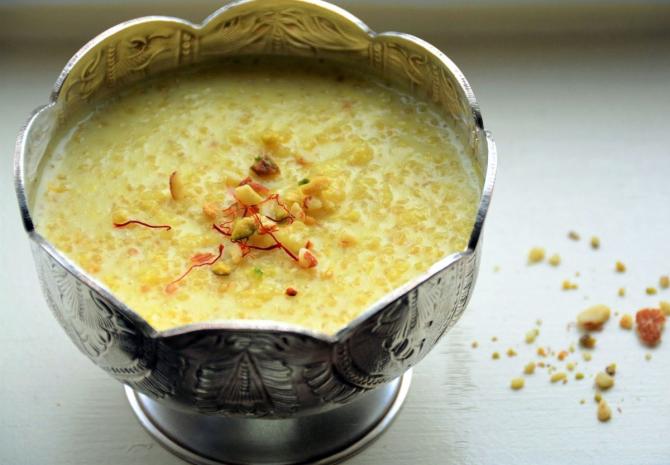 Quinoa Phirni
Serves: 2-3
Ingredients
1 cup white quinoa
¾ cup sugar
1 tsp or less green elaichi or cardamom powder
2 cups hot milk (you may substitute with almond milk, which is easily available in gourmet stores or online)
½ tbsp condensed milk, optional
½ tbsp ghee
¼ tsp kesar or saffron strands
Chopped mixed nuts, for garnish
1 cup hot water
Method
Heat the ghee in a heavy-bottomed pan over medium heat.
Add the quinoa and roast till it becomes light brown.
Add 1 cup hot water and bring to boil.
When the water reduces to half, add the hot milk and along with saffron strands.
Once the mixture begins to boils, reduce heat to low and let it simmer for 7-8 minutes.
When the quinoa is cooked, add in the sugar and cardamom powder (adjusted to your preferences).
Stir well till the the sugar dissolves.
Adjust the consistency by adding more water if required.
Add the condensed milk.
Let it simmer 5 minutes.
Take off heat, garnish with the chopped nuts.
Serve either warm or chilled.
Pooja Goyal is the founder of Moksa, that sells healthy food products.