Sangita Agrawal's raseela Punjabi Rajma Masala is a simple dish that tastes terrific with steamed rice.
Made using chitra rajma, this dhaba-style recipe is cooked in a paste of onions, garlic, ginger, green chillies and tomatoes with spices.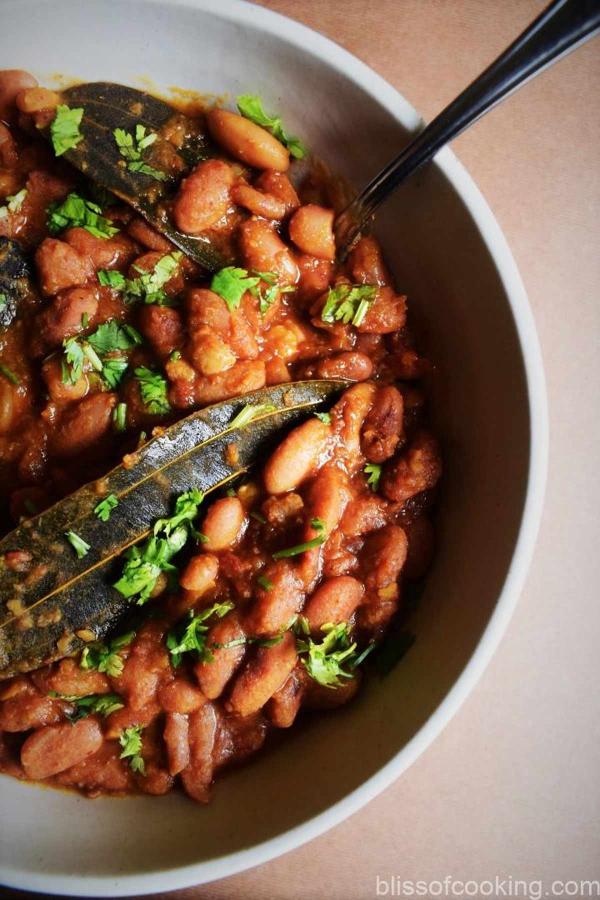 Punjabi Rajma Masala
Serves: 4
Ingredients
1 cup rajma or large red kidney beans
2 tbsp chana dal or split chickpea lentils
1-2 tbsp ghee
2 bada elaichi or black cardamom
2 long or cloves
1 tsp jeera or cumin seeds
2 tej patta or bay leaves
2 small pieces javitri or mace
½ tsp haldi or turmeric powder
1 tsp red chilly powder
2 tsp dhania or coriander powder
1 tsp roasted jeera or cumin powder
1 tsp aamchoor or mango powder
2 tbsp chopped green dhania or coriander or cilantro
For the paste
1 large onion, chopped
1 tbsp chopped ginger
2 green chillies
1 tbsp garlic paste
2 tomatoes, chopped
Method
Wash and soak the rajma overnight or for 6 hours.
Wash the chana dal and soak for 30 minutes.
In a mixer, coarsely grind all the paste ingredients.
Keep aside.
Saute the jeera, whole spices, whole masalaS in the ghee over low heat for 30 seconds.
Add the paste and saute over low to medium heat till it starts to leave the sides and the ghee oozes out.
Add the turmeric, coriander, chilly powder, salt.
Add the soaked chana daland rajma.
Give it a good stir.
Close the cooker and cook the rajma on high heat for 1 whistle.
Lower heat and cook for 20 minutes.
Open the lid and check the rajma; it should be soft or else cook for 1-2 whistles more.
Add the cumin powder, mango powder, half the chopped coriander and cook the rajma without the lid on low heat for 5-10 minutes.
Garnish on top with the remaining chopped coriander.
Serve warm with jeera rice or steamed rice.
Note: Vegans can replace the ghee in the recipe with vegetable oil or coconut oil or almond butter/cashew butter (easily available online) and a tablespoon of coconut milk.
Sangita Agrawal lives in Mumbai and publishes the food blog Bliss of Cooking.