Fresh and light, this Strawberry Tiramisu Parfait by Betty Bossi is a fruity version of the traditional tiramisu.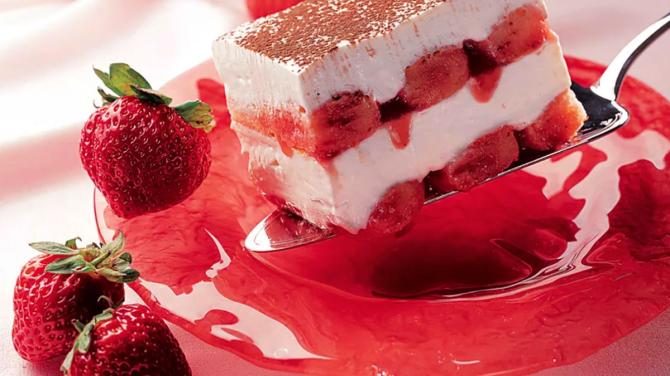 Strawberry Tiramisu Parfait
Ingredients
250 gm Greek yogurt, readily available in grocery stores
250 gm mascarpone cheese, an Italian soft cream cheese available in gourmet food stores or substitute with an equal mix of cream cheese and whipped cream
1 orange, skinned and sliced + a little zest (grated peel) + 2 tbsp orange juice
½ vanilla pod, halved lengthways, with the seeds scraped out, or a few drops of vanilla essence
2 tbsp sugar
180 ml cream, whipped to stiff peaks
For the strawberry sauce
250 gm strawberries
100 ml orange juice
1 tbsp sugar
2 tbsp brandy or Cointreau (orange liqueur)
150 gm readymade sponge cake, sliced into long thin pieces of about 2 inches by 1 inches
A little cocoa for dusting
Method
In a bowl combine all the ingredients for the cream mixture.
Whip carefully until the mixture is smooth and light.
Then slowly fold in the whipped cream and place in the fridge to chill.
For the strawberry sauce
Set a few strawberries aside for the garnish.
Trim the remaining strawberries of their leaves and stem and cut in half and puree in a blender or mixer with the orange juice, sugar and brandy or Cointreau.
Distribute half of the sponge pieces in a baking dish and drizzle half of the strawberry sauce over it.
Evenly spread half of the cream mixture on top.
Cover with another layer sponge pieces, drizzle strawberry sauce and spread the remaining cream mixture.
Cover and refrigerate for 4 hours to set.
Put in the freezer for approximately one hour before serving.
Garnish with fresh strawberries before serving and dust with a little cocoa powder using a small sieve or tea leaf strainer.
Recipe by Swiss cookbook publisher Betty Bossi for Switzerland Tourism.