A must-have during the festive season, creamy, chilled Kesar Shrikhand can be made in advance and enjoyed with hot pooris or warm chapatis.
Maharaj Ganga Singh's recipe can be whipped up in less than 30 minutes.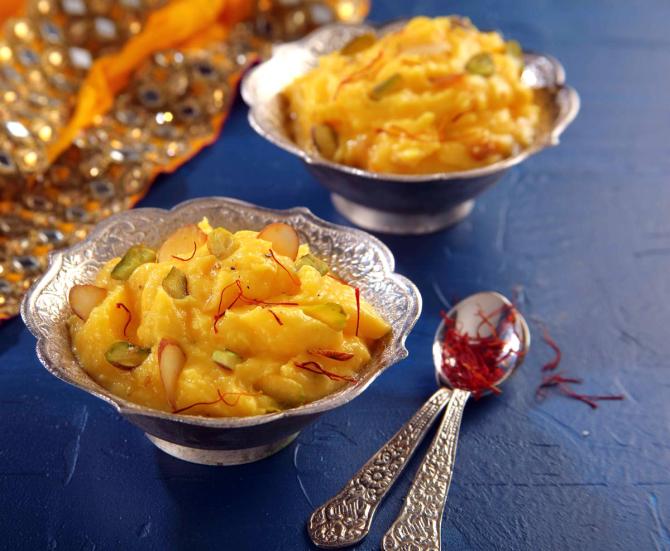 Kesar Shrikhand
Serves: 4-6
Ingredient
1 kg hung curd (about 4¼ cups hung yoghurt makes 1 kg hung curd)
300 gm powdered sugar or icing sugar
1 gm kesar or saffron strands
1 tbsp hot milk
½ tbsp or less green elaichi or green cardamom powder
For the garnish
1 tbsp chopped pistachios
1 tbsp chopped almonds
Method
Place a muslin cloth in a large sieve set over a bowl.
Spoon the hung curd into the cloth and bring the ends together to form a potli or bundle.
Hang the curd in the muslin cloth in a cool place for a few hours.
Or leave it over the sieve to drain off the extra whey.
Scrape the hung curd into a bowl and stir in the sugar until it dissolves.
Add the saffron strands to the hot milk, soak a bit and then add both to the curd-sugar mix.
Add the elaichi powder and mix well.
Garnish with the chopped pistachio and almond flakes.
Refrigerate.
Serve chilled with hot pooris or warm chapatis.
Rasotsav is a vegetarian restaurant serving Rajasthani and Gujarati food in Mumbai.