Are you a fan of Mexican food?
Then this recipe of warm rolled tortillas stuffed with fresh vegetables, black beans and topped with melted cheese, by Kshamaya Daniel and Zelda Pande is meant for you.
It's a vegetarian version of the popular Mexican entree. Meat eaters can opt to add chopped fried sausages in the stuffing.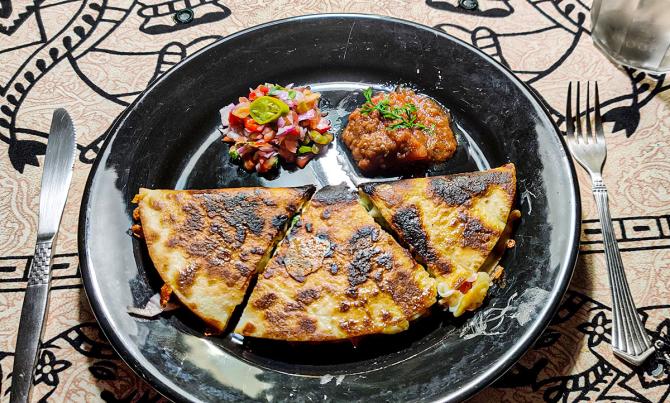 Cheese Quesadillas with Pico de Gallo and Salsa
Yields: 4 quesadillas
Ingredients
For the flour tortillas
2 cups maida or all-purpose flour
½ tsp salt
Dash of oil
Water
Flour for rolling
Extra virgin olive oil for frying
For the quesadilla stuffing
½ tin or 250 gm black beans (can substitute with ½ tin or 250 gm baked beans,; but wash off the tomato sauce using a strainer and pat dry)
1 red capsicum, chopped
½ yellow capsicum, chopped
½ green capsicum, chopped
10-12 slices jalapeno (pickled jalapeno)
8-10 black olives, sliced
8-10 green olives, sliced
2 stalks spring onions with bulbs, chopped fine
Salt to taste
1 cup grated cheese (Amul, Britannia, mozzarella, Monterey Jack will all do fine)
1-2 chopped fried sausages, optional
For the salsa
1 medium tomato, chopped fine
2 large tomatoes, coarsely ground
3 garlic pods, mashed
8 slices jalapeno (pickled jalapeno), chopped fine
2 tbsp of the pickling water of the jalapeno
1 tsp lemon juice
½ tsp Tabasco
Dash of black pepper powder
Dash of sugar
Salt to taste
2 tbsp extra virgin olive oil
½ tbsp chopped dhania or green coriander or cilantro for garnish
For the pico de gallo
2 medium tomatoes, chopped fine
1 red onion, chopped fine
½ tsp lemon juice
1 tbsp chopped dhania or green coriander or cilantro
5 slices jalapeno (pickled jalapeno), chopped fine
Salt or sea salt to taste
Pinch of sugar
1 tbsp chopped green, raw papaya, without skin, optional
1 tbsp chopped kairi or green mango, optional (if using mango reduce/adjust the lemon juice)
4 small thin slices of lemon for garnish
On the side (optional)
4 tbsp sour cream
1 fresh avocado, sliced
Method
For the flour tortillas
Sieve the maida into a large mixing bowl.
Add salt and mix.
Add the dash of oil and enough water to make a stiff dough. The dough should not be too soft.
Cover and keep aside for 30 minutes.
Keep a roti tava warming over low heat or a large non-stick frying pan.
Knead the dough for a few minutes and divide into 2-inch diameter balls.
Roll each ball on a roti board or a large wooden board, into a round thin circle as thin as a paratha, each about 8-10 inches in diameter.
Pat with a little extra flour while rolling, so the dough does not stick to the board.
Lightly roast each tortilla on the tava/frying pan over low heat, first without oil and then add a little olive oil.
It should be semi-cooked, lose its rawness but not become crisp and remain soft because they have to be fried again with the stuffing in them.
Cover all four or wrap in a dish towel and keep aside.
For the stuffing
Mix all the chopped ingredients together with the beans, except the cheese. Adjust salt. Add the chopped sausages, if using.
For the salsa
In a small frying pan or saucepan add the crushed garlic, olive oil. Lightly saute.
Add the ground tomato, chopped tomatoes, salt, the dash/pinch of sugar, pepper, lemon juice, Tabasco.
Simmer over low heat.
Add the jalapeno.
Cook till you have a thick sauce.
At the end add 2 tbsp of jalapeno pickling water.
Garnish with a little chopped green dhania.
For the pico de gallo
Mix the chopped ingredients together. Add the dash/pinch of sugar. Adjust the salt.
Keep aside in the fridge to allow the ingredients to marinate.
The salt will draw out the juices of the tomato and onions.
Assembly and frying
Place the maida tortillas, or bought tortillas, on a wooden board or plate.
Spoon 3-4 heaping tbsp stuffing onto 1 half of the open tortilla.
Sprinkle cheese liberally on top of the stuffing.
Fold over ie in half. Repeat this process for all four.
Fry each one over low heat in a non-stick frying pan with a little olive oil.
Press down with a spatula as you fry.
Flip, so both sides are cooked, crisp and darken and gain light brown spots (lighter than in the picture above!), and the cheese melts.
Serve each quesadilla with the pico de gallo garnished with slices of lemon, the salsa garnished with dhania, on the side. Add a dollop of sour cream (optional) and a few slices of fresh avocado (optional) for each quesadilla on the side.
Note: Store bought tortillas, though less cost effective, will do if short of time.
Tortillas are easily available in grocery stores and online.
Old El Paso, Habanero, Salsalito, Cantina Mexicana tortillas will work well.
Meat eaters can opt to add fried sausages or pieces of roasted chicken or chopped pepperoni in the stuffing.