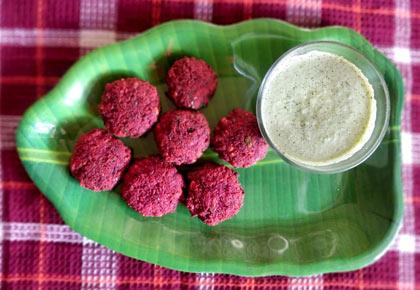 Keep your kid's hunger pangs at bay with Divya Nair's Beetroot Vada.
Beetroot, that has iron, manganese, potassium, is not your child's favourite veggie. Nor is it a first choice of vegetables among adults.
So how could I get my son to eat it without fuss?
This recipe is a fresh take on the traditional dal vada -- grated beetroot is added to the coarsely ground chana dal and spices, before it is deep-fried and served with green coconut chutney.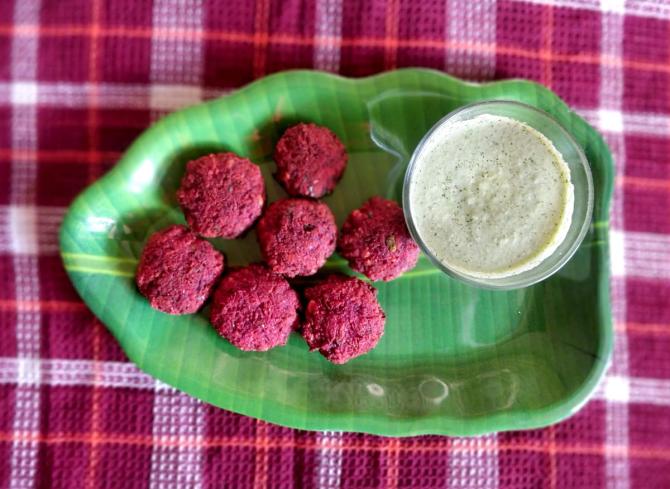 Beetroot Vada
Serves: 4
Ingredients
1 cup grated beetroot
2 cups chana dal or split chickpea lentils, soaked for 6 hours
2 tbsp sujee or semolina, optional
2 tbsp finely chopped sambar onions or shallots
1 tsp finely chopped green chillies
1 tsp finely chopped ginger
Few curry leaves, roughly chopped
2 tsp salt
Oil for deep frying
For the coconut chutney
1 cup grated fresh coconut
1 tbsp dahlia or broken wheat
1 green chilly
1 tsp grated ginger
1 tbsp chopped green dhania or coriander or cilantro
Salt to taste
1 tsp rai or mustard seeds
1 tbsp coconut oil
Few curry leaves
1 dried red chilly
Method
For the wadas
Drain the water well and coarsely grind the chana dal.
Squeeze the excess water from the beetroot and keep aside.
In a bowl, mix the ground chana dal, beetroot.
Add the shallots, chillies, ginger, curry leaves, salt and mix well.
Check the consistency of the batter by making small balls and see if it holds shape.
If not, add the semolina to make the batter thicker.
Heat oil in a heavy-bottomed frying pan or kadhai.
As the oil heats, make 1-inch diameter balls of the mixture and flatten with your palms.
Drop them into the oil and fry in batches.
Fry on both sides till cooked through and crisp.
Drain onto a tissue or paper towel-lined plate.
Serve hot with coconut chutney (recipe below).
For green coconut chutney
Grind the coconut, dahlia, green chilly, ginger, dhania in a blender/mixer to a fine paste, add salt and pour into a serving bowl.
In a small kadhai, heat the coconut oil for a minute and add the mustard seeds.
When it splutters, add the curry leaves, red chilly.
Pour the tadka into the chutney, mix and serve.