Sweet puran poli is popular on menus at Ganesh Chaturthi.
Mumbai-based food blogger Sangita Agrawal wants you to taste her savoury version.
This Namkeen Puran Poli, also known as patli poori, tastes best when eaten at room temperature, after a few hours of being made.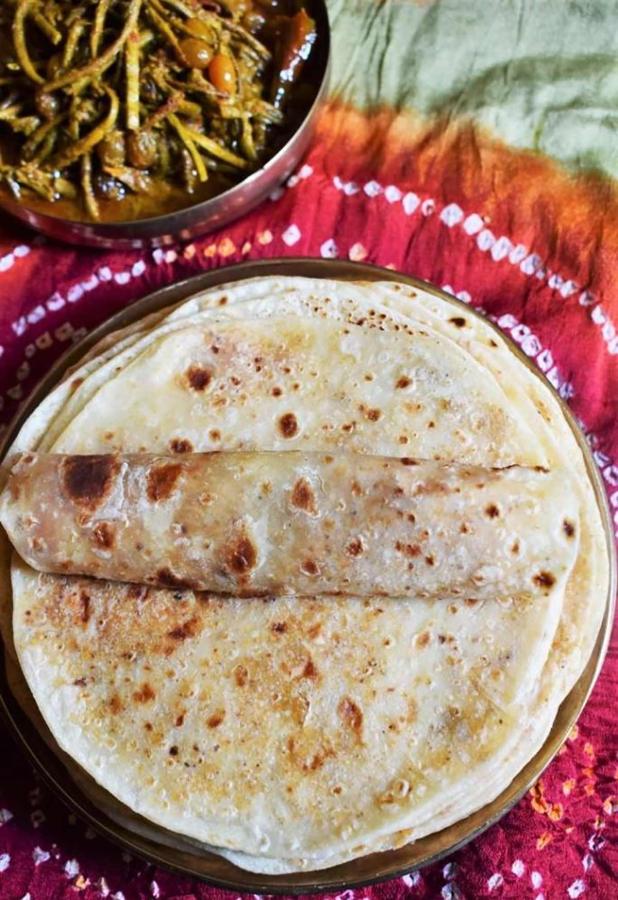 Namkeen Puran Poli
Servings: 3-4
Ingredients
1 cup maida or all-purpose flour

½ tsp salt

1 tbsp oil

Water
For the filling
½ cup roasted and ground chana dal or split chickpea lentils
½ tsp chilly powder
½ tsp amchur or dry mango powder
½ tsp jeera or cumin powder
1 tbsp dhania or coriander powder
2 tsp oil + extra for frying the parathas
Salt to taste
Method
In a large bowl add the maida, salt and oil.
Mix well.
Add water, little by little, and knead into a soft dough. It should be like chapati dough.
Drizzle oil, cover and set aside.
Mix all the ingredients for the filling in a large bowl.
Use your hands to mix it so that you get a crumbly dry mixture.
Sprinkle a few drops of water in, if needed, and mix.
Knead the dough again and make small lime-sized balls.
Flatten each ball to put in ½ tsp of filling and close well.
The amount of filling should be half in proportion to the amount of dough.
Dust with maida and roll into very thin roti.
Roll out a few rotis first and then start to fry them.
Place a roti on a heated tava or griddle and flip as soon as small air bubbles appear.
Apply a little oil and flip again.
Apply oil on the second side too.
Cook by pressing with a spatula on high heat.
Do not make it too crisp.
These rotis cook very fast.
Stack them and cover with a kitchen towel.
Serve at room temperature, when they become really soft, with sabzi or alone.