Rediff readers have been sharing photographs and videos of their pets and how they are spending time indoors.
Pankaj Maheshwari from Gandhi Nagar, Moradabad sent us this picture of his dog Bosco.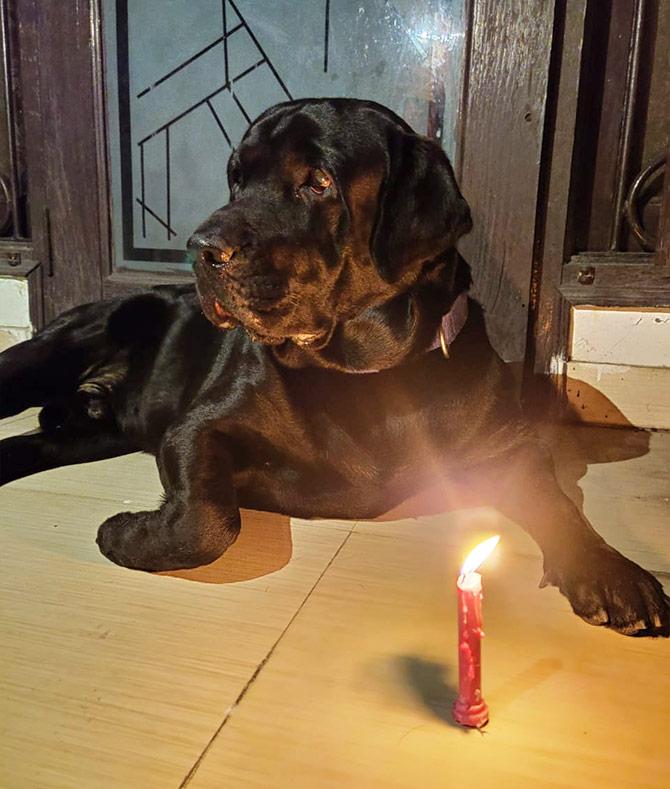 As everybody is home during lockdown, we are getting to spend more time with our doggo Bosco.
Everyone is making up for the time they were at work and couldn't pet him enough.
He loves playing fetch and now that everybody is home, he is the happiest!
He is the biggest attention seeker ever. He loves it when we chase after him, he grabs something that he knows is important and makes us run after him.
He is cuddled and snuggled even more, given more pets. So, he is happier than ever.
When this pandemic broke out, there were some rumours that pets can transmit Corona virus because of which many pet owners abandoned their pets which I think is sad.
These types of rumours are so terrible and cruel for the animals.
Whether or not our pets carry the virus, proper grooming is required at all times.
We bathe Bosco every week and brush him everyday.
As a pet owner, I'd like to add that we should be careful when we take our pets outside for walks.
Social distancing applies to pets as well. We should prevent outsiders from touching our pets during walks to protect from any form of infection.
We have to take care of our pets as we take care care of ourselves.
We often use dry bath solution for pets between two wet baths to ensure Bosco is clean.
---
We ask you, dear readers to share pics of your pets.
Write in to getahead@ rediff.co.in with 'My Pet Pic' in the subject line and share your responses along with your NAME, AGE and the place where you LIVE.
Don't forget to tell us your pet's name and how you take care of him/her. We will publish the best entries right here on Rediff.com!