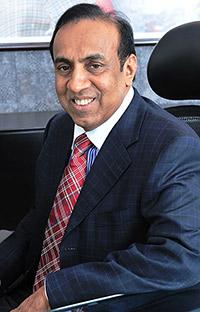 'In 1981 when I had a project in Qatar, those in charge told me they would not like Indians in high positions; they felt Indians could work only as drivers, cleaners and labourers.'
'I challenged them and showed that Indians could do great work in all areas.'
'Today, in the Middle East, they insist on having Indians in all fields. Everybody believes Indians are capable, hard working and trustworthy,' Ravi Pillai, one of the most influential businessmen in the Middle East, tells Shobha Warrier/Rediff.com
Ravi Pillai, left, the chairman and managing director of the Bahrain-based RP Group of companies, is the world's second richest Malayali, with a net worth of Rs 9,600 crore/Rs 96 billion.
He comes in at number 30 on the 2014 Forbes List of Rich Indians, with his company registering a turnover of $3 billion. On the Indian power list just published by Arabian Business, Ravi Pillai is at number 2.
Pillai employs 75,000 people in the Middle East and plans to hire another 25,000 very soon. He moved to Saudi Arabia in 1979 and plunged into the construction business with 150 people, whom he recruited from Nagercoil, Tamil Nadu. Since then, his company's growth has been unprecedented despite the fact that they faced difficult times during the Iraq war.
Ravi Pillai spoke exclusively to Shobha Warrier/Rediff.com
We hear that employment opportunities in the Middle East are dwindling and people are coming back. Is it true?
No. In my opinion, there will not be any dearth of jobs for another 10 years. In fact, there will be a shortage of manpower.
A major project -- a refinery in Kuwait -- is going to start now. At least 1 lakh (100,000) people are needed for that project alone.
Work on the metro is going to start in Saudi Arabia and we will need 60,000 people.
In Saudi Arabia, work on a huge stadium will start soon and we may need 80,000 people.
An expo is coming in Dubai and, there too, more than 1 lakh people are needed.
Look at the numbers.
From where do you think the major chunk of the work force will be coming to the Middle East?
It won't be just from India. Workers will be sourced from all over the world.
I must tell you a story that happened in 1981 when I had a project in Qatar. Those in charge told me they would not like Indians at high positions; they were of the opinion that Indians could work only as drivers, cleaners and labourers.
I challenged them and showed that Indians could do great work in all areas.
Today, in the Middle East, they insist on having Indians in all fields. Everybody is of the opinion that Indians are capable, hard working and trustworthy.
But you are not allowed to have more than 40 per cent of your employees from India for one project.
Do you need only semi-skilled workers for the new projects?
We need all types of labour, from skilled to semi skilled.
That is the reason we are planning training centres in various parts of the country, mainly in Uttar Pradesh, Jharkhand, Bihar, Maharashtra, Andhra Pradesh and Karnataka.
Why did you choose these states?
There are more people to be trained in these states.
What kind of training do you plan to give in the training centres?
The world needs lakhs of welders, riggers and pipe fitters. We plan to impart skill training and teach them how to work in an international atmosphere.
There will be a huge demand for workers in the next one or two decades. They will be needed not only in the Middle East, but in Russia and in the African countries as well. I would say there will be a shortage of manpower in the next 10 years.
That is why I plan to train more and more people in India. I also plan to start such training centres in the Philippines.
Do you plan to start any industrial projects in India?
So far, I haven't done any project here. But I would like to and I observe the Indian economy closely.
How do you assess the Indian economy?
I had been to Japan when Prime Minister Narendra Modi was there on a State visit. I could see positive energy everywhere.
Both Japan and China need manpower, especially Japan, so I am sure they will invest heavily in India.
Which country would dominate the global economy in the coming years?
The country that is going to have the maximum business is Russia, that too in oil and gas and petrochemicals.
America is going to see good times.
The Middle East will continue to dominate.
I also see a lot of activity in the African countries. The low wages and abundance of oil and raw materials there will see many industrialists move to Africa.
I see a real boom in Africa in the next 20 years.
The only place where I see a temporary lull is Europe.
You employ 75,000 people in the Middle East. Are they all from India?
I have people from India, Nepal, Sri Lanka, Philippines, America, Korea and a few from Japan. Eighty per cent of the 75,000 employees are from India.
They work in 25 construction projects that are under way in the refineries and petrochemicals plants in Saudi Arabia, Qatar, Abu Dhabi, Dubai and soon in Kuwait.
By the end of this year, I will be employing 25,000 more people in our two companies, Gulf Asia and Nasser S Al-Hajri Co Ltd. So, we will have 1,00,000 people working for us.
Gulf Asia has its operations mainly in Dubai and NSH in Abu Dhabi.
When I came here in 1979, my dream was not to build a huge company, but give employment to as many people as possible.
You had told me that you serve free food to all your employees. Do you still do that?
Of course! From the time I started my business, I was very particular that we serve free food to every one of our employees. We do it three times a day.
Why do we people come all the way to work in the desert? To earn money to buy food. Food is the most important thing for a human being.
In all our 25 centres, our mess works 24 hours a day. At least 300 people work in the mess to prepare food for all the employees. The vehicle from each mess carries food to the location and serves all our employees. I feel satisfied when my employees eat proper, tasty meals daily.
People from each state in India eat different kinds of food. Similarly, people from other countries have their own cuisine. So we cook food from all the Indian states. We also make the effort to serve food from other parts of the world.
My motto is that every employee of mine should eat the kind of food they want and are familiar with.
Photograph: Chandan Shenoy/Wikimedia Creative Commons