Ramzan is a month of fasting, abstinence and renunciation for Muslims, but the delectable fast-breaking meals or Iftars are becoming more innovative as ever and the spreads more lavish.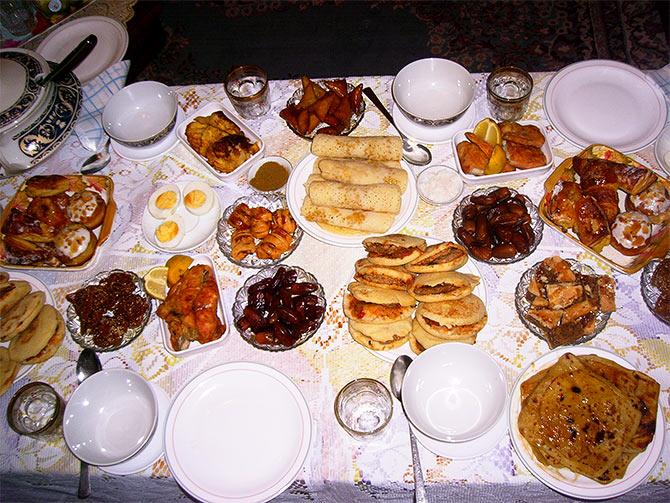 Photographs: Subcommandante/Creative Commons
While an Iftar is incomplete with the staple and energy booster dates, a range of fruits, pakodas and bhajiyas, keema samosas, kala chana, fried boiled eggs dipped in chickpea batter, sweets, phirni, halwa and biryani or pulao are some of the must-have items.
A number of restaurants have special Iftar menus during Ramzan while Iftar food walks are also organised.
The Khiva restaurant in Mumbai is having a special menu for Ramzan exclusively designed on the lines of the Bukhara cuisine with an aim to recreate the essence of the natural way of cooking.
The items include Asli Dum Biryani, Kingly Barrah Kebab Lazeez, Chandi Kebab and special Phirni and baked Anjeer Halwa.
Says Roshan Nichani, CEO of BJN Hospitality and owner of Khiva in Bhandup, "Our Ramzan special is for those who like special taste. Our innovative servings are driven by more of enquiries and incoming leads. As and when people and families enquire for dishes and menu, we hold internal discussions with the chef, so that we are able to meet the customer's expectations during the festive season."
The Asli Dum Biryani has cuts of tender lamb over burning embers which is a 'Kacchi Gosht' style of biryani, the Barrah Kebab is char grilled baby lamb in a tangy marinade of malt vinegar and the exotic Kashmiri Deghi Mirch while Chandi Kebab is corn fed, deboned leg meat of spring chicken in a creamy cheese marinade and roasted in clay oven.
Mosaic restaurant in Noida is also offering an Iftar thali comprising Awadhi lassi, mutton seekh kebab, boti lazeez, murgh malai tikka, murgh hariyali tikka, dum murh biryani, mix raita, dal nawaabi and baby naan and zaffrani seviyan.
The Park Hotels have been organising 'Anything but Ordinary' evenings this Ramzan. An indigenous culinary tour led by its executive chefs, the participants of these walks get a chance to satiate their taste buds through plethora of authentic eateries savouring the cherry picked dishes.
This gastronomic expedition encompasses Jama Masjid in Old Delhi, Charminar locality in Hyderabad, Dastagir Mosque in Chennai, Mosque Road in Bengaluru and Nakhoda Road in Kolkata.
In Delhi, the tour sets forth from Connaught Place to the bylanes of Jama Masjid exploring the time honoured eateries and other paralleled joints.
Another Iftar Walk is taking place in Old Delhi organised by Delhi Food Walks. The participants are treated to keema samosas, chicken shami kabab, buff balls and paneer jalebis, chicken Tikka, Buff Biryani, Nihaari with kameeri roti, a refreshing drink of milk, Roohafza and tiny cubes of
watermelon, and ending with Phirni, Kulfi Falooda and Shahi Tukda.
In the national capital, the best place to go for Iftars is Old Delhi near Jama Masjid.
Here one gets to eat steaming hot Sutli, Dori and Boti Kebabs, Keema Golis, fried chicken and rumali rotis.
In Mumbai, one can savour Iftar dishes like Nalli Nihari, Paya Curry, Tandoori Quail, Khiri and Kofta Kebabs, Sitaphal Halwa and pink milk-based watermelon sherbet.
In Bengaluru some of the must-try items are bheja puff, pathar gosht, aash or harira (a porridge with meat stock), keema paratha, shami kebeb with horse gram and farcha (chicken fried with egg batter).