We asked you, Dear Readers, to tell us what is the most wonderful thing your brother/sister has done for you.
Mansi Manchanda from Delhi writes in about her brother Sahil.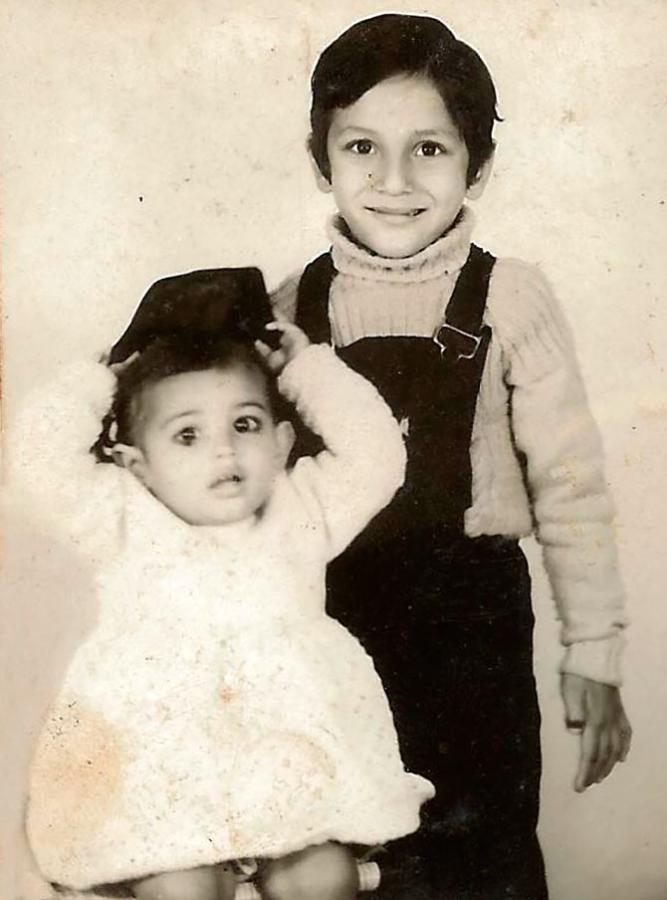 IMAGE: Mansi with her brother Sahil when she was a year-and-a-half.
My elder brother Sahil Bahl is my greatest Rakhi gift.
He is elder by four years, but is protective like a father and understanding like a friend.
In the last 33 years, I have been away from him for Raksha Bandhan only once. This was when I joined my job at a steel plant at Durgapur, West Bengal.
That year, I got a beautiful suit of my favourite colour and an emotional letter from him through courier.
My Bhai is an emotional and sensitive person, who does not express his feelings much. Even if someone were to hurt him, he wouldn't share his displeasure easily.
He told me how he had missed me on that Raksha Bandhan when I was away.
We both have had our highs and lows in life -- emotional moments, job, stress, etc. But we have shared them all with each other and tried to help each other.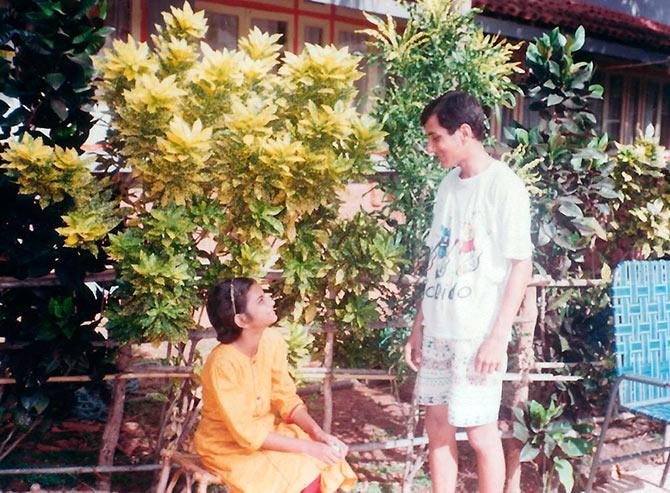 IMAGE: Mansi with her brother in Goa, circa 1993.
I remember when he was in the college hostel, he'd rarely ask for money from our parents.
Back then we had a pet, and every weekend when Bhai used to come home, we used to walk the pet together.
We'd discuss my school, parents, his friends, college, etc. In summers, we'd share Quality Walls orange ice cream (costing Rs 5), which he used to pay for.
When I got 86 per cent marks in my Class 10 board examination, I got three ice creams, including one from my dear brother.
My name and photo were printed on our school -- Aggarsain Public School Kurukshetra -- pamphlet. Bhai was happier than me.
The same thing happened when I secured 83 per cent marks in PCMB (Physics-Chemistry-Maths-Biology) in the Class 12 examination.
Bhai, who was in his final year of engineering at the time, bought me a can of soft drink from the hostel. It cost Rs 50, which was expensive for him.
When he was selected in an all India exam by a reputed automobile company, my joy had no bounds.
Whenever he'd come home, we used to go for evening walks and have our share of quality time and ice cream.
He also used to give me extra pocket money whenever he came home.
When he got married, I discussed with my Bhabhi, on the very first day, that he wouldn't be coming in between our relationship.
If she had some problem with me, she could talk to me directly and that I'd do the same. More than a Bhabhi, I found a true friend in her with whom I can discuss anything on Earth.
We both gossip about everything and everyone, including our respective spouses. Nowadays, I talk to her more than I do with my brother.
Thank you God for such beautiful relationships.
---
What is the most wonderful thing your brother/sister has done for you?
Send your stories to getahead@rediff.co.in (Subject 'Wonderful Rakhi Gift') and we'll post the best ones right here on Rediff.com