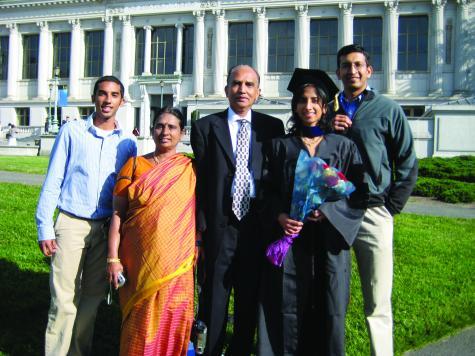 In the third of a four-part series (click here for Part I, Part II and Part IV), profiling economist Raj Chetty, winner of the MacArthur Foundation Fellowship, Arthur J Pais interviews his wife Sundari Chetty about being married to a 'genius'.

MacArthur Genius Raj Chetty readily acknowledges how his wife Sundari motivates him in his research. She is a post-doctoral fellow in stem cell and regenerative biology at Harvard and enjoys being part of an academic couple.

Tell us about how you came to marry Raj and what it means to be married to a researcher while you too are a researcher in the academic world.

Raj and I were introduced to each other through his sister whom I knew well from a young age.

While I was growing up in southern Illinois, my parents often took my siblings and me to many religious and cultural events in St Louis and Chicago, where both of Raj's sisters happened to live.

I got to know both of his sisters well, but didn't meet Raj until much later when we were introduced to each other.

After meeting, we soon chose to move to Berkeley, California, together and have since then been married for eight-and-a-half years.

My draw to academics began at UC Berkeley where I did my PhD in neuroscience. Growing up in a family of physicians (father, two sisters, and brother), I subsequently chose to direct my interests in biology towards patient therapy by doing my post-doctoral fellowship in stem cell and regenerative biology at Harvard University.

Being an academic couple has been a very enjoyable and rewarding experience.

Raj and I are both truly passionate about our research and having an impact on society. The hours and effort that go into research before one sees the fruits of the work can be long and extensive.

It has been most rewarding when Raj and I have both made new discoveries in our fields that we are excited to share and celebrate together.

At the end of a workday, we enjoy coming home to have dinner together to share exciting new results we've found from our latest experiments and studies. This often leads to interesting conversations at dinner, ranging anywhere from mice/stem cell studies to unemployment and taxation.

Being in two different fields also brings in colleagues and friends of diverse backgrounds whom we enjoy interacting with
and having over for dinners.
What is it to be in the academic world together?
Work often continues at home (either writing manuscripts/analysing data), and our friends and family like to make fun of us because we work at adjacent desks in our home office whereas many other couples seem to like separate office spaces.
Academics often tend to be distracted by their work -- we have had a couple of instances where we often walk in to campus together, but will be deep in thought about our work that we may not say a word to each other for some time.
Your husband spoke about your training as a scientist and how it has helped him fine tune and refine his research.
One of the main differences between my work and Raj's work is that it is relatively easy in biology to actually perform experiments.
As a biologist, conducting randomised experiments to get at the cause and effect of a treatment is critical.
In my PhD, I studied how stress affects brain development and learning and memory.
Using rats as models, it is easy to assign a treatment and control group: One set of rats is subjected to a stressful condition while another set of rats is not.
This experimental design then allows one to identify what types of effects stress has on the brain.
Similarly, my more recent work in stem cell biology aims to identify whether certain chemicals/drugs can drive an embryonic stem cell into a more specialised cell type, such as an insulin-secreting cell that could be used as a source of cell replacement therapy in diabetic patients.
In economics, it is not as easy to run randomised experiments on the human population in which one set of people is subjected to certain conditions while others are not. This is one of the biggest challenges in the field, and Raj has pushed the field to become more experimental in its approaches to tackle real-world issues.
What are your shared passions and life interests?
One of our main interests outside of work is food and cooking. For instance, while most may find grocery shopping a boring chore, we enjoy our weekly trips together to the local supermarket.
If we are not busy at work in the office, we are likely to be in the kitchen. The kitchen in many respects is like the lab for me, and Raj makes a great research assistant by cutting vegetables.
While we are still trying to master my mother's phenomenal Chettinad cooking, we also enjoy experimenting with new recipes -- we often like to make fusion Western dishes influenced by Indian flavours (Indian Naan pizzas).
We also enjoy playing tennis, spending time with family (especially with our 10 nieces and nephews), and travelling to new places.
Image
: Sundari Chetty, second from right, with husband Raj Chetty, right, and their family
Photograph: Courtesy Raj Chetty