Ask yourself 3 questions, advises Seema Chowdhry:

Who is going to be in the audience?
What type of questions can they ask?
Do I know the answers?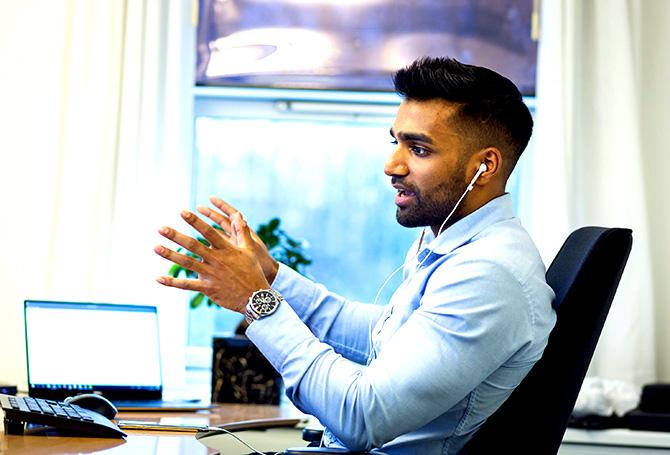 Speaking effectively is a skill and like any other skill, it can be learned.
In fact, it can be mastered by practice.
Undoubtedly, the ability to communicate effectively is one of the most important life skills.
Ensuring that your message is clear and concise will go a long way in helping others understand your point of view.
The importance of this skill at the workplace, right from communicating with senior management, to being heard in a meeting, to making an impactful presentation can't be emphasised enough. No wonder then, this is the first skill that recruiters look for while hiring an employee.
You may have all felt tongue-tied during conversations at work or know someone who froze while making a presentation.
Fear of speaking in public is one of the most common social anxieties. There is even a term for it -- glossophobia.
The good news is that you can easily get over this fear.
In the post-COVID world, work from home has become the new normal.
Video calls, online presentations, and team meetings are part of our daily routine.
Going forward, we will be communicating with each other more often over the phone or in virtual meetings.
The ability to prepare well, deliver our messages effectively, and employ logic will prove to be crucial.
Here are a few tips that can help you speak effectively during an online meeting or presentation:
1. Know your audience
We often fall into the trap of obsessively focusing on our presentation or what we want to say while preparing for a meeting.
It might help to focus on the audience instead.
Ask yourself 3 questions:
Who is going to be in the audience?
What type of questions can they ask?
Do I know the answers?
2. Make an impact
Structure your thoughts in two important parts -- 1. The main point of the meeting/presentation and 2. Evidence to substantiate your main point.
When you give reasons for your argument, people find it easier to believe you.
Use facts, data, and statistics to convince others and deliver your message more effectively.
At the same time, be prepared to counter queries.
3. Modulate your voice
A key element for effective communication is modulating your voice.
Work on your tone, volume, pitch, and pace.
Practice speaking in front of a mirror or record your own voice to see how it sounds and how you could make it sound better.
The first step is to make sure your tone matches your words.
Your volume, pitch, and pace can drastically change the way your words sound to your audience, whether it is in a meeting or a presentation.
4. Connect with the listener
Another way to deliver your message effectively is to create a narrative around your content.
Start your presentation or talk with a question, story, or anecdote.
It helps in connecting with the listener better and the audience will focus on the characters and the takeaways rather than on you as the speaker.
5. Be brief and to the point
It is hard to keep people engaged online. More so now as our routines are disrupted and we're coming to terms with this new way of working.
Time is money. So, be brief and to the point.
Choose your words carefully and present them effectively to sound confident and important.
---
Seema Chowdhry is vice president-curriculum at Harappa Education, an online learning institution that offers courses in foundation skills to enhance employability.
---