Planning a New Year party and don't know how to impress your guests?
Namita Jain comes to your rescue with classic recipes that have been given healthy twists.
Share the joy of the New Year by cooking up these delicious dishes!
ALSO READ:
Mediterranean Mixed Bean Stew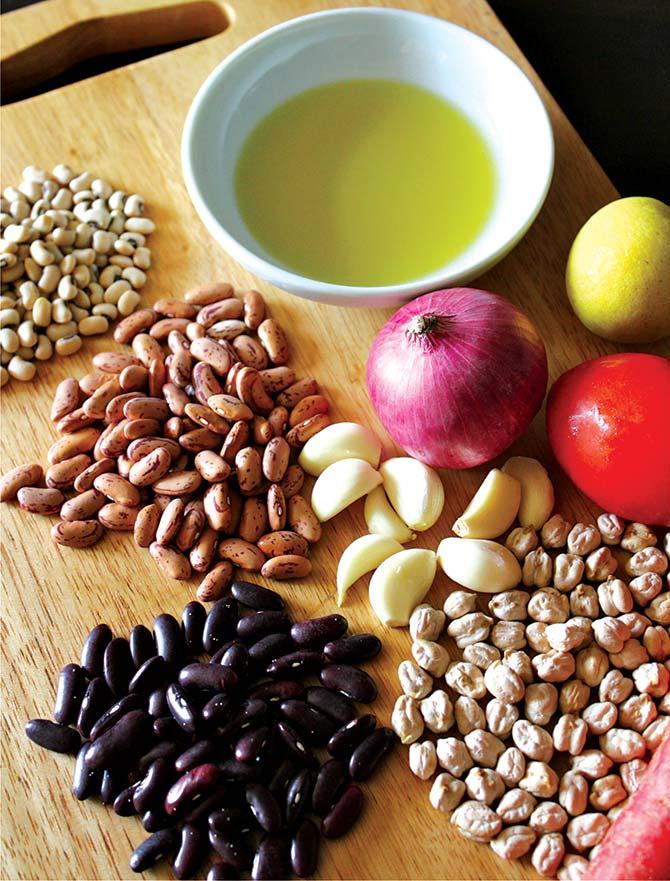 Ingredients:
2 tbsp olive oil
1 large red onion, roughly chopped
1 tomato, chopped
4 large garlic cloves, minced
3 carrots, chopped
3 stalks celery, chopped
1 tbsp fresh thyme, or 1 tsp dried
¾ cup chowli (black eyed peas), cooked
¾ cup pale pink rajma (light kidney beans), cooked
¾ cup dark red rajma (red kidney beans), cooked
½ cup kabuli channa (garbanzo beans), cooked
2 tbsp vinegar
1 tbsp honey
1 tsp salt
½ tsp pepper
½ tsp chilli powder
4 tbsp chopped parsley
2 cups water
Juice of 1 lime
Method:
Heat a large pan, and add olive oil. Sauté the onion and garlic over medium heat until soft.
Add carrots, tomato and celery and cook until softened.
Add thyme and cook a minute or so. Add all the beans along with a cup of the cooking water, vinegar, honey, salt, pepper, chilli powder and water.
Bring to a boil, and then reduce the heat and simmer over low heat for about 20 minutes till it all comes together.
Remove from heat and add the lime juice and the parsley. Serve hot.
---
Moroccan Couscous Salad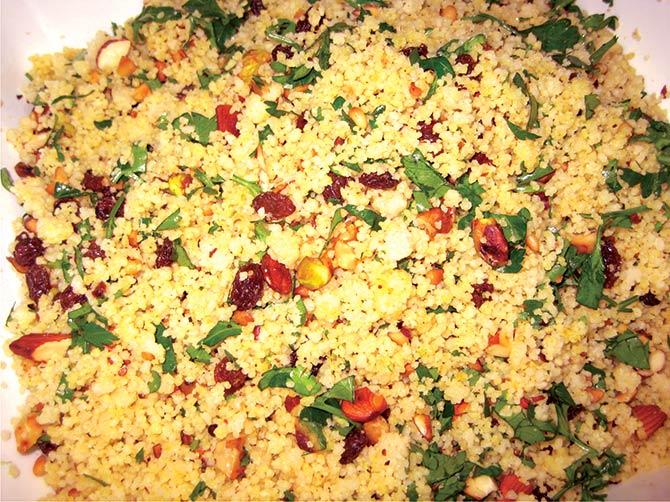 Ingredients:
2 cups couscous
2 cups boiling water
2 tbsp olive oil
1 red onion, chopped
1 red bell pepper, diced
1 cucumber, diced
A few leaves of green salad, chopped
8 french beans, sliced
½ cup of red kidney beans (rajma), soaked overnight
6-8 pieces sundried tomatoes, chopped
¼ cup sliced almonds, toasted
¼ cup curly leaf parsley, finely chopped
1 tsp lemon juice
Salt and pepper to taste
Method:
Put the kidney beans in a pressure cooker and cook till soft, but firm. Remove and cool.
Put the couscous in a bowl that you can cover with a lid or a plate.
Add salt and pour in boiling water from your kettle (you could add a stick of cinnamon the water while boiling, for added flavour). Cover the bowl with a lid/plate and leave for a few minutes.
Meanwhile, chop, slice and dice your vegetables.
Remove lid from bowl and fluff grains with a fork. There should be no liquid left, as the water will be absorbed by now.
Add the olive oil and stir until the couscous grains are well separated.
Add all your remaining ingredients, mix well, and serve on a bed of fresh green lettuce leaves.
---
Warm Mushroom Pate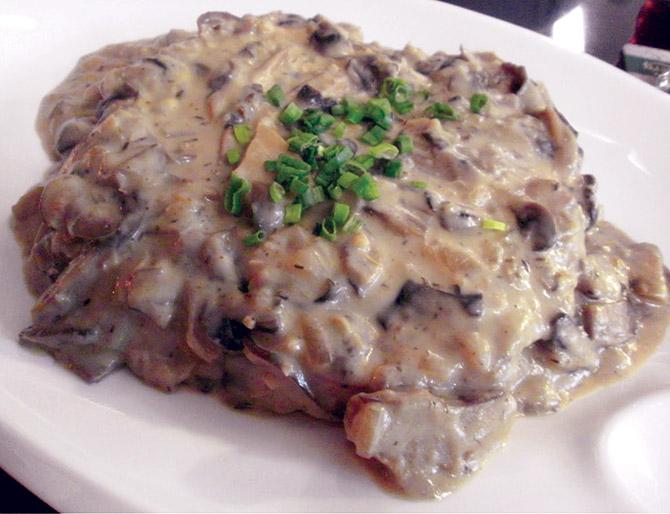 1 tbsp olive oil
¼ cup onion, chopped
6 cups mushrooms
1 green chilli, finely chopped
1 tsp ground black pepper
Salt to taste
1 tbsp whole wheat flour
½ cup skim milk
1 tbsp parsley, freshly chopped
Method:
Clean the mushrooms and cut them into tiny pieces.
Heat the olive oil in a heavy bottomed pan and sweat the onion until it is soft but not brown. Add the mushrooms and continue cooking slowly for about 2 minutes.
Sprinkle the flour and stir till well mixed. Now add the milk, and stir till the mixture is thickened.
Season with salt and pepper. Add the green chilli. Stir in the chopped parsley. Serve warm on whole-wheat toast.
---
Spanish Paella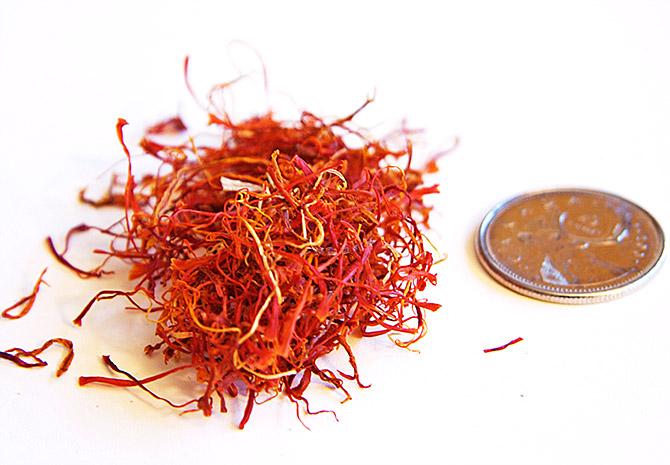 3 cups medium grain rice
1 large onion, diced
2 medium tomatoes, grated with skin removed
1 cup boneless chicken, cut into strips
¾ cup calamari (squid) cleaned and sliced into rings
1½ cup white boneless fish, cut into
1½ cubes
1½ cup raw shrimp, medium or large, shelled and deveined
6 cups chicken broth
1 large pinch saffron
1 red pepper, seeded and sliced
1 yellow pepper, seeded and sliced
½ cup frozen peas, cooked in water till soft
4 tbsp olive oil
1 tsp finely sliced red chillies
½ tsp dried rosemary
½ tsp dried thyme
½ tsp cumin powder
Salt and pepper to taste
Method:
Place a large flat pan or a wide wok on a high flame. Heat the olive oil. When hot enough, sauté the onions and tomatoes in the olive oil.
Once the onions and tomatoes have reduced, add the chicken and cook, stirring constantly -- about 6-7 minutes.
Add salt pepper, chillies, rosemary, thyme and cumin powder.
Add the squid and cook, stirring often. Add the sliced red and yellow peppers.
Now add the rice, stirring to coat with the chicken mixture. Meanwhile, heat the chicken stock, and add the saffron to it.
Now, pour the stock into the paella pan and simmer, uncovered.
While the rice is cooking, heat 1 tbsp oil a non stick pan and sauté the prawns for 2-3 minutes. Remove and set aside.
Put in the fish pieces, and cook on both sides, for 2-3 minutes. Set aside.
Once the rice is almost cooked and about a cupful of liquid remains, gently add the fish and the prawns, and mix without breaking the fish pieces. Drain the peas and sprinkle over the top.
Cover the pan and cook for a further 10 minutes. Garnish with parsley leaves and serve hot.
---
Babaganoush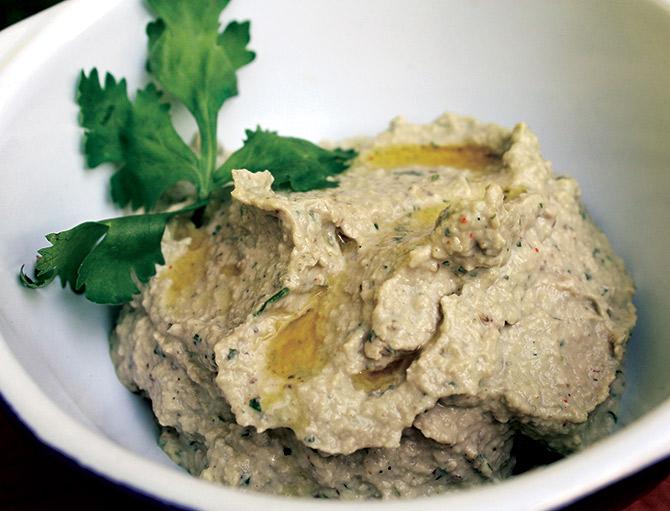 Ingredients:
1 large brinjal
¼ cup tahini (sesame paste)
3 garlic cloves, minced
¼ cup fresh lemon juice
Salt, to taste
1 tbsp extra virgin olive oil
1 tbsp fresh flat-leaf parsley, chopped
Method:
Prick the brinjal all over with a fork. Roast it on an open flame, turning constantly so that all sides are cooked evenly. To speed up the process, you can microwave it for a few minutes on high and then put it on the open flame. When it is charred from the outside and soft from the inside, plunge it into cold water and remove the blackened skin.
Place the cooked brinjal pulp in a mixer along with the reaming ingredients. Blitz for a few seconds, into a coarse puree. Remove the mixture into a serving bowl, and drizzle with olive oil.
Garnish with black olives and fresh parsley or coriander, and serve with raw vegetables, warm pita bread, mini toast or crackers.
Namita Jain is the author of the cookbook Low Fat - Low Guilt, Recipes & Lifestyle.