How has the pandemic changed the Indian wedding trousseau?
Designer and fashion entrepreneur Nishit Gupta reveals the latest trends.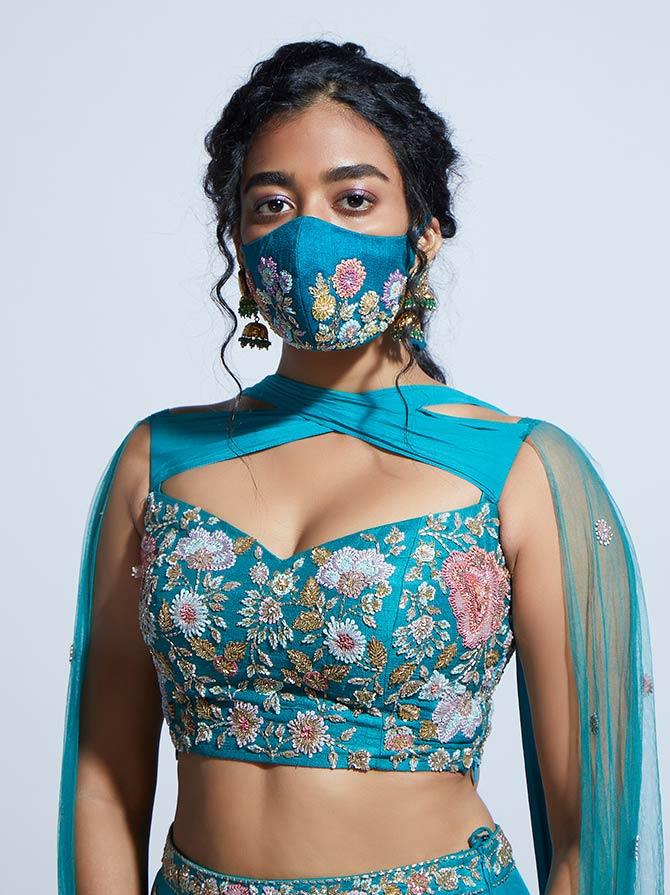 The pandemic has certainly changed the way young Indians plan and dress for weddings.
In the last few months, we've seen couples prefer a smaller group of guests and keep the celebrations intimate.
As for brides and grooms, designers are experimenting with fabrics and weaves that blend in with the season and are more functional, sustainable.
Mumbai-based label Kalki Fashion's latest wedding collection features embroidered masks that are custom designed for guests and brides-to-be.
Nishit Gupta, left, director, Kalki Fashion, tells Divya Nair/Rediff.com how the trends have shifted and how his team put together the new bridal collection.
How did you design the collection in the lockdown?
Normally it takes 6 months for a collection to go up, but the Intimate Wedding Collection took three extra months as we had to go through a few more alterations in the design elements and had to also rethink the alternative unveiling processes.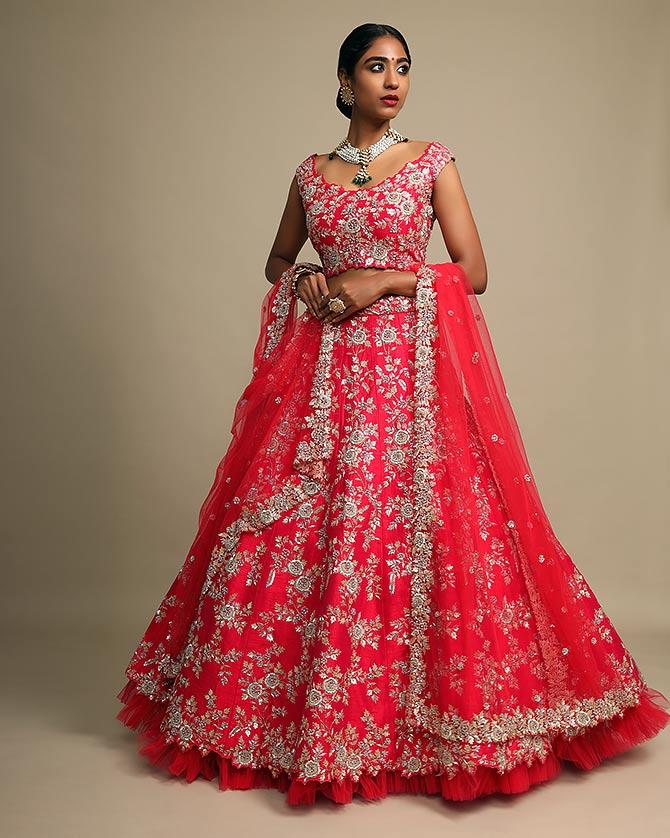 Your bridal collection features a mask, which is now an essential health accessory. What precautions did you and your team take while creating it?
First things first, we are making sure that every employee and customer feels confident that each aspect of our commitment is designed with THEIR safety in mind, and that we are putting THEIR well-being first!
We are critically examining the shopping experience from every vantage point -- from our entries and our shopping areas to our private sitting booths and measurements -- bringing in the latest research, technology and innovation to make that happen.
Our warehouse where the masks are designed, the surroundings are deep cleansed and are sanitized regularly.
Since these are handcrafted masks, few of them are even intricately hand-curated.
Hence, our designing staff and workers who are strictly involved in physical handling of products are asked to wear masks, gloves and sanitise all times.
With the sole motive of wearing these masks as a precaution, none of these masks are medical grade. However, many of them are washable and reusable.
And how do you plan to promote it?
We never thought masks would ever make their way into the bridal fashion.
Now when we see it as the mandatory face covering for the foreseeable future. This is going to be an important accessory for pandemic-hit brides moving forward.
We are making non-embroidered masks and being selling them as free masks to the brides and the wedding guests.
If the brides want to add their own twists to their wedding day outfits. then we have introduced hand-woven embellished masks.
With this we are supporting the rural artisans and our workers to perfect the craft with required tools as well as make a decent living out of it.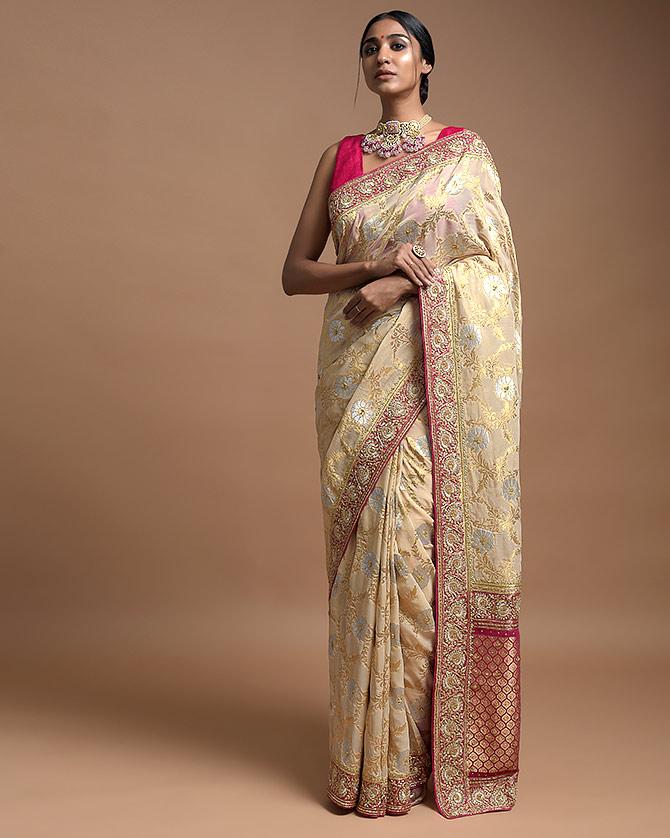 How has the pandemic affected your business? Do you see any change in the way Indian brides are picking their bridal outfit now?
The fashion trends will vary as the world slowly emerges from global quarantine.
The styles are obviously changing, and up-cycling and re-purposing among customers.
With weddings now being more intimate, smaller in size, the fusion trends will find favour with both brides and bridesmaids.
Mirror lehengas, organza skirts, pre-stitched sarees, necklet gowns, dhoti-crop tops in handwoven fabrics and hand-done embroideries with traditional textile techniques will trend.
This will help support rural artisans and handloom communities-as well!
Because of the pandemic there has been a lot of re-planning. Weddings are postponed and we see a lot of changes in customer behaviour.
There has been a drop in clients too.
A lot of people still can't afford to buy a basic mask. As a designer, how are you trying to help?
We have tied up with GiveIndia NGO and started this initiative known as #OneMaskOneMeal, where every single mask is going to help feed an under privileged person in need with a wholesome meal.
Thankfully, we have direct access to our karigars.
We are helping them manufacture a set of three cotton face masks in assorted colours with beautiful block printed floral design which is priced at Rs 245.
These masks have been hand stitched and made by the skilled artisans of India from Rajasthan. It aims to provide meals to the poorest of the poor.
To make the best efforts from this initiative, a part of the proceeds from the sales of these masks made by our karigars will be donated to the NGO under a mission called Feed Hungry.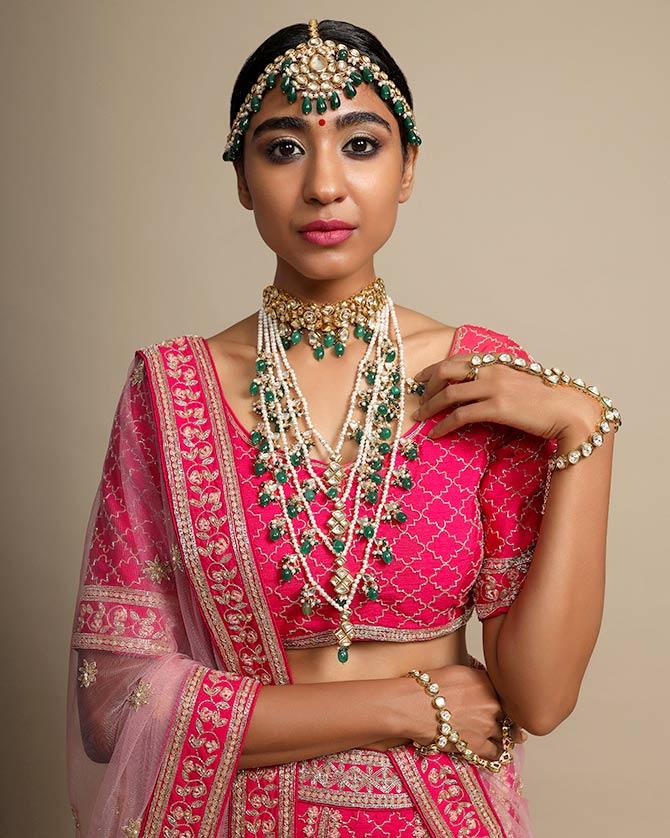 Your tips for brides to be -- how can they dress up in style while staying safe?
For the bride, I would suggest, opt for lehengas whose material is lightweight yet stands out. For example, organza skirts are quite in and they give you the absolute cute amount of flow and bloom.
Go for just the right appeal of self embroidery or bling, something that's easy on the eyes too.
Pick styles in soft fabrics with royal motifs, and sexy cut blouses with light weight lehengas which sit perfectly well on your body.

Your tips for guests
Baraatis should flaunt a fresh pastel palette, traditional reds that blend with a color design of millennial pinks, elegant feminine silhouettes with the signature floral detailing.
Gowns, draped jacket styles, cocktail Indo-Westerns, modern-pleated sarees featuring ruffles and embroidered tassels would do wonders.