After a few exciting days in Nepal, a land of alluring stupas, Rediff.com's Rajesh Karkera, on a tri-nation drive, heads east via India into mysterious Bhutan.
Leg 1 to 3: Lucknow to Lumbini, Lumbini to Pokhra and Pokhra to Kathmandu
Leg 4: Kathmandu to Siliguri, 485 km, 14 hours
It was 6:30 am: 'Start loading up your cars so that the early start is on cue', were our instructions on Day 6 of the Tri-Nation Drive, that would take us, due east, from Nepal back to India, and the next day, through the scrawny and historically famous chicken-neck stretch of West Bengal into serene Bhutan.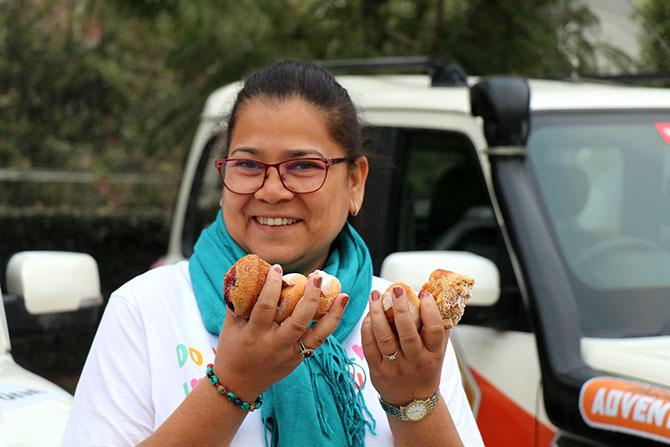 Some of us stocked up our cars with breakfast, so we were bang on time, when we hit the road.
Everyone was full of excitement. The car radios (that each convoy car was fitted with) were buzzing with chitter-chatter from the convoy folks.
The radio, which connects all the vehicles, actually is a big plus. It keeps you engaged, helps you concentrate on the drive and prevents you from tiring too fast! Who would have ever thought the CB radio would actually assist in providing concentration on a drive :)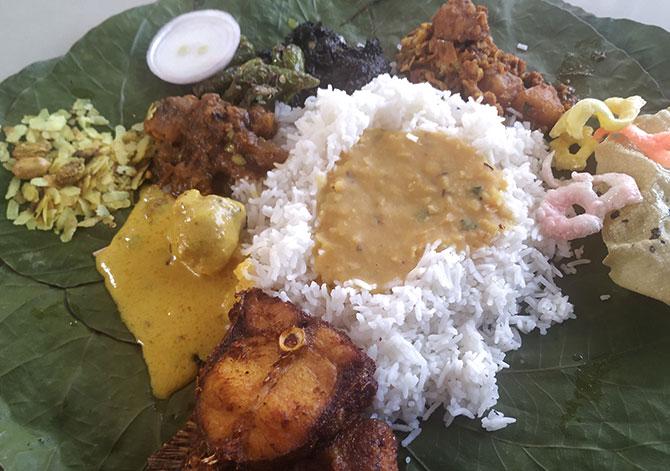 The special local cuisine lunch, organised by Team Mahindra Adventure, was a much-needed surprise. Hotel Dwarka garden resort, on the East-West Highway at Mithila, Nepal, served us a simple but scrumptious lunch of rice, dal, local vegetables, kadi pakoda and fried green chillies, along with huge pieces of river fish, on plates made from leaves of either the banyan or the sal tree.
The chillies were so yum I ate five of them!
The long drive ahead, back across the border again, was a breeze with these plucky Scorpios, that just refused to relent on any terrain thrown at them.
As we headed further east, the roads were flat, but we encountered plenty of broken tarmac and bridges across dried-up rivers, till we reached the Mechi bridge and the West Bengal border.
This fairly impressive bridge is over the Mechi river, a river which runs along the boundary between the border of Nepal and India before finally joining up with Bihar's Mahananda. The bridge connects Bhadrapur in Nepal with India and you can head left to West Bengal. The Bihar-West Bengal border is not very far from here.
But the biggest difference came when we crossed back into India. The car suddenly felt like it was riding smoother than ever. What had just happened?!
It was the roads.
Suddenly, the tarmac texture changed.
Suddenly, that patriotic feeling seeped into your heart...
Sturdy, smooth Indian roads again after those awful Nepal roads!
We were thankful to be cruising on them.
Giving thanks for Indian roads is not something that comes to your heart or mind when in India usually :).
Add to that: This serene feeling of being back in your own country. Definitely was a photo op moment (above)!
It was very late by the time we reached our halt in Siliguri in West Bengal -- the Courtyard Marriott -- with barely enough time to eat dinner before its restaurants closed. A ginormous buffet awaited us.
We were so exhausted from driving that food was the last thing on our minds. It was only after we dug in that we realised how ravenous we were.
Leg 5: Siliguri to Paro, 297 km, 15 hours on the road, including the three-and-a-half hour halt at immigration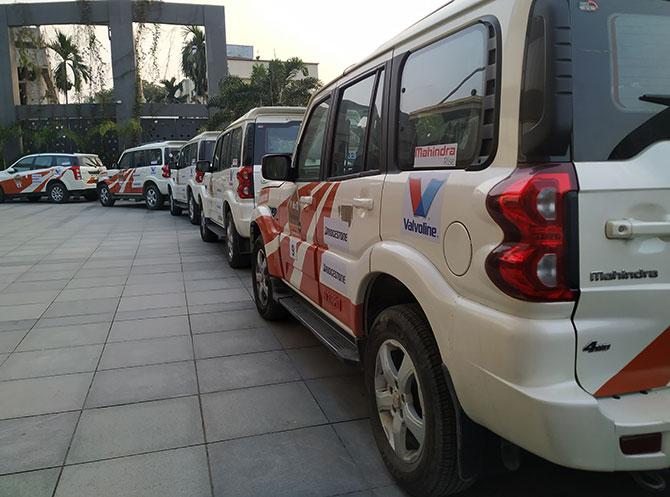 Another early start on Day 7, after a quick briefing by the lead, Raj Kapoor from Team XSO and a short prayer for a safe journey ahead.
This 297 km would take much longer to achieve, Raj warned us.
We would cross the border after 152 km at Phuentsholing, Bhutan. Immigration would again take a few hours.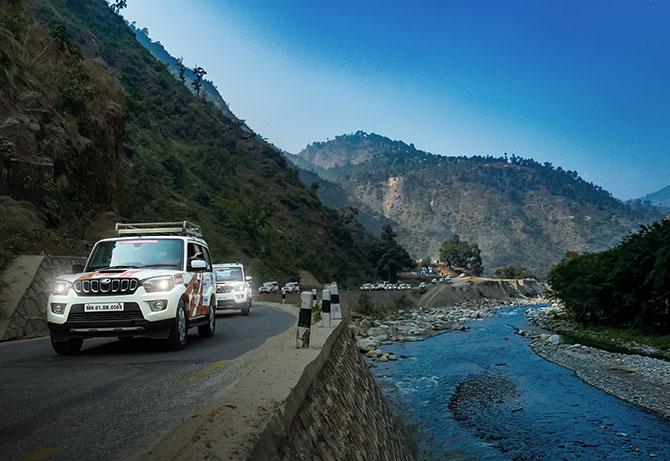 After just half an hour of driving we were at the banks of the Teesta river, which brought memories of my daughter, who is named after this pretty river.
Bikers with prayer flags passed us. Some were riding alone. Some, probably on an expedition, were in convoys similar to ours, but on two wheels.
Our only stops on this route, from Siliguri to Phuentsholing, till we reached the border, were for bio breaks at nondescript places on the highway. We were travelling through the Himalayan foothills as we drove beside the Teesta river, which was on our left and then finally on our right as we crossed over it.
Lunch and refreshments were set out for us at Hotel Druk, Phuentsholing, a three-star hotel conveniently located right near the immigration office and market, 100 metres across the border.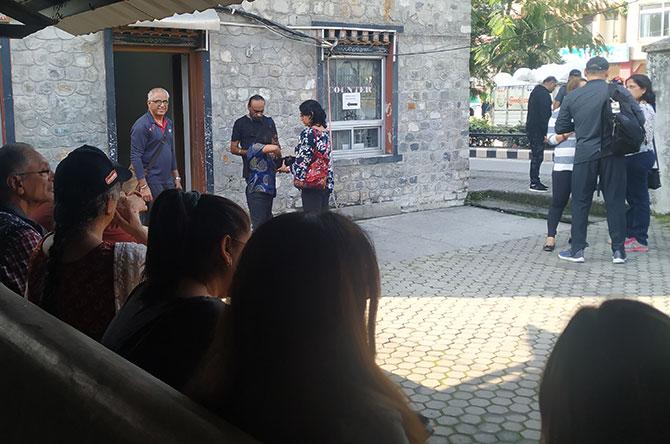 Unlike the Nepal border, the Bhutan border at Phuentsholing was a much more pleasant one. The wait did not bother you. All you saw were warm, welcoming smiles everywhere of people delighted to have you in their land.
The rules of Bhutan were explained to us over the radio as we were approaching Phuentsholing.
No littering.
No overtaking.
No honking.
Pedestrians get the first right to cross roads.
We all had heard this attentively.
But we just could not believe our eyes to see such an orderly setup in existence and being practiced right in front of us.
Clean streets. No litter. And so much order on the small roads!
No one -- I mean no one -- honked!
After we got our passports stamped at the immigration office, we were waiting to cross the road on foot. Vehicles stopped and let us pass! Unbelievable.
But so much is possible if you have this kind of thinking! Isn't it?
Immigration for our convoy -- a large group of 80 plus people -- took time. That gave us the opportunity to wander around on foot nearby (ONLY after taking permission, mind you, from The Terminator aka Ruban Grewal, who is the convoy's head cop!)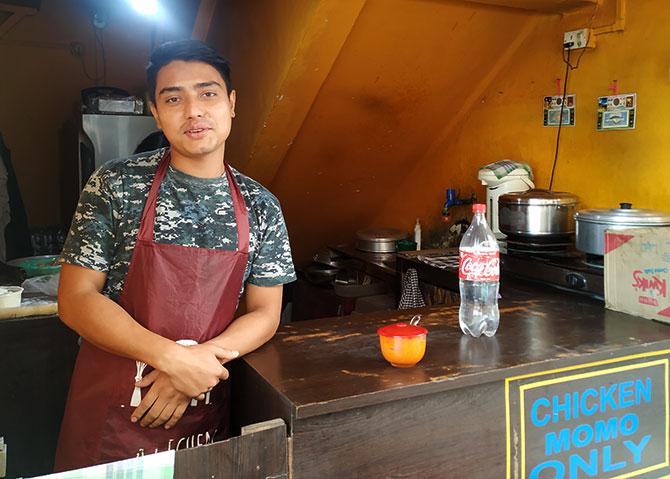 Guess what our main search was for?
Momos, of course.
Ram Prasad Sanyasi's momo shop, just opposite Druk Hotel, was a revelation. The mouthwatering momos there made our day! He and his mother ran the shop. She made the chicken stuffings and he steamed them and served them up with a smile.
After some three hours -- that some of us utilised to rest and some of us used to explore the surroundings -- all our immigration and RTO formalities were done.
The convoy made its way finally into the lovely and memorable Bhutan through the small lanes of Phuentsholing.
The Happiest Place on Earth!
Indeed.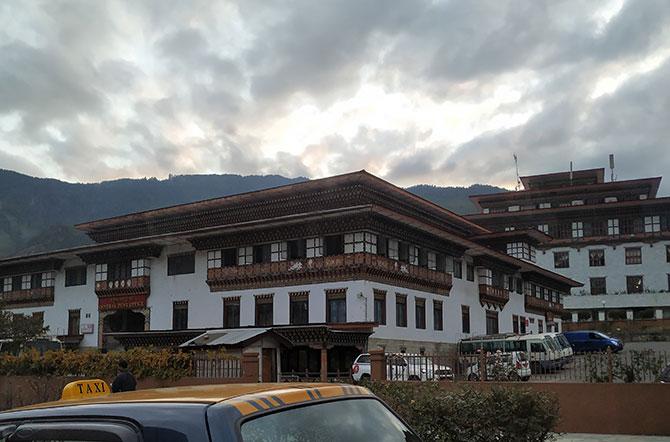 Visually the most striking feature around there was the architecture of the buildings. They looked more like places of serenity and prayer rather than markets of shops and restaurants. The colours of the motifs on the buildings resembled prayer flags too.
Most of the smaller shops had uniform signage -- green with white lettering.
From Phuentsholing to Paro was a long drive. Our tea break, which was totallyy heaven sent, came at twilight -- dusk falls very early in these towering, lovable mountains.
We reached our destination, Metta resort and spa in Paro late into the night. That didn't stop us from grabbing photo ops on the way.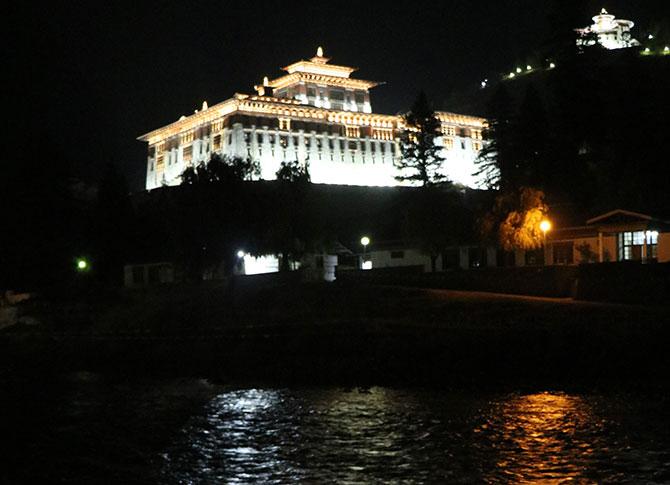 Just before we arrived at Metta resort, we passed the magnificent Rinpung Dzong, which was mesmerisingly lit up at night.
This building -- which is like a fortress, and today houses offices of both administrative and monastic institutions -- once defended Paro valley from invasions from Tibet.
Also known as the Paro Zong, it is one of the finest examples of Bhutanese architecture, which leans towards a massive courtyard within courtyard complexes.
Metta resort greeted us with open arms. Every employee in the resort was a woman, barring the owner.
The women greeted us so warmly and refused to let us carry our own bags. They actually pulled the bags out of our hands and ran with them to our rooms!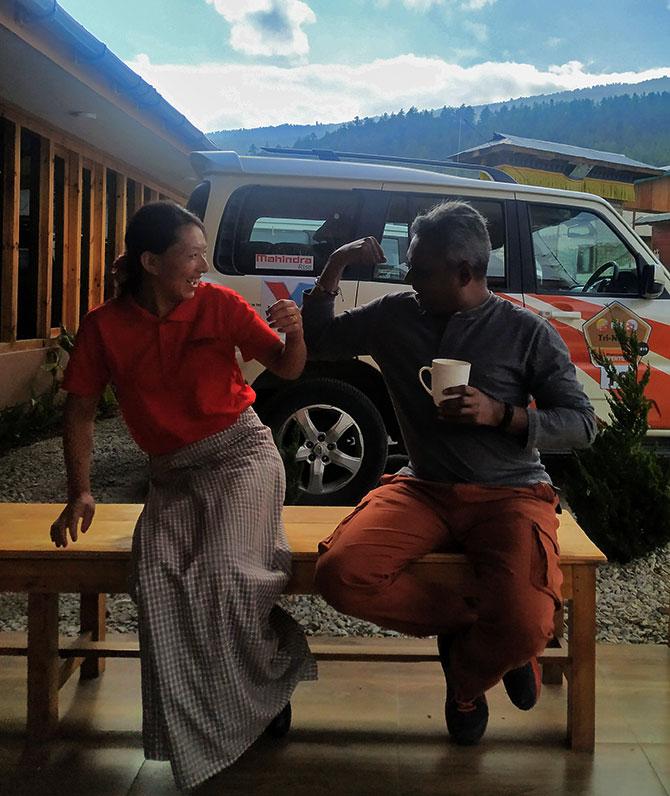 We had two full days in splendid Paro. Wow.
We later realised that was sadly inadequate.
There will be never enough time to take in the beauty of Bhutan in one's lifetime.