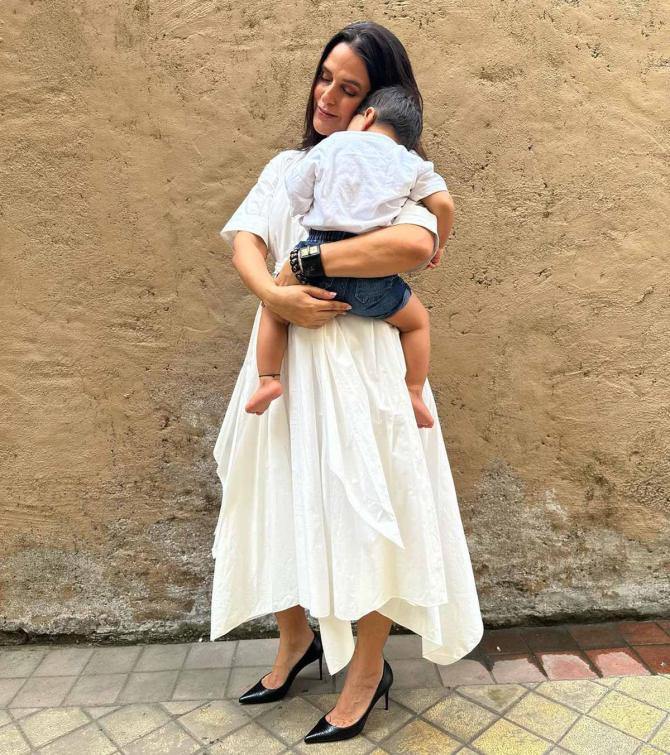 Pageant winner. Actor. Reality show judge. Podcast host. Mehr and Guriq's stylish yet unstoppable mama Neha Dhupia juggles umpteen roles and succeeds in being the best at home and at work. She knows how to dress the part.
Behind those cute photos she shares of her kids on Instagram, one can't help but wonder how she manages to do it all.
Mayur Sanap/Rediff.com asked Neha her secret.
"There is no balancing act. It's a myth. I am always overwhelmed and want more time with my children. And when I'm at work, I want more time at work," she says.
"I try and balance between want and need. Sometimes my children want me, but I need to work."
During the release of the Rani Mukerji starrer Mrs Chatterjee Vs Norway, the mom of two and founder of Freedom to Feed had written, '... but then again all us moms have superpowers but go weak in our knees for our children'.
Neha also shared three fashion tips for working mothers:
1. "Focus on comfort."
2. "Wear comfortable footwear."
3. "Always carry a change. You never know when your kid is going to give you a hug and soil your clothes."
WATCH: Neha Dhupia's secret to striking the special balance between work and home. And a little bit of marriage advice.
Video: Afsar Dayatar/Rediff.com