'Memories of a simple, yet amazing childhood, long lost, but never forgotten.'
Vijay Menon takes us back to a time when overnight train journeys were the most exciting events of our lives.
Illustrations: Dominic Xavier/Rediff.com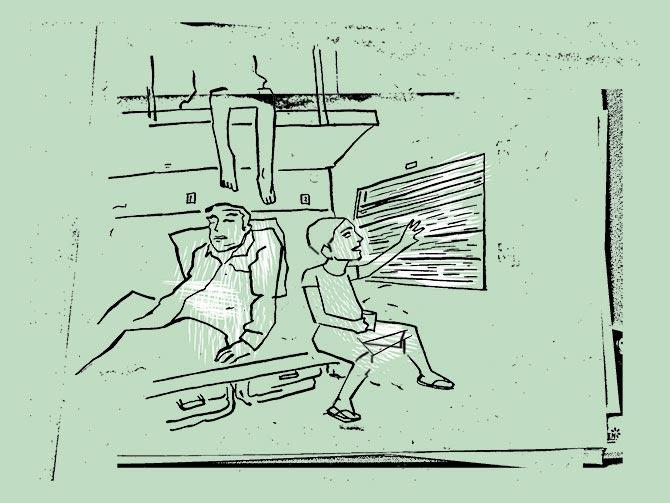 As a child, I was always fascinated by overnight train journeys.
Every summer my parents took us -- my younger brother and I -- on a month-long vacation to our hometown in Thrissur, also known as the cultural capital of God's own country, Kerala.
Before the Konkan Railway became operational, our train journeys were 36 hours long. We would spend two nights on the train from Mumbai to Kerala.
But Southern Railway lines usually functioned like clockwork and the trips never got extended by delays.
I still remember the first time I travelled by train as a 5 year old. And every year after that the ritual became more enjoyable; an important part of my childhood.
The first night was spent watching railway stations zoom by, relishing my mother's home cooked idlis and coconut chutney along with avial -- a thick curry made from assorted vegetables cooked in coconut and curd.
We also packed in rice, curd, pickle and pappadam that had been carefully packed in containers.
Mother's food somehow tasted better on the train!
Kids my age would always aim for the window seat in the sleeper compartment, tickets for which were planned and reserved for months in advance.
The window seat provided plenty of fresh air and fleeting views of fields, mountains, bridges and small stations.
Watching the dim yellow-lit railway platforms pass by in a blur and trying to remember the names were one of the games we played late in the evenings.
My father would quiz us to see if we remembered the stations in sequence.
The one who got most or all the names correct would be rewarded with an ice cream the following afternoon, post lunch.
My brother always won the quiz, but I looked forward to the ice cream I knew I'd get, irrespective of who won.
Post dinner we'd be allocated berths.
My father and I would always occupy the topmost berths of the three-tiered arrangement in a sleeper class coach.
On a few occasions, we've had family friends travel with us.
We'd plan in advance, so eight of us (our family and theirs) could be in the same compartment for the next 36 hours.
Life was so simple back then. We were happy and content with little things.
My brother and I would play aboard the train, until he fell asleep. I'd stay up late reading Tinkle until I drifted off to the gentle swaying of the train.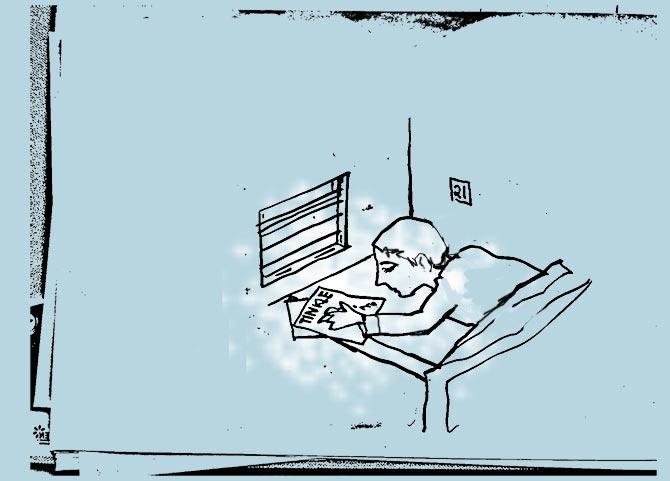 Sometimes I would wake up in the middle of the night with the clatter and bustle of people who were moving their luggage either on or off, when the train halted at popular stations like Hubli or Madgoan.
Netravati, the express passenger train we travelled on, would not halt at smaller stations and had scheduled stops at selected railway junctions.
I would sit by the window watching those people and places, thinking if or howr I might never cross paths again with them.
Once the train picked up speed and the voices of vendors disappeared, I would go back to my berth and try to sleep, anticipating another exciting day and wonder what was in store for me.
The second day on the train was usually the longest and the most tiring, as we cruised out of the borders of Maharashtra and in and out of Karnataka, Andhra Pradesh, before reaching Tamil Nadu towards the end of the night.
Since we travelled during the hottest days of summer, I always wondered why the journey couldn't be any shorter.
So, a few years later, when the Konkan Railway became functional, I was happy to that we could reach Thrissur in just about 24 hours. And excited, because the train would pass through Goa.
On the train, most of us would be woken up in the morning by the chatter of vendors and people hurrying to the restroom for morning ablutions.
But I would happily sleep until 10 am, watching people, from the corner of my (sleepy) eye go about their life, wondering why they were rushing so much.
I'd wait up there until my mother, in her typical persuasive tone, would nudge me awake.
After breakfast, I'd curiously watch other travellers in our bogey and get to know them better. And if I found company, we'd play cards or board games, that would go on with interruptions for lunch, tea and odd snacks, until it was time for dinner.
I'd look forward to the amazing chicken biryani by the pantry chefs, that was usually well made and hygienic back then!
My father and I would occasionally walk up to the pantry car. I was always fascinated by the huge kitchens in the Indian Railway trains that supplied meals to hundreds of passengers.
When my father spoke to the staff in Malayalam, it made me feel closer to my roots. It also reminded that we were closer to our home town.
I'd be lucky enough, sometimes, to be treated to hot pazham pori (ripe banana fritters) by the staff.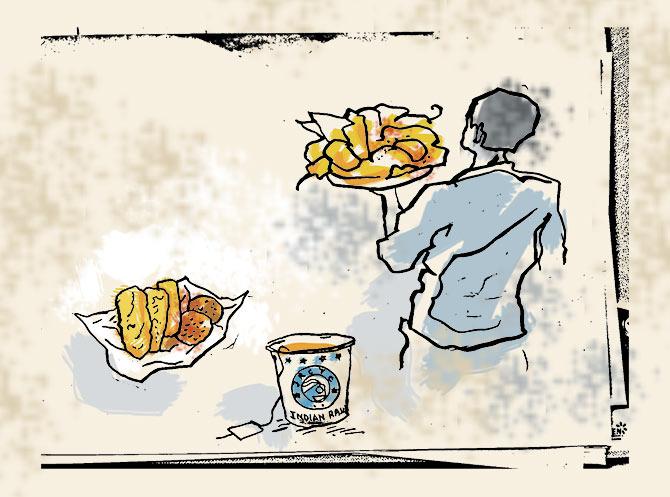 Going to bed on the second night would be exciting.
"When you wake up tomorrow, you would be in Kerala," my mother would say.
It was like waiting on Christmas eve for the gifts one would open the next morning!
The morning of the third day was inevitably my favourite part of the journey.
I'd wake up early and sit by the window trying to read the signs and name boards in Malayalam.
Breakfast at Palakkad station would be steaming appams and piping hot egg curry with black tea -- the tastiest breakfast we'd have.
Having always bought it from the same platform stall for many years, we would see the same person selling it to us year on year.
We'd fondly remember him as Uncle on every trip.
The next two hours would be spent repacking our bags, exchanging goodbyes with fellow passengers.
There were mixed feelings, as we realised that we may never meet again, even though we made promises about writing and staying in touch through phone calls.
I'd later wonder where those people would be right now, what they'd be doing. Whether they'd also think of me and this train journey like I did?
Finally, with the Thrissur railway platform approaching, I'd see my cousins and uncles waiting for us to arrive.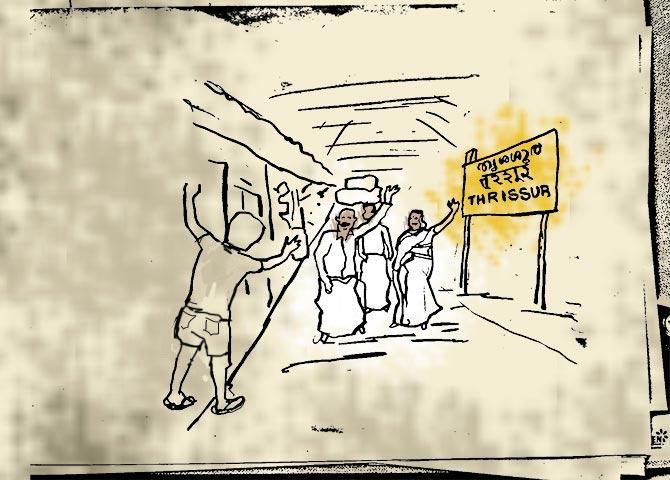 It was nothing short of a grand event.
My entire extended family -- uncles, aunts and cousins -- would come to the railway station to drop and receive us. It felt royal.
As the platform approached and we'd queue up with our luggage to get off, I would look back at our berths with a heavy heart and think: I'm going to miss being in here.
A month later, I know I'd be back in the same train, with a much heavier heart, and a suitcase full of memories, to return to a place that was now home for us -- Bombay.
Netravati will always hold a special place in my heart. Whenever someone mentions the train, memories of my journeys flash by and I'd be in a happy space and recalling the chatter of the tea and coffee vendors, which sounded like music to my ears.
Years later, during my early career, my work sometimes took me to vague railway stations.
I'd glance through the window, from my corner seat, and think about the fleeting stations and game nights of days of yore.
If I halted at one of those stations, I would stand there for a few minutes and pause, taking in the scenes, looking at the trains flit past, with the same awe of a five year old.
I'd watch kids waving at me from those semi-hooded, sleeper class windows. Waving back at them would bring back my own memories.
I'd wonder: Where were they travelling to?
Are they as excited as I used to be?
Will they remember those places when they grow up? Will they come back and wave like I did?
In that very moment, I remember feeling how life had come to a full circle.
Today, amidst the lockdown, on a sunny afternoon in May, I found time to reflect on those days gone by.
Of summer vacations and train journeys.
About the people I'd met, the fragrance of rail journey food...
Memories of a simple, yet amazing childhood, long lost, but never forgotten.
---
Dear readers, what are some of your fondest memories of childhood?
Do you miss the games you played when you were little?
How did you spend time when there were no gadgets to entertain you? Did you read books and tell each other stories?
Share your exciting memories and experiences with us.
Simply write to getahead@rediff.co.in (subject: My fondest childhood memory) along with your NAME, AGE, LOCATION and a few photographs, if possible. We'll feature the best ones on Rediff.com.