Crispy, deep-fried Jamnagar Potli Kachoris by Maharaj Jodharam Choudhary, corporate chef, Khandani Rajdhani, a chain of thali restaurants serving Rajasthani food.
Chatpat and inexpensive, this savoury snack will spice up your day.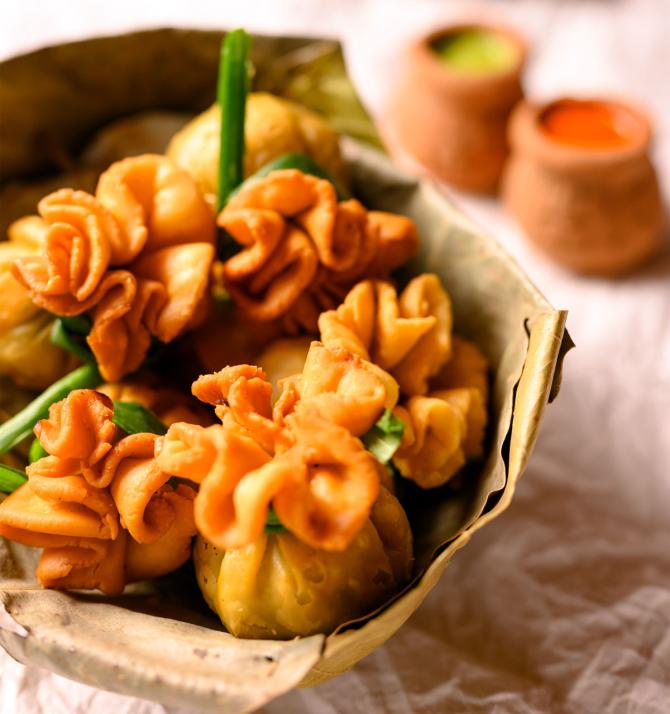 Jamnagar Potli Kachori
Servings: 8-10
Ingredients
For the dough
200 gm maida or all-purpose flour
Oil for frying
Salt to taste
3 spring onion greens, cut into thin strips to tie the potlis
20 gm palak or spinach puree
½ cup hot water
For the stuffing
150 gm yellow moong dal, boiled but not overcooked
25 ml ghee
10 gm jeera or cumin seeds
1 tsp ajwain or carom seeds
5 gm ginger paste
15 gm chilly powder
2 gm haldi or turmeric powder
A pinch of hing or asafoetida
For serving
Method
To make the stuffing
Heat the ghee in a heavy-bottomed kadhai or frying pan over medium heat.
Add the jeera and ajwain seeds, ginger paste, hing, chilly and haldi powder.
Add the boiled whole moong dal and cook till the mixture becomes dry.
Trun off heat and keep aside to cool.
To make the kachoris
In a bowl combine the maida, salt and hot water and knead well.
Add the palak puree and knead to form a smooth dough.
Make equal portions of the dough, roll and flatten each of them into a small pooris.
Add a tbsp or more of the stuffing in the centre of the poori and bring all the edges together to form a potli.
Take a strip of spring onion leaf and tie it around the mouth of the potli to seal it.
Heat the oil in a heavy-bottomed kadhai or frying pan over medium heat.
Once it gets hot, deep fry the kachoris, 2-3 at a time.
Keep flipping the kachoris so that they fry evenly on all sides.
Remove from heat, drain the excess oil and place it on a plate lined with tissue paper or a paper towel.
Serve hot with green chutney.