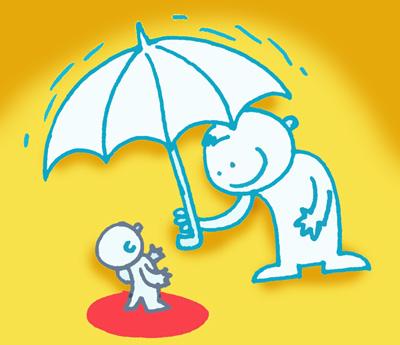 It is never too late to invest in your child's future.
Manik Nangia, Director and Chief Digital Officer, Max Life Insurance emphasises the importance of child insurance plan.
Illustration: Dominic Xavier/Rediff.com
Education plays a vital role in the socio-economic growth of a country. It holds more importance in context of India as it is being counted upon as one of the most optimistic nations in the world with the government promising reforms and growth.
In past one decade education has diversified to a great extent in India. So much so that the Indian education market which was worth about US $ 100 Billion in FY 2015-16 is expected to reach US $ 116.4 billion in FY 2016-17. This clearly means that your children will have access to a wider variety of subjects and career options to choose from. While this is certainly something positive to look forward to, the flip side of the story says that in the last seven years, the cost of education has doubled in India and it will be four times the current cost in the next 15 years.
Looking at the current trend it will not be exaggeration to say that by the time your child decides to opt for a professional course or other higher education streams, the cost of education would have gone up by many folds.
But can you say the same with confidence about your average annual savings?
What are the chances that you will have enough funds available to meet your child's higher education needs in coming years?
If you are facing trouble in answering this question, it is definitely a time to introspect and look for a suitable mechanism to ensure that your goal of fulfilling your children's aspirations and dreams in life is achieved.
For most of you, a 'secure mechanism' to ensure you child's education might be synonyms to 'savings'. A majority of parents believe in saving a part of their income to ensure that they don't face a shortage of funds at the time of paying for their child's education, yet many of them end up taking education loans at high interest rates.
The simple reason behind this is the vast gap between the rising cost of education per year and the per capita income.
As per RBI the education inflation, which continues to hover around 7-8 per cent means that the same degree that costs you Rs 5 lakh today, will cost you almost Rs 20 lakh (Rs 2 million) in 20 years from now.
So even your savings, which you might be banking on at the time your child goes for higher education, will fall short at that moment. Therefore it is a wise decision to start saving regularly from today by opting for a child plan that will ensure your child is able to get the best higher education in the choice of her/his stream.
While you are selecting the best possible child plan, it becomes important to consider the different milestones, which will arrive at different stages of your child's education. There is no way you can predict the choice of stream your child will opt for when s/he goes for higher education.
For example, it can be a four-year long engineering degree; it can be a five-year MBBS degree or a three-year old graduation course.
It is therefore advisable to opt for a plan which is flexible and can be mapped as per the unforeseen needs of your child's education by deferring or advancing the money backs that you get in the last years of the policy term as per the provisions of the plan.
Apart from the money back options that a child plan offers, the biggest advantage it provides is that it is still an insurance policy at the end of the day and provides financial protection in case of an eventuality.
The most attractive feature of a child plan is its Waiver of Premium (WOP) benefit which means that in case of an eventuality to the policy holder, the nominee receives the sum assured, while the policy does not get terminated and no further premium is needed to be paid.
With add on riders one can even ensure that even in case of an accident with the policy holder, the policy continues without premiums being paid. In case of eventualities, some plans even provide a choice of receiving a lump sum amount or one per cent of the amount insured as monthly income for five years which helps in meeting the immediate education cost.
Planning for your child's future requires disciplined savings, which gets increasingly difficult as you try to keep pace with the rising cost while meeting other financial goals.
Opting for a child plan gets you into the habit of disciplined savings towards meeting the specific goal of your child's education. When education has assumed a whole new meaning, it is important to be equipped with a mechanism that will ensure that your child gets the overall development of her/his mind and body.
It is never too late to invest in your child's future.
By choosing a right child plan for your child now, you can remain stress free and concentrate on the upbringing of your child in the best possible way.